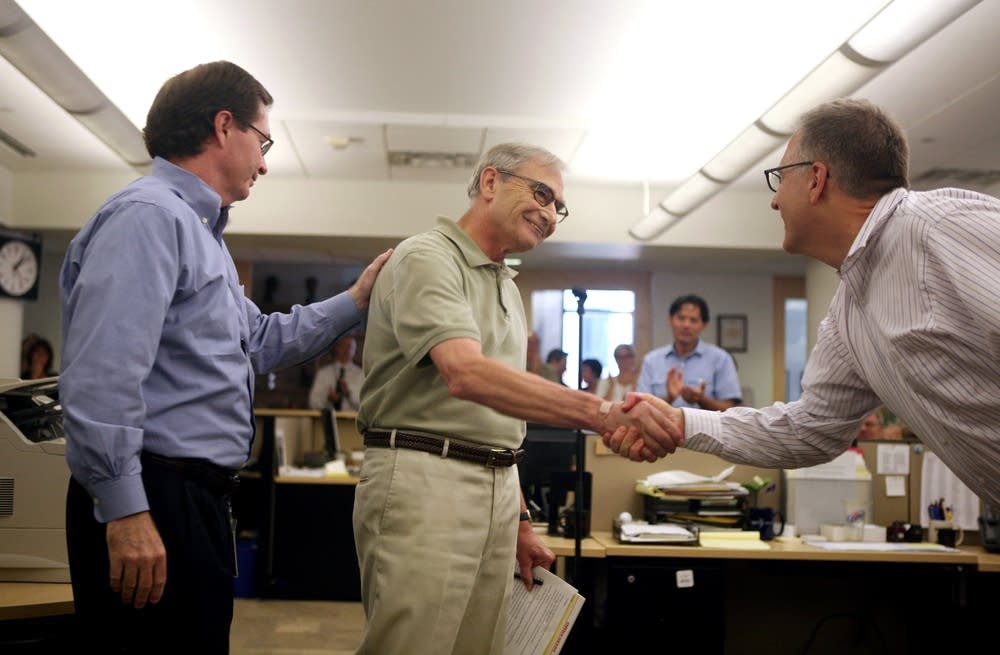 Bill Wareham is an editor for MPR News.
I first came to Minnesota Public Radio in June 1982, so some day this year will mark the 30th anniversary of my first meeting Gary Eichten. Try as I might, I can't remember that moment, which seems strange given other vivid memories I have from those first few months.
There was Bill Catlin (now a fellow editor, then a board operator like me) in a control room on Day 1; reporter Dan Olson, filling in on a Saturday host shift a few days later; President Bill Kling during a Senate debate in late summer or early fall; Garrison Keillor sometime around then (all I remember from our first conversation: "It's 'A' Prairie Home Companion, not 'The' Prairie Home Companion.")
But I can't remember the first time I met Gary, which troubles me because within a few months we were working side by side with reel-to-reel tape, razor blades and manual typewriters, producing Regional All Things Considered and, later, the short-lived evening drive magazine MPR Journal. We've become great friends since, having spent the intervening decades working, playing, celebrating and socializing together. There are some occasions that simply wouldn't feel right if Gary and his wife Joann weren't a part of them.
Yet, maybe it's not so odd that I can't remember that first meeting. I suspect Gary insinuated himself into my personal life in the same gradual, disarming way he has insinuated himself into the lives of the MPR audience. I imagine most listeners can't remember the first time they heard him on the radio; they just can't remember a time he wasn't there.
It makes sense. Gary hasn't trafficked in the big "wow" moments as much as he's kept up a continuing conversation about the events transpiring around Minnesotans, from the mundane to the monumental. The sum of those events adds up to something pretty profound.
I told Star Tribune columnist Jon Tevlin last week that Gary has been as important to MPR's success as Kling and Keillor. I'll admit that sounds trite, like something you'd say as you shake a guy's right hand and drop a gold watch in his left. MPR, after all, wouldn't exist without Kling's considerable vision, strategic skills and drive. Keillor's unparalleled storytelling ability and uncanny ear for making radio put an indelible creative stamp on this enterprise and lots of money in its coffers.
Gary doesn't have the outsized personality of either of those contemporaries, and his contributions might be subtler, but I'd argue they're just as significant.
Let me tell you a few things about him. He's partial to outlaw country, especially Waylon Jennings. He's got a rifle arm that, until he retired from softball a few years ago, surprised the speedy young guys who tried to score on the old fellow playing the outfield. He doesn't venture from Minnesota a lot because he has always hated leaving his dogs, but when he has traveled it's been to Las Vegas, Cooperstown and Austin, Texas. He'll stock up on a variety of fancy beers for guests, but his own premium brew comes from Grain Belt.
What, you may fairly ask, does this description of a regular guy have to do with the success of MPR?
Only this: We in the media generally, and public radio specifically, aren't representative of the world we cover, or even of our audience. And when you fail to understand that, when you're blind to the broad constituency you serve, you risk becoming the elitist snobs your detractors love to pounce on.
While that lesson in self-awareness contained a dose of the obvious in the 2000s, when we had loads of demographic data to back it up, Gary made it a part of this newsroom's DNA from the beginning, when we ran more on instinct than on numbers. So it meant you might hear about the Vikings, even when it was assumed our audience didn't much care about sports. And it meant that if Gary were interviewing a snowmobiler from Anoka about trails legislation, that snowmobiler would get the same respect as any visiting officeholder, even if Gary had never been on a sled in his life.
Again, that ethic seems painfully obvious now, and as I look at my dozens of colleagues around the newsroom, I can't imagine a single one who doesn't subscribe to it. But there were times when the newsroom was smaller and had less range of experience, and it didn't always seem obvious or easy to achieve.
So consider this: If that ethic doesn't take root early on, you might never connect with anyone except the elites in your audience. The little newscast breaks in your classical/folk/jazz format will never grow into a self-sustaining news service that reaches hundreds of thousands of people every week — more people than the music service that spawned it.
So, yeah, Gary's a regular guy. But a regular guy is exactly what this place has needed for the last 45 years. If Bill Kling represents the brains behind MPR and Garrison Keillor its literary soul, then Gary represents the heart. If you listen to how he interacts with guests and callers on Midday or watch him work a State Fair crowd, you realize how critical that connection to the audience is.
Since Gary started at KSJR in 1967, some public radio newsrooms have disappeared. Many others have grown. But none has enjoyed the phenomenal success of the MPR newsroom. Hundreds of people can claim a piece of the credit pie for that, but the one constant through it all has been Mr. Eichten. For him I would reserve an extra big slice.