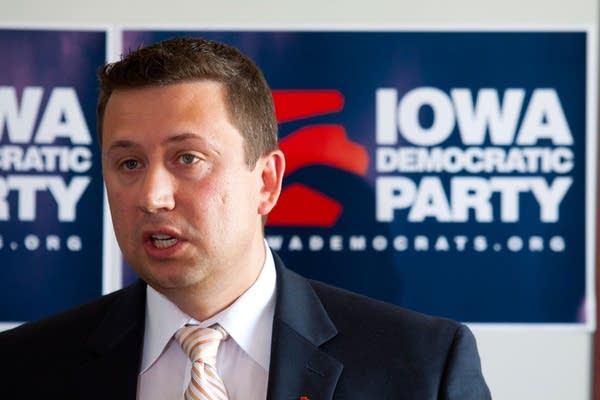 The Minnesota DFL Party is filing a complaint against Republican state Senator Dave Thompson. The complaint says Thompson should have disclosed that he received tens of thousands of dollars for work he did for the Republican Party of Minnesota. The complaint comes days after an MPR News investigation revealed that Thompson and other lawmakers were on the state party payroll.
DFL Party Chair Ken Martin says Senator Dave Thompson of Lakeville should have disclosed to the Minnesota Campaign Finance Board that he received $70,000 from the state Republican Party. An MPR News investigation found that Thompson was one of several elected officials and political candidates who had consulting contracts with the GOP. Martin said Thompson should be fined at least $3,000 for failing to disclose the payment.
"Senator Thompson has a responsibility as a candidate and an elected official to file the compensation that he receives on the economic interest statements."
Martin said Thompson didn't disclose any income from the Republican Party since he became a candidate in 2010 and took office in 2011. The form he filed with the state lists Thompson's occupation as "Attorney at Law — self-employed." He doesn't list any sources of compensation on the form. Martin said he believes Thompson was deliberately trying to keep his contract with the Republican Party secret.
"It raises some serious ethical questions. One of which is whether Dave Thompson was actually paid to run for state senate by the Republican Party. The timing of this is very odd, to say the least, and Sen. Dave Thompson needs to prove that he did the work that he said he did for $70,000."
State law says it is illegal for candidates to pay themselves, but that candidates and political parties can pay other candidates or elected officials for work.
The Republican Party of Minnesota began paying Thompson in November 2009, before he was a candidate. Thompson said he worked for the party as an independent contractor, and by law did not have to disclose the source of his income. He said he signed three contracts with the party to do media consulting and write opinion pieces.
"Clearly, I was hired long before I decided to run for office. Long before my predecessor decided not to run for re-election."
Thompson signed his initial contract with former Chair Tony Sutton — whom he challenged for party chair in June 2009. Sutton resigned in December 2011 after party leaders and rank-and-file members raised questions about the party's finances. Party officials say the GOP is facing a debt of roughly $2 million. For his part, Thompson, who also worked on Republican Lee Byberg's campaign for Congress in 2010, said he doesn't see any conflict with being employed by the party.
"They are two completely and separate and distinct things. Now, if I had said to the party 'I can't continue to work for you, pay me anyway,' that's different," Thompson said. "But I continued to do the work and provide all of the services that they wanted me to provide. I was paid for that service like anyone else."
Thompson is one of several elected officials or candidates on the state Republican party payroll since 2009. Rep. Joe Schomacker of Luverne was paid roughly $1,800 a month by the party as a party staffer as he was campaigning for office. Rep. Mark Buesgens of Jordan was paid about $11,000 for consulting work in 2010. Washington County Commissioner Bill Pulkrabek's company Tilt Inc. was paid nearly $17 thousand for fundraising and consulting work.
DFL Party Chair Ken Martin says his party does not hire elected officials or candidates because they believe it's unethical. He called on the Republican Party to end the practice as well. A spokeswoman for the Republican party did not return messages for this report.