It's been a big week for Glenn Close. Not only did she receive a best actress Oscar nomination for her performance as the title character in "Albert Nobbs," one of her co-stars, Janet McTeer, got the nomination for best supporting actress.
The nominations are a validation for a project which Close has worked on for three decades.
"I know it's hard to imagine" she laughed during a recent phone interview with MPR. "I did it on off-Broadway in 1982."
Close originally performed "Albert Nobbs" as a one-woman show. The film version, which opens in the Twin Cities this weekend, is a heartrending story of a woman living in 19th century Dublin who passes herself off as a man. She works in a hotel as a servant, living in constant terror of being discovered.
"And the character was one of the most fascinating that I certainly had played at that point in my career," Close said. "And then as I started producing and thinking of stories that I believed in, this was always on the list."
It just took longer than most," she said.
"She's a displaced person and she's a survivor and she's an innocent. And she is living at a time when women had no rights and, if you were nameless and had no family and had no money you ended out on the street. So her turning to disguising herself as a man in order to survive, it was fascinating to me. Because it wasn't about transgender, it was just about surviving."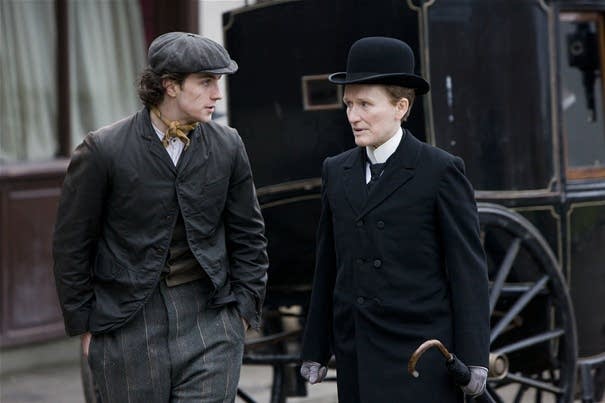 Close said when she first performed the play it was done simply. She did it with no make-up and a short-haired wig.
"I think my preparation was just trying to get in with my imagination to the inner thoughts of a character like Albert," she recalled. But doing a film needed much more.
"Film goes into people's souls so we had to construct a whole look," Close said.
That's part of what took the time. Close produced the film, and co-wrote the script. She also did a lot of the legwork on casting. She recruited a number of friends to place the guests and hotel staff. She also made the acting equivalent of cold calls on people she thought would be good for particular roles - including Janet McTeer.
"She was playing Mary Stuart on Broadway and I went to see the play," Close said. "And then went backstage and I introduced myself and said I had this film that I love her to read. And if she was interested to get back to me. And she read it and she was, and she stuck with us from that point on."
Close even scouted locations, finding the Dublin Hotel where much of the action in the film takes place.
However, what really sticks with a viewer is seeing Close play Albert Nobbs. Several of the other characters describe him as "a funny little man." They know there is something different about Albert, but they can't quite say what. However
Close points out Albert picked a perfect situation in which to pass off her deception.
"She's chosen to disguise herself in a profession where at that time you were supposed to be invisible. Victorian servants weren't supposed to look people in the eye. In fact in some of the great houses they were supposed to turn and look at the wall when people passed them in the hallway. So you keep your eyes downcast and you do your job and you don't see anything and you don't hear anything. So for her it's a perfect disguise because she is able to at least work and to save money to keep her from the street."
As the film unfolds it becomes clear that many of the guests and servants have secrets of their own and something to lose. However, Albert is at her heart such an innocent that she doesn't realize this for years.
The camera often lingers on her character's face to convey that innocence, and, "That was the huge challenge of the part, what to have on my face at any given time," Close said.
Sometimes Albert's face is just blank, almost frighteningly so. But through a chance encounter Albert comes to realize she is not the only person hiding in plain sight, and her world begins to open.
According to Close it took a long time to get Albert right.
"The blank face is usually when she is working," Close said. "When we first started, even with rehearsal I felt my face was wrong for Albert, the furrowed brow was wrong for Albert. And then one day I happened upon the kind of more questioning, more wondering, more innocent in a way kind of look. Slightly raised eyebrows, and all of a sudden I said, 'This is Albert. This is who she is.' She doesn't look out at the world with a furrowed brow. She looks out at it trying to understand it, with more of a sense of innocence and wonder, questioning."
Despite having a big name like Glenn Close involved, "Albert Nobbs" is still a small independent movie, and that is another reason it's taken so long to complete. But now it's out and making waves, Close admits she's elated.
"I'll never do anything else like this in my life," she said. "I also feel anything goes now, I don't know what I am going to do next, but it's going to be fun."
But that doesn't mean she'll leave Albert behind.
"All my characters are with me. All my characters represent a time in my life, represent an exploration which only adds to what actors, to what we do. When you explore the landscape of a certain human heart it makes your heart more expansive, That's why I feel actors should only get better, because they have experienced that exploration."