Ten years between albums, The Minor Planets arrive at a transformed landscape
The Minneapolis Americana duo "The Minor Planets" drew critical raves for its first album, "Rotate + Balance." But that was ten years ago.
Last month, The Minor Planets released its second full-length record, "Shadows in the Water." And though the band's trademark harmonies and easy going country style remain intact a decade later, the music scene and industry is barely recognizable.
St. Paul Pioneer Press music critic Ross Raihala wasn't working in the Twin Cities when The Minor Planets first album came out, but he draws the same comparison others writers did 10 years ago.
"When you have a male and female vocalist, and they're singing this kind of music, it's hard not to think of Gram Parsons and Emmylou Harris," he said.
Country rock pioneer Parsons and the aching folk and country crooner Harris made an almost cosmic connection when they banded together in the late 1960s and early 1970s. They have always been a guiding light for Dana Thompson and Eric Christopher of The Minor Planets. On "Shadows in the Water," the duo has spread its wings musically, with more instrumentation and new arrangements, and even a nod to Burt Bacharach, but to Raihala their appeal is still within their comfort level with each other.
"They come across as two people who grew up singing together," he said. "It's just so natural and easy and not forced, and that's the thing about the whole record. It just feels so natural."
Ten years between records is an important marker, not just for The Minor Planets music, but for how much the music business has changed. Thompson had a child and released a solo record during that time, and Christopher dived into Minnesota's bluegrass scene. Now that they're back as a band, they've had to deal with the positives and negatives of a transformed music landscape. Christopher sees one great positive: not having to pay an outside studio to record your music.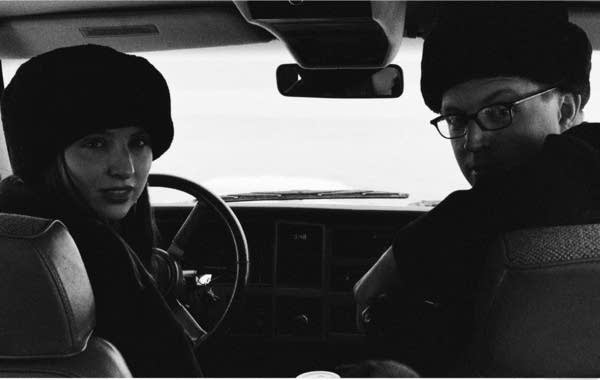 "Now you can record a nice sounding record at home basically, on your own time, without the studio clock running," he said.
And that gave the pair all the time they needed to shape the sound of their new album. If recording is now do-it-yourself, so is attending to the business of your band, much to the chagrin of Christopher and Thompson.
"People have to just really own their own careers now. It's almost impossible to get like the support system of a record company or a team of people," she said. "You have to be your own team, which is hard for us because we're not necessarily very good at saying 'Hey! We're really great! Listen to us!' "
"Artists used to spend their time focusing on music," he said. "Now you're trying to figure out Photoshop so you can make the CD art or the flyer and you're trying to build a website and all those things and I think in general, it hurts the music."
Both principals are amazed by the exponential increase in the number of groups, songwriters and musicians over the last ten years. Everybody is starting bands.
"Especially the girls," Thompson said. "They get instruments put in their hands way earlier and are encouraged so much more than they used to be. I had to fight to play guitar. Like fight."
The Internet has helped ignite this explosion, not only in the amount of music, but its stylistic diversity. Younger artists collaborate across genres much more than before. Music splinters into narrower categories.
"People have to just really own their own careers now. It's almost impossible to get like the support system of a record company or a team of people,"
"Everybody's got their own little sub-genre that's kind of their thing; It's part of their identity," Christopher said. "It nurtures a lot of music that's sort of been marginalized for a long time."
The Minor Planets' songs are often classified as alt-country or Americana, a genre which may have been peaking around the time of the duo's first album. Thompson thinks the Americana audience is still around, but ironically, has moved overseas.
"I think there's still a huge presence, especially in Europe, there's a huge fan base over there for alt-country," she said.
So where in this ever-expanding musical universe do The Minor Planets and its folk, bluegrass, country hybrid fit in? Going to Europe isn't feasible for the band right now. And Thompson admits to another challenge.
"We're hard to market so we might not be actually reaching the people that would love our music," she said.
Which brings them back to building their website, updating their Facebook page and Photoshopping flyers, because as The Minor Planets have discovered, they're their own team now.
Gallery
1 of 1
Your support matters.
You make MPR News possible. Individual donations are behind the clarity in coverage from our reporters across the state, stories that connect us, and conversations that provide perspectives. Help ensure MPR remains a resource that brings Minnesotans together.