At the Flamingo restaurant, African fare simmers with Minnesota culture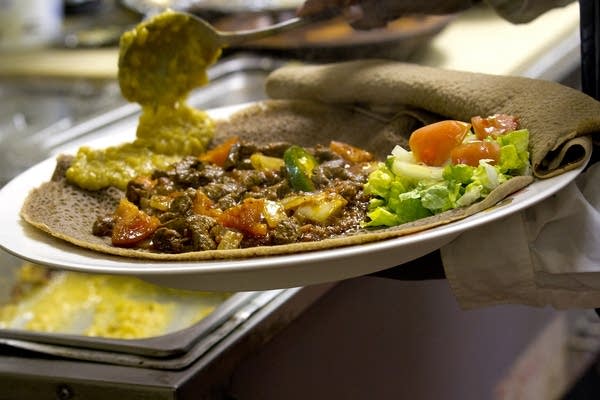 The clocks reads 9 p.m. as Shege Kebede tears off a piece of injera -- a spongy, East African flatbread -- and pops it into her mouth. It's the first thing the co-owner of the Flamingo restaurant in St. Paul has eaten all day.
"When you work in the restaurant, sometimes it doesn't stop," she sighs. "We just keep cooking and taking [the food] out," she says. "There are many days that we completely forget about eating."
The restaurant specializes in Ethiopian and Eritrean food, a menu of chicken, goat and lentils and more, all cooked with fresh spices straight from Africa. Traditionally it's eaten with fingers, using bits of injera as edible scoops.
Out in the dining room, Kebede's colleague and restaurant co-owner Frey Haile chats with the regulars. She's always ready to initiate the novices into the ways of food she loves.
"People who never saw Ethiopian food or Eritrean food, when they come here, they get intimidated," she says. "So we give them a taste, a little bit of injera. And once they try it, they're hooked. "
Kebede and Haile both have infectious laughs. They both treat customers as if they're family.
"We both have the same goals and the same drive," Kebede says.
And they have one other thing in common: they're both refugees -- Kebede from Ethiopia; Haile from neighboring Eritrea. For decades their homelands were engaged in a brutal conflict. Eventually, the violence became too much for either woman to bear.
"It was [a] life and death situation at the time," Kebede said. "Always bombing and killing," Haile added.
Once she decided to flee, Kebede walked for a month and a half, eventually reaching a refugee camp in Kenya with little but what she could carry with her.
"It's not like you pack. It's not that way," she recalls. You just get up in the middle of the night because you are in danger so you leave."
Haile made her way to Sudan, also by foot. She travelled alone and only at night. Days were spent hiding in bushes, trying not to get caught by rebels or government armies or hyenas looking for dinner.
"You don't have enough water or food," Haile says. "All you have is god and your bravery," nods Kebede "You're just thinking if I'm going to survive this hour, and then that hour passes. Ok, now this minute. That second," Haile responds. "The only thing you're thinking: Do you survive?" Kebede says. "When you are a refugee, you are a person completely disconnected. You have nothing to show for life so you are completely starting over. So we don't belong anywhere. And that's the most hard thing for a human being to be."
You might say opening the Flamingo was an attempt to create a small place where they could belong. Plus, Kebede says. "We want people to see that, even though your countries fight [for] over 35 years, you can still be friends."
Chicken simmers back in the kitchen. Vegetables sizzle. And Kebede cuts fresh strawberries to top off the night's desserts.
As the Flamingo's patrons enjoy lamb stew and sambusa appetizers, Kebede recalls one of the most challenging times in the business's two-year history. In the summer of 2010, a freak power surge shot through the kitchen. It blew out everything from the refrigerator to the ventilation hood. Hundreds of pounds of meat in the freezer spoiled.
Things looked very bad. "Everything that we have we have invested in this restaurant," Kebede says. "When the restaurant experienced that, we didn't know how to come out of this.And we were so devastated. Devastated. I was like a little bit hopeful and Frey said, 'Be realistic. There's no hope for us. We're done. We close.'"
Yet even as they prepared to pack it in, one of their friends started sending out emails, asking everyone she knew to come support the Flamingo.
"And those people kept passing it around," Haile says. "And the people just start coming. Everyone, white, black, African. Everybody came," Kebede says.
People lined up outside to get a table. Many stopped in for dinner and then ordered three or four more entrees to take home. Neighbors dropped off $5 donations. And one woman handed over two checks, each for $5,000, leaving Kebede and Haile in tears.
"We call her our angel now, Haile says.
Within two weeks, the two women had the money they needed to keep the restaurant's doors open.
"We have been saved by Minnesotans," Kebede says. "When you become a refugee, you lose who you are. You don't have a country anymore. You don't have a family anymore. For the first time I say, 'We are home. We're really home.' Because, we are rescued by people. We really feel like this is home."
Kebede and Haile opened the Flamingo with the goal of showcasing their East African culture in Minnesota. But today, says Kebede, the restaurant has become part of the culture here.
Gallery
1 of 1