Arts economy rises on the southwest prairie
Sunlight streams through the stained glass windows in Brad Hall's art studio across the street from the Minnesota River.
Built in 1889 as a church and later used for the town library and senior center, the renovated white wood building now features polished hardwood floors, a new loft for Hall's bedroom and a kitchen island made from the former altar. The church was in rough shape when Hall bought it for $1 and moved back from Chicago in 2002 to fix it up.
Hall was raised in Granite Falls but moved away to attend graphic design school. It was only when he was looking to establish a studio that he realized how much easier that would be in Granite Falls.
"I was looking for a house in Chicago," he said. "You pay $100,000 for a trailer house or an empty lot."
Grow the Future of Public Media
MPR News is supported by Members. Gifts from individuals power everything you find here. Make a gift of any amount today to become a Member!
His mother told him about the church, on the verge of being torn down, and he submitted a sealed bid. It turned out to be the only one.
"I wasn't thinking about moving home," said Hall, sorting through a pile of linoprints he created, featuring broken down houses, grain elevators and other fixtures of the surrounding landscape. "I was thinking about a nice art studio."
He professes a "love-hate" relationship with his hometown. The best part is when he goes to the corner store and everybody knows him and asks how he's doing.
"The worst thing," he said, "is I go to the store and I don't want to see anybody, and I get the same reception."
Hall is part of an emerging arts economy in western Minnesota, an area stretching from Ortonville downriver through Milan, Montevideo and Granite Falls. People here are hoping that focusing on creativity, art and handwork will lead to jobs and reverse the longstanding trend toward a declining and graying population. It's a strategy some communities have turned to as part of a drive to become more entrepreneurial.
It's notable that this part of Minnesota is doing better than most when it comes to grassroots job growth. While some measurements indicate entrepreneurial activity declined statewide beginning in 2007 or 2008, the Granite Falls and Montevideo area saw a growth in proprietor income and also managed to hold self-employment numbers steady.
Rural areas rely heavily on the self-employed, and arts-related endeavors are becoming a larger and increasingly legitimized part of the picture. The movement toward arts-based economic growth, sometimes called "creative placemaking," seeks to revitalize and re-imagine cities or neighborhoods searching for a new way forward.
Western Minnesota certainly has its share of artists and craftspeople, including painters, potters, musicians and willow furniture makers. A fall arts crawl called the Meander featured 45 artists last year, flung across area towns and farms.
The crawl started almost a decade ago in Milan, home of the Milan Village Arts School, which teaches skills from Scandinavian rosemaling to silversmithing to knife-making. But it was given new momentum last year when it kicked off in Granite Falls at the restored K.K. Berge building, down the street from Hall's church-turned-studio.
The Berge building was slated to be torn down, but was saved by locals who convinced the city to contribute the $150,000 reserved for demolition toward fixing it up instead. It was refurbished and fitted with two enormous windows overlooking the Minnesota River. It reopened in December as an art gallery and the new chamber of commerce office.
A recent art opening there drew 75 people. "Every time we have an event in here, I think it's so much better than a hole in the ground," said Nicole Zempel, the chamber's executive director, who spearheaded the preservation effort with Patrick Moore of Montevideo-based Clean Up the River Environment (CURE).
"We are introducing the power of the arts to the community."
Art sales have been picking up for Hall, though he still works a day job at a group home for people with disabilities. During the Meander crawl last year, nearly 500 people came through his studio, many buying his linoprints and watercolors. "We don't yet have a critical mass of artists," he said.
But if things keep progressing, Hall thinks arts will start to feed other parts of the local economy.
"I hope we are on the verge of that," he said. "I'd like a little ethnic cafe. Please God, anything that's not diner food."
ARTS MEET THE REAL WORLD
Efforts to build economic strength through the arts can seem small, but there is evidence to suggest the strategy works, according to University of Minnesota researcher Ann Markusen. She heads the Humphrey School's Project on Regional and Industrial Economics and has co-authored studies on creative placemaking.
Markusen cites the northwestern Minnesota city of New York Mills, which boosted its economy by establishing an arts retreat and regional cultural center, drawing artists from across the country and establishing an annual "Great American Think-Off."
"New York Mills was a declining economy," said Markusen. "They had one boat plant and that was it."
She said the center's founder garnered support for the project by finding the artist in regular people, farmers who were landscapers, shopkeepers who sang in the church choir. "It's an amazing success story."
"I hear from developers that the arts center is a major amenity, a factor in where people choose to live."
To make these efforts work, Markusen said, it's important to brush aside pretentions surrounding exactly what constitutes art. An arts focus can raise property values. It can create local jobs. And it can keep dollars circulating at home, she said. "A lot of art and culture is very labor intensive."
The western Twin Cities suburb of Hopkins built an arts center downtown in the late 1990s after a car dealership closed. Kersten Elverum, director of economic development and planning for the city, said the transformation has been dramatic.
"It's been fun to see us move away from cars and bars, which was our unofficial tagline for a long time, to a more positive image for the longterm."
She said pedestrian traffic has increased and so has the diversity of restaurants and shops.
Elverum cited estimates that the average art patron spends more than $20 in addition to the price of a ticket. The center, city-owned and subsidized, also has been a draw for new housing.
"I hear from developers that the arts center is a major amenity, a factor in where people choose to live."
The same appears to be true of tiny Milan in western Minnesota, which opened its arts school in 1988 and is credited with spawning the arts movement in this part of the state.
Ann Thompson runs a gift shop called Billy Maple Tree's, a few blocks from the school. The shop is named after her 84-year-old father, who was given the nickname because he planted a lot of maple trees. The store is full of handmade hats, quilts, baskets, pottery and a few of Brad Hall's linoprints.
Thompson grew up in Milan, though she lived overseas for nearly two decades before returning seven years ago.
She said her store benefits greatly from local artists.
"All the businesses in town, the cafe, the grocery store, the gas station, they all owe something (to the arts)," she said. "They all feed off the arts community here."
The arts school "has been instrumental in keeping Milan on the map," said city clerk Christine Kleven. "It brings in people from different areas, people to teach and share their arts. It has spun off and some of the local artists have been able to make a business."
PLENTY OF INFRASTRUCTURE FOR ART
A key instigator in a number of entrepreneurial and artistic initiatives in the Montevideo area has been Moore of CURE. Artists need buildings in which to work, he said, and the Upper Minnesota River Valley has an abundance of cheap infrastructure. "Go west young artist."
CURE's partnership with the Bush Foundation has allowed the organization to hire 26-year-old Sarina Otaibi, whose mother is from Granite Falls but who was raised in the Middle East, and earned a historic preservation degree from the University of Maryland.
Otaibi recently bought an abandoned church in Granite Falls and plans to convert it into art space and even a youth hostel.
And upstairs from the CURE office in Montevideo, in a new writers' retreat furnished with used tables and chairs and typewriters from various eras, 23-year-old Samuel Hathaway talks about the film he's making.
"It's a dark comedy set in the World War II era," he said. It involves a pair of crusty old men, wives who die in a train crash and escaped POWs who may be dressed as German Mennonites.
Hathaway grew up in Montevideo -- and, in fact, acted in the movie "Sweet Land," which was filmed in the area -- but he left when he turned 18, traveling to Europe and moving to New York for a couple of years to attend acting school. He and his wife returned to make Hathaway's film.
"As I started creating art and writing screenplays and developing the movie I'm working on, I realized the story I was telling, and the feel of it was Minnesotan," he said. "I started to feel that Montevideo was the place to make this piece. I had to come back here."
He's been able to draw from nearby artists in the process, having A to Z Letterpress Printing make a period newspaper, for example.
"These are people who understand the artistic process and can offer support that way," he said. "These are master craftspeople who understand hard work and getting something right."
Affordable housing helps, too. Hathaway and his wife live in an apartment upstairs from Java River in Montevideo, the coffee shop Moore opened and later sold. They pay $350 per month and have a fireplace.
"In New York this would be impossible," Hathaway said. "I can rent an apartment for peanuts. There are artists willing to work with me. I've been surprised at the wealth of resources that are here."
He said building an arts economy has to do with "embracing your community and having confidence in what the community already has."
---
Editor's Note: MPR News' Ground Level receives support from the Bush Foundation.
Gallery
5 of 5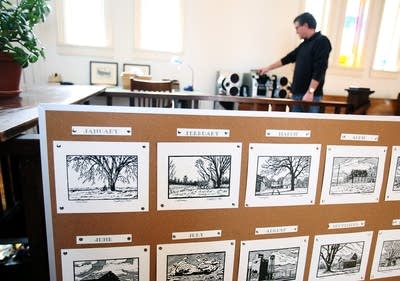 1 of 5
2 of 5