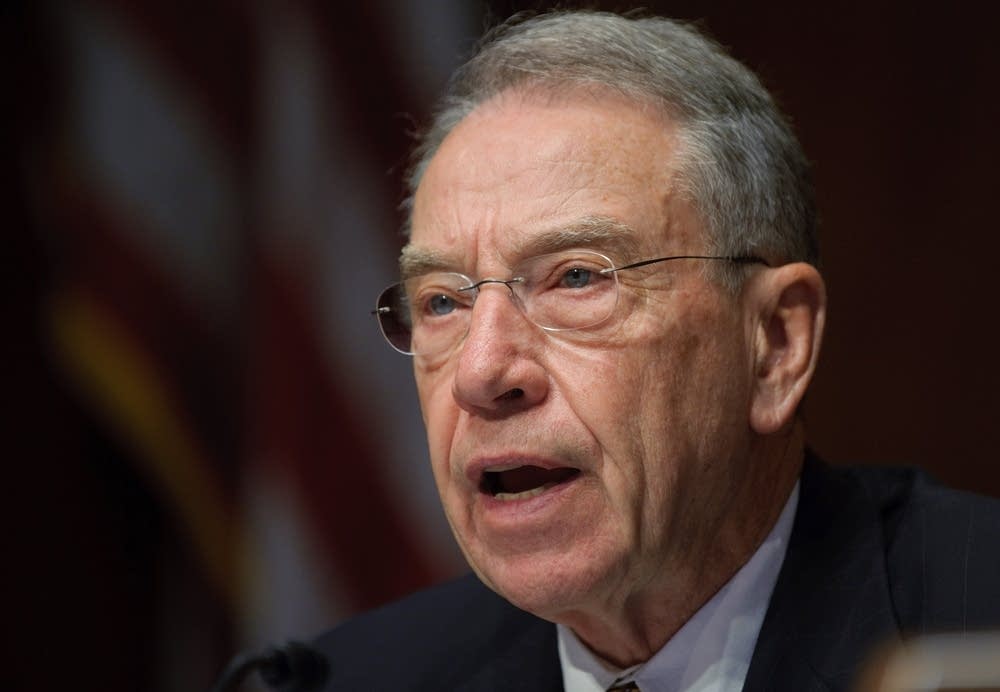 UCare is defending a $30 million donation to the state, a day after Sen. Chuck Grassley said he was concerned the gift was made to avoid reimbursing the federal government.
"We believe it was an appropriate donation," said Ghita Worcester, senior vice president for public affairs for UCare.
UCare is one of several health plans that delivers health care to the poor on behalf of the state and federal government's Medicaid program.
The $30 million from UCare came as welcome relief to lawmakers who were struggling a year ago to plug a $5 billion budget deficit.
Grassley, a Republican from Iowa, wants to know if some of that money should have gone to the federal government. He wants to know why the money is being considered a gift rather than a refund. He said it matters because the federal government pays for half of Minnesota's Medicaid program.
"We're very interested in making sure that all federal dollars spent on Medicaid are spent wisely. If there's money being misspent, and it's been recouped, the federal government ought to have a share of it," Grassley said.
Grassley made clear Friday that he's not accusing anyone of wrongdoing.
"If there's money being misspent, and it's been recouped, the federal government ought to have a share of it."

Sen. Chuck Grassley, R-Iowa
"They've only been an indication that raises questions, raises suspicion. It may turn out that there's absolutely nothing wrong, and at this point we can't say that there is anything wrong," he said. "All we can say is we have a responsibility to look into it."
Worcester said the health plan was conscious of the state's budget predicament and had more revenue than expected.
"We've had several unforeseen marketplace factors that were occurring here, some of which were a healthier population coming into the program, better experience with how we provided things like disease management programs and we thought it was the right thing to do," Worcester said.
Minnesota Human Services Commissioner Lucinda Jesson said that at the time, she met with a top federal Medicaid official about the donation.
"During that meeting I said, 'I want you know that UCare just came in and made this donation. They said it's a donation, we believe it is. We understand this is unusual and novel, you may look at it differently but I just wanted to make sure you knew about it,' " Jesson said.
It was the first time UCare had ever made that type of donation to the state.
Stephen Parente, a health finance professor at the University of Minnesota's Carlson School of Management, said there's reason for Grassley to be asking questions.
"On the surface ... it seems very nice and it seems very noble," Parente said. "But because it's somewhat out of the ordinary and also because the program is very much engaged in publicly funded health insurance that has contractual obligations with the state, it looks a little odd."
Parente said there's already a lot of political debate in Minnesota about the state's Medicaid contracts with health plans like UCare. He said it's worth asking whether UCare was trying to get something in return. But others say the attention on the UCare donation is unwarranted.
"It's ironic that they're getting scrutiny for what I think was a very good thing," said Republican Rep. Jim Abeler, who oversees the House Health and Human Services Committee at the Legislature.
Abeler said he wants to know why other health plans aren't giving money back to the government when they have reserves.
"If you're asking about UCare, you're asking the wrong question. If you're asking country-wide why do we pay our different vendors so much money to do what they do and are they also building on their reserves, that's a massive question that needs to be asked but not just picking on one company in Minnesota that happened to do the right thing."
Grassley has also asked other public health plan providers in Minnesota — HealthPartners, Medica and Blue Cross Blue Shield — to provide information about the state's Medicaid program. Officials for the health plans say they're cooperating with the inquiry.
(MPR report Jon Collins contributed to this report.)
Grassley Letters