Somali-American photographer presents a new view of his community
A photography exhibit at the Whittier Gallery in Minneapolis aims to showcase young Somali men who are improving the lives of others in the Twin Cities.
After years of seeing images of Somali terrorists in the news, photographer Mohamud Mumin wanted to offer a different picture of his community. His first solo show will do just that.
"For me, it's being able to capture an image," Mumin said. "And also trying to tell stories that often times don't get heard or seen."
The exhibit features larger than life-sized images of 13 Somali men who are, as Mumin puts it, "dedicated, passionate and positively engaged in the community."
As Mumin unrolls a portrait of a Somali teenager, the necktie appears first. Then the lips and the crinkled nose. And then the eyes -- which must measure 2 feet across.
The portrait itself is huge -- more than 5 feet tall and more than 3 feet wide.
"I wanted something big," Mumin said. "It's always good to see something up close."
The young men in Mumin's photos include artists and teachers, a youth ambassador to the White House and the founder of the Somali Basketball League. For them, getting to this point hasn't been easy.
Like all the subjects, Kaamil Haider is a refugee. His family fled their war-torn homeland when he was 6 years old, crammed onto a cattle boat heading to Yemen. They were stopped within sight of the shore, and were not allowed to go any farther because the coast guard was concerned there were militia members on the boat.
"People started jumping off the boat," Haider recalled. "My brother dragged me on his back. On the way, we bumped into little children that passed away. I will never forget that image, moving them to the side so we could get to the coastline."
Haider said the war in Somalia profoundly shaped his identity. Still, "refugee" is just one part of who he is. Today he's a graphic designer and volunteers much of his time at a mosque. He's grateful that Mohamud Mumin's photographs represent the lives people are living now.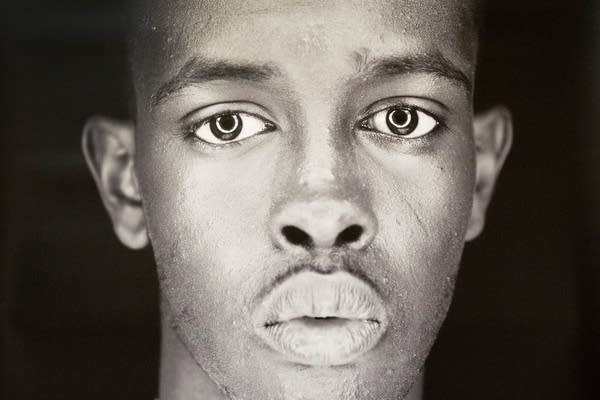 "I believe Mohamud's work is shifting away from being a refugee, being an immigrant, and moving towards shining a light on young Somali men that are doing something for the community, for the world, for themselves," he said.
The show opened last Saturday night at the Whittier Gallery in south Minneapolis. Photographer Mohamud Mumin stood quietly in the corner, surveying two years' worth of work.
"Maybe I'll need a moment to just take it all in," he said quietly.
Gallery goers -- both Somali and non-Somali -- positioned themselves squarely in front of the portraits. Some moved in closer and closer, until their cheeks almost brushed those on the images in front of them.
"That's me right there," called Ahmed Ali.
Ali is a teacher and mentor in the Somali community and one of the men showcased in the exhibit.
"This guy here, Ahmed Ali," said Ali, pointing at his picture, "he is black, he is Somali, he is Muslim. But he is also a great citizen, a taxpayer. He cares for his community and he's not so scary. Ha!"
Nearby, Abdifatah Farah, a community activist and youth advocate, posed for a few photos in front of his portrait.
"Honestly speaking, I really, really like looking at that picture," said Farah. "It looks like a mug shot, but a good one. If you were to take a mug shot for people doing great things, this is what it looks like. I think the Somali community is going to look at all these photos and be like, 'We are SO proud of them. They are our brothers. They are our sons. They are our family and this is our community.'"
It's a story photographer Mohamud Mumin says he's privileged to be able to share.
"I'm hoping it brings people from different walks of life together," he said.
Then Mumin locked eyes with the giant portrait in front of him and smiled.
Gallery
1 of 2
2 of 2
Your support matters.
You make MPR News possible. Individual donations are behind the clarity in coverage from our reporters across the state, stories that connect us, and conversations that provide perspectives. Help ensure MPR remains a resource that brings Minnesotans together.