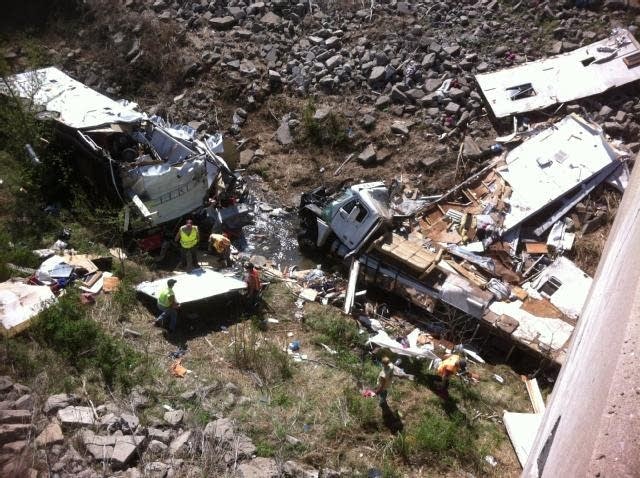 The Minnesota family that lost five members in a crash in Kansas on Sunday is close knit and well respected, a neighbor says.
Eighteen people were in the vehicle that crashed, including Pauline Kerber of Jordan, Minn., and most of her 12 children. They were returning home from vacation when their motor home hit a guard rail and plunged into a ravine 70 miles southwest of Kansas City.
Kathy Lapic said some of the Kerbers live on land outside of Jordan where they raise cattle for their own food. She said a few years ago the Kerber family coped with the loss of husband and father Glen Kerber.
"Pauline was pregnant with their 12th child when their father passed away, and I think they've put that back together and now this tragedy is just ... it will be devastating for them," Lapic said.
She said the family continued to run a local auto repair shop following Glen Kerber's death.
"They are a very close-knit family. They were home-schooled by their mother," Lapic said. "Glen was well respected; he was a very honest repair man. But they have their whole family, so they didn't get out in the public as much as some families do."
Among the dead are Tom and Melissa Kerber of New Prague; and three Kerber family children ages 10, 12, and 14 who live in Jordan.
Pauline Kerber is in critical but stable condition in a Kansas City-area hospital; her son Adam, 17, who was driving the vehicle at the time of the crash, is also in critical condition.