Senate approves voter ID, sends question to November ballot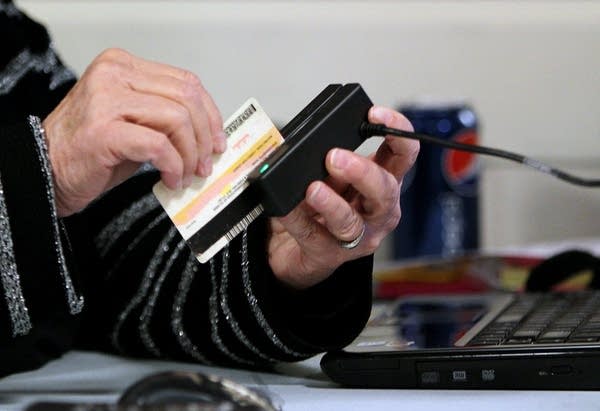 By ALEXANDRA TEMPUS, Associated Press
ST. PAUL, Minn. (AP) -- Voters will decide in November whether government-issued photo identification should be required when voting in Minnesota, after lawmakers approved the ballot measure Wednesday and ended a years-long dispute.
Republicans pushed though the proposal despite uniform opposition from Democrats, who argue that requiring voters to show photo ID would hinder students, the poor and elderly residents. But supporters say the requirement would help build integrity in the voting process in Minnesota, where a handful of major extremely close elections in recent years.
The Senate approved the measure Wednesday afternoon on a 35-29 vote, with only one Republican voting against it, following a 72-57 vote in the House shortly after midnight. Lawmakers had been fighting over the issue for at least five years.
Grow the Future of Public Media
MPR News is supported by Members. Gifts from individuals power everything you find here. Make a gift of any amount today to become a Member!
Gov. Mark Dayton cannot veto proposed constitutional amendments, which need only majority support from the Legislature to get on the ballot, but the governor said Wednesday that he would campaign against it.
The amendment will ask:
"Shall the Minnesota Constitution be amended to require all voters to present valid photo identification to vote and to require the state to provide free identification to eligible voters, effective July 1, 2013?"
Dayton, a Democrat, vetoed legislation last year that would have made the ID requirement state law, which prompted Republicans to pursue the constitutional amendment.
After the vote, Dayton issued a statement calling the measure a "partisan amendment based on a false premise that voter fraud is a significant problem in Minnesota."
"I cannot support a constitutional amendment that is pushed through the legislative process by only one political party, and neither should Minnesotans," he said.
Advocacy groups say it would make it harder for poor, elderly or disabled residents, students, and others to vote, since they are less likely to have IDs or who would be unduly burdened to get an ID.
The state's top election official, DFL Secretary of State Mark Ritchie, also opposes the voter ID requirement. He said the measure would turn the state's election system "upside down" and effectively end same-day registration.
Now, the issue is with voters -- and activists on both sides are already preparing campaigns.
Amendment opponents see fundraising and organizing as an uphill climb, noting that the photo ID requirement has registered strong support in polls. Also, a more prominent amendment on the November ballot to ban gay marriage will likely generate more heat and potentially drain fundraising resources.
Likely leaders of "vote no" campaigns said the groups would probably focus on fears of voter suppression, and argue that such an amendment would end a popular feature in Minnesota elections: same-day voter registration. They argue that a same-day registrant without a photo ID would have to cast a provisional ballot that might only be counted if the voter returns to prove his or her identity.
"We see the polling numbers and we know that there's a lot of people whose minds we need to change on this issue," said Laura Frederick-Wang, executive director of the Minnesota chapter of the League of Women Voters. "Once they're able to understand what the different consequences are we're able to change peoples' minds on it."
Greta Bergstrom, executive director of TakeAction Minnesota, said the progressive advocacy group would help lead a statewide coalition of nonprofit, labor and senior groups to hold local events and advertise that the amendment would "make it harder to vote."
The American Civil Liberties Union of Minnesota has registered a state ballot committee called Vote No 2012, intended to fund the group's effort to defeat both the voter ID and gay marriage amendments. Executive Director Chuck Samuelson said that while arguments are already crystallized on both sides of the gay marriage debate, the political landscape for voter ID is still taking shape.
"We didn't get into the conversation on this voting amendment until relatively recently," Samuelson said. "This has been a one-sided conversation for a very long time."
He said the group would ask its 20,000 members and donors in the state to initiate conversations about voter disenfranchisement. He said a personal approach is needed because large-scale events such as rallies "just aren't going to be effective on a fairly complicated issue."
Frederick-Wang said opponents have been galvanized by recent court defeats of voter ID requirements in other states such as Wisconsin, but she predicted fundraising would be "an uphill battle."
Supporters of the amendment see an easier path.
"It's a pretty easy sell, really," said Dan McGrath, executive director of Minnesota Majority, a conservative group that's backing both the photo ID and gay marriage amendments.
"The primary mission would be to counter the misinformation that's coming from opposition to the bill. The point that we're going to try to get across is that voter ID is just common sense," he said.
McGrath said his group is planning for a potential rally and speaking events, along with lawn signs, bumper stickers, and television and radio advertising. But he said the fight over voter ID won't come close to consuming their resources.
"I don't think it'll be nearly as expensive as the marriage amendment," McGrath said. "We're not going to have to spend a lot of money to keep people of the opinion that they already have."
(Copyright 2012 The Associated Press.)
Gallery
1 of 1