Sex trafficking trial faces series of delays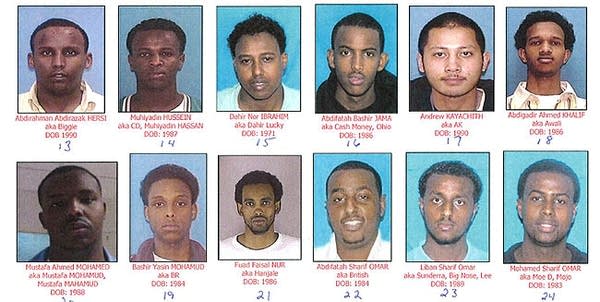 By KRISTIN M. HALL
Associated Press
NASHVILLE, Tenn. (AP) — A federal trial involving more than a dozen defendants accused in a sex trafficking ring run by Somali gangs is being complicated by cultural issues within the Somali refugee communities in Tennessee and Minnesota. U.S. District Judge William J. Haynes again this week ordered jurors to return on Monday as defense attorneys argued that the defendants, many of whom are refugees from Somalia, were juveniles at the time the alleged crimes occurred.
The indictment said three gangs called the Somali Outlaws, the Somali Mafia and the Lady Outlaws were forcing teenage girls into prostitution and operated in St. Paul, Minn.; Minneapolis; Columbus, Ohio; and Nashville.
After selecting a jury last month, the trial was delayed last week when prosecutors turned over thousands of documents and audio recordings from the investigation to defense attorneys on the eve of trial. Both defense attorneys and federal prosecutors have repeatedly declined to comment about the case.
"It can be frustrating to have delays, but it is understandable because the case is so complex,'' said Derri Smith, executive director of End Slavery Tennessee, who will be an expert witness in the case. "I have the utmost confidence that the judge and jury will bring justice about in the case, but it's challenging for all of them.''
The indictment, which was originally unsealed in 2010 and amended by a superseding indictment in 2011, says the defendants, many of them from the Somali immigrant communities in Minneapolis and Nashville, were members or associates of the three gangs. Four unidentified victims, some of who were under the age of 14, are listed in the indictment.
The indictment accuses the gangs of finding and recruiting young girls for the purpose of prostitution in exchange for money and drugs between 2000 and 2010.
Out of the 30 individuals listed in the indictment, only 14 are going to trial this month in Nashville on charges of conspiracy to commit sexual trafficking of children by force, fraud or coercion and charges related to the sexual trafficking. Many of the individuals have remained in federal custody since their arrests in 2010.
Assistant U.S. Attorney Van Vincent declined to say why the government dropped some of the counts related to one of the victims shortly before the trial was scheduled to start. However, another victim, who is identified only as Jane Doe (hash)2, is expected to testify in the trial that is expected to take at least two months.
Smith has been working with Jane Doe (hash)2 in the case and said testifying against other Somalis will be verd all of them born on Jan. 1, because they could not come up with the date exactly when they were born, but they know exactly the year,'' Shafi said.
Dan Scott, a former federal defender in Minnesota who has handled complex terrorism cases, said witnesses often worry about the ramifications of testifying, especially in immigrant communities that.
"When you are dealing with an insular community, especially whose native language is not English, people are going to worry about the ramifications of testifying in court against community members,'' Scott said. "The Somali community is a very insular community in Minnesota — everybody knows everybody.
"It shouldn't be any surprise that this is happening in a case like this,'' Scott said.
— —
Associated Press writer Amy Forliti in Minneapolis contributed to this report.
Gallery
1 of 2
2 of 2
Your support matters.
You make MPR News possible. Individual donations are behind the clarity in coverage from our reporters across the state, stories that connect us, and conversations that provide perspectives. Help ensure MPR remains a resource that brings Minnesotans together.