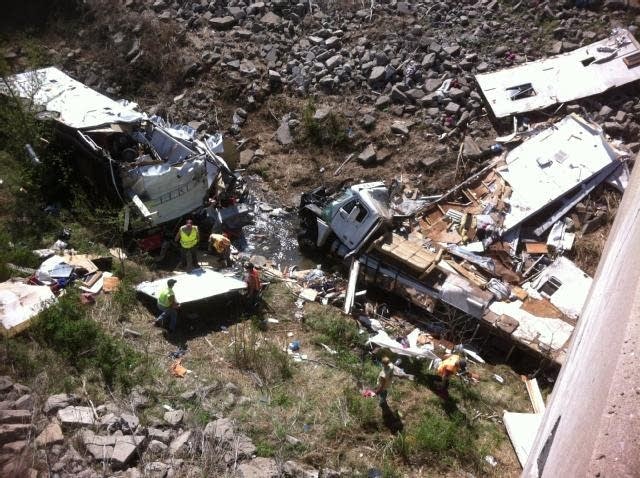 The mother of a 17-year-old who was driving a motor home that crashed two weeks ago in Kansas said Wednesday that her son is a hero.
Five members of the Kerber family of Minnesota died after the vehicle veered off Interstate 35 and plunged into a ravine. Thirteen other people riding in the motor home were injured.
Pauline Kerber said in a statement released by Gillette Children's Specialty Healthcare that her son, Adam, who was driving, "did everything he possibly could to save 13 lives."
Adam Kerber and his 8-year-old brother Nick are in "fair" condition at Gillette Children's Specialty Healthcare in St. Paul.
A preliminary investigation by the Kansas Highway Patrol failed to find any mechanical problems with the vehicle.
Kansas Highway Patrol spokesperson Lt. Josh Kellerman said investigators hope to glean more information from the vehicle's engine computer. The computer, known as the "brain box," could provide data on how fast the motor home was traveling and how quickly it braked, Kellerman said. Investigators are working with the Missouri Highway Patrol to download the data.
A final report on the crash will be completed within the next several weeks, Kellerman said.
No one has been charged or fined in connection with the crash, Kellerman said. He said investigators are awaiting the results of blood tests to look for any trace of drugs or alcohol in the driver. The tests are standard practice in serious accidents and Kellerman said there is no indication that drugs or alcohol played a role in the crash.
"If they feel there's charges to be assessed, then they'll forward that on to the county attorney. But as of right now we're not really discussing any charges," Kellerman said. "We're just trying to get the investigation complete and trying to really narrow down a cause of the accident."
The group was returning from a motocross event in Texas when the crash occurred. The crash killed Tom Kerber, 25, his wife Melissa Kerber, 24, and siblings Joy Kerber, 14, James Kerber, 12, and Jessica Kerber, 10.
Only the driver and one passenger were wearing seat belts at the time of the crash, according to a preliminary crash report.