Sheriffs warn of growing heroin use, related deaths
Three metro county sheriffs say an increase in prescription drug abuse among teens could lead to more heroin-related deaths.
Hennepin County Sheriff Rich Stanek, Ramsey County Sheriff Matt Bostrom, and Anoka County Sheriff James Stuart say they remember the rash of heroin-related deaths in Minnesota 30 years ago, and they're afraid it is going to happen again.
They say prescription drug abuse among teens can serve as a gateway to heroin use, since both are opiates. They urge parents to throw old prescriptions out.
At a press conference Thursday they displayed a bag of what looked like hard candy, but was actually heroin. They said each piece could sell for $20 on the street. Officers found the bag hidden in an air conditioner.
The sheriffs say heroin coming to the Twin Cities from places like Mexico is dangerously pure at 93.5 percent. It is also relatively cheap. Medical examiners say heroin-related deaths in the three metro counties nearly tripled last year, from 16 in 2010 to 46 in 2011.
Those numbers continue to grow this year, Bostrom said.
MPR News is Reader Funded
Before you keep reading, take a moment to donate to MPR News. Your financial support ensures that factual and trusted news and context remain accessible to all.
"We've been through this long enough in law enforcement — long enough to recognize trends, and we're starting to see a trend," Bostrom said. "And that's where our appeal comes from, is to say 'help us.' "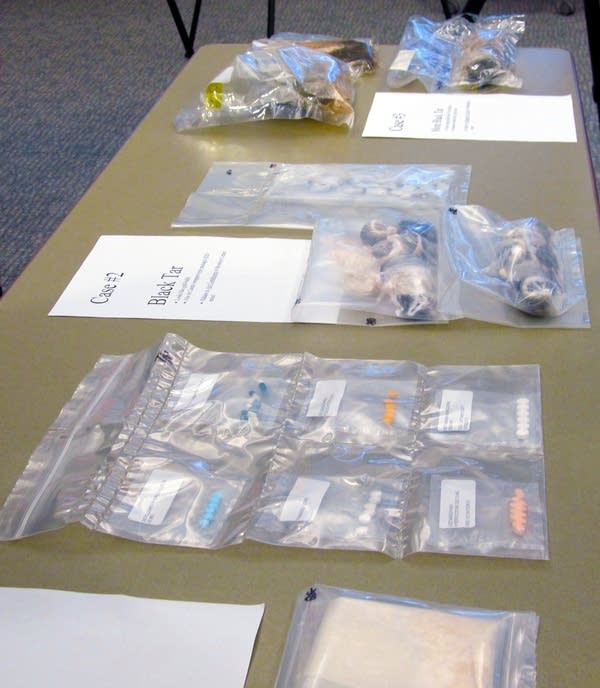 Stuart said heroin-related deaths in Anoka County rose from five in 2010 to 13 in 2011. Last year there were also 55 cases of overdoses in Anoka County where the victim survived.
Twenty-one people died in Hennepin County in 2011 from heroin-related causes, more than double the number of such deaths in any of the previous four years.
Based on the first three months of this year, Stanek said his office is on track to surpass the amount of heroin it seized last year.
"I have actually had parents say to me, 'Sheriff, I just can't believe a surburban kid can become a heroin addict,' " Stanek said. "Well my answer to that is this: suburban, urban, rural, it really doesn't matter — a person with addiction to these opiate pain killers has the potential to graduate to this heroin, which is also an opiate."
Gallery
1 of 1