Preservationists: Don't demolish Peavey Plaza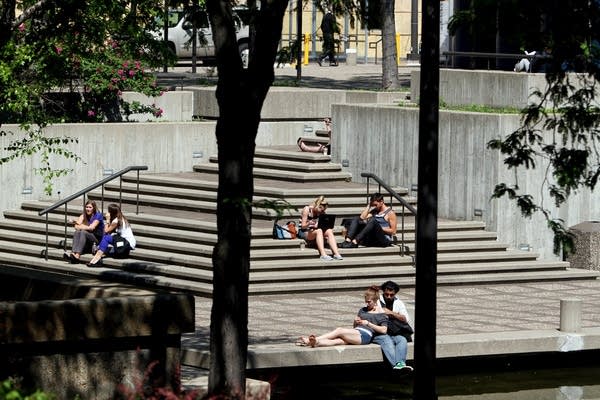 Brackish, green water fills the reflecting pool at Peavey Plaza in downtown Minneapolis. Two of the three pumps that circulate it have stopped working. The third hasn't been turned on since last year. The fountain's iconic metal columns are dry and a bronzy tinge can be clearly seen — which is surprising, because they're stainless steel.
"They're not supposed to be that color," said Beth Grosen is a senior project coordinator for the city of Minneapolis. She says the problems with Peavey go beyond the fountains. She walks over to the wheelchair ramp.
"Notice that this is quite a steep incline," Grosen said.
Completed in 1975, Peavey Plaza predates the Americans with Disabilities Act by a good fifteen years.
Grow the Future of Public Media
MPR News is supported by Members. Gifts from individuals power everything you find here. Make a gift of any amount today to become a Member!
At the bottom of the ramp is a bank of mirrored windows. They can't be seen into from outside, but the people who work in Orchestra Hall can see out. Grosen says sometimes they wish they couldn't.
"It isn't obvious that these are windows, and so I think some people that maybe doing inappropriate things related to drugs or sex or other things aren't aware of the fact that there may well be people watching," Grosen said.
A Minneapolis City Council committee in a hearing today discusses whether Peavey Plaza is worth saving.
The city's planning department says the downtown park is unsafe, inaccessible and too expensive to maintain. They want to replace it with a newly designed plaza they say will better suit the city's needs.
But historic preservationists see the plaza as a significant work of modernist architecture and they're fighting to save it.
Grosen argues the park's design provides too many hidden, — or seemingly hidden, — spaces, and that invites trouble. Police records show 11 crime reports from Peavey Plaza last year. Almost half were alcohol-related.
Grosen says Minneapolis has decided the best option is create a new space that will be safer, more useful and more handicap-accessible.
"We have explored in detail the current condition of all the infrastructure and the conclusion is there's no reasonable alternative to demolition," she said.
"Demolition is drastic," says Charles Birnbaum, a historical preservationist and the president of the of Cultural Landscape Foundation in Washington, D.C.
"Because Peavey Plaza, I would say is a seminal work of landscape architecture of national import, it is worthy of careful change."
Birnbaum says Peavey represents the first "park plaza" in America. It combines paved and green space in a way that has been imitated since. He wants to see it preserved.
On Wednesday evening, Birnbaum unveiled a proposal to update Peavey Plaza. The plan adds additional wheelchair ramps, a restaurant and a bridge that connects 12th Street to Orchestra Hall. It was created by the original architect, Paul Friedberg, who is now 81 and lives in New York City.
"You don't have to destroy something to improve it," Birnbaum said.
Friedberg and Birnbaum were originally part of the team charged with coming up with a revitalization plan for Peavey Plaza, but they were eliminated from the process when Minneapolis decided it wanted to completely replace the plaza.
The city's proposal does not retain any of the original architecture. One reason for that is the funding plan.
The state legislature contributed $2 million in state bonding money to the project a couple years ago. But most of the $8- to $10-million budget would have to come from private donations. Grosen, the city's project coordinator, said donors are more likely to support new construction than rehabilitation.
"They like a little more razzmatazz or tangible difference to show where their money went," Grosen said.
But the city's Heritage Preservation Commission isn't yet ready to bulldoze Peavey Plaza. Commissioner Kevin Kelley spoke at a hearing last month.
"Even though it's 38-years old, I think that we've clearly seen that it is a historic resource, an important one. And even perhaps more important, it's a beloved one," Kelley said.
The commission voted to deny the demolition and study whether the plaza should be officially designated a historic resource. The City Council has the power to overturn that ruling. If they do, the city could break ground as early as next year, assuming it can raise the money.
Gallery
7 of 7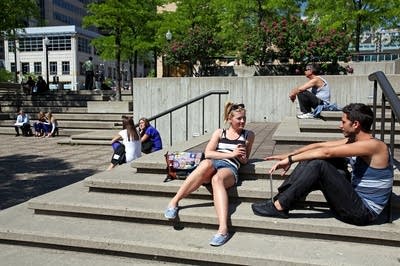 1 of 7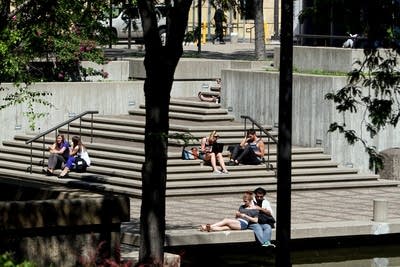 2 of 7