Taprooms spring up as Surly narrows its search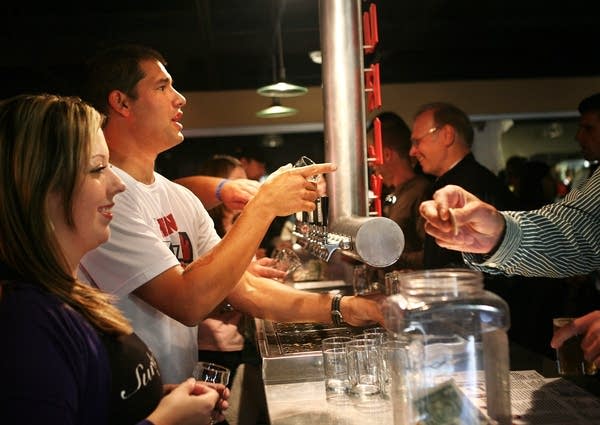 A year has passed since Gov. Mark Dayton signed into law the "Surly Bill," as it's been called.
The legislation allows smaller beer brewers to sell their product on site, and paves the way for Surly Brewing Company to build a $20 million destination brewery in the Twin Cities.
Surly owner Omar Ansari promised jobs and unleashed a social media frenzy among his passionate fans that led to the passage of the law. But despite the initial sense of urgency, Ansari is taking his time to complete his vision.
After the bill was passed, Ansari, the bold, big-thinking founder of the little Brooklyn Center brewery that could, flirted with an ambitious timeline. He said he hoped to pick a site and enter an agreement in the first few months of 2012.
But Ansari has yet to make up his mind on where to locate the expanded brewery, which could include a beer garden and restaurant.
Project consultant Tom Hauschild of the TEGRA Group in Minneapolis said Surly is still on the prowl for just the right spot. He said it will be tough for Ansari to meet his initial hope of completing the project by the end of next year.
Before you keep reading ...
MPR News is made by Members. Gifts from individuals fuel the programs that you and your neighbors rely on. Donate today to power news, analysis, and community conversations for all.
"As we talked through his goal to make this an urban-type solution, he's come to a realization that it takes time," Hauschild said. "It's not impossible that result could yet be achieved, but it's challenging."
Hauschild says they have whittled about 80 possible locations down to about seven or eight. It's no secret that several cities have tried to woo Surly, including some far-flung exurbs. The company might be in a position to make an announcement by the end of the year, Hauschild said.
The short list includes sites in St. Paul, Minneapolis, Brooklyn Center, and some other inner-ring suburbs Hauschild declined to name, but he did rule out exurbs like Elk River and Chaska.
"Surly, given its brand, would exhaust the possibilities of being located in an urban location or in an inner-ring suburban location, and that's what we're focused on now," he said.
LOCATION, LOCATION, LOCATION
Why has it been so tough to find the right piece of land? Hauschild said Surly will likely need seven to 10 acres to accommodate the company's future growth. That's a little larger than what Ansari originally considered. The team also needs a property that is zoned, or could be zoned, for industrial use. Ansari's wish list also includes nearby bikeways and transit lines, and he has expressed interest in the Mississippi riverfront.
Some of the possibilities would require assembling land owned by different parties, Hauschild said. There could be some public subsidies involved for infrastructure, such as street improvements or environmental remediation, he added.
In response to a request for qualifications earlier this year, Surly heard from 34 architectural and engineering teams to design the new brewery.
As the hunt for a location continues, the legacy of the Surly law has been the proliferation of other craft beer-makers that are taking advantage of the change. Veteran craft brewer Summit in St. Paul, which also pushed for the legislation, now has a taproom license, and upstarts Harriet, Fulton and Lift Bridge have also opened taprooms. More are on the horizon.
BEER BUZZ
Workers swarm a former factory that will soon become the next microbrewery in northeast Minneapolis. Nathan Berndt, one of the owners of Indeed Brewing Company, stands in a mostly empty room surrounded by warm brick walls and exposed pipes. This will be the taproom, where Berndt can't help but smile when he envisions customers drinking his fresh brews at a bar that stretches 30 feet long.
"It's going to be crazy. Thirty feet is a pretty long bar," Berndt said.
The legislation that Surly pushed through the Capitol last year convinced Berndt and his partners to make the taproom an integral part of their business model, he said. It also sold them on the idea to set up shop in the city, where they could be close to their target market. He said he would love it for Surly to build its destination brewery in northeast Minneapolis.
"The one thing with craft beer is they'll support all the breweries if they make good beer," Berndt said. "The more people we can have in northeast Minneapolis means the more people that will be in our taproom, and the more people who will be going to Surly's taproom, and going onto Dangerous Man's taproom. It's a big, large community."
While it's unclear when and where Surly will build, the law has already changed the landscape for Minnesota's craft beer options.
Gallery
3 of 3
1 of 3
2 of 3