Transit of Venus: Viewing from Minnesota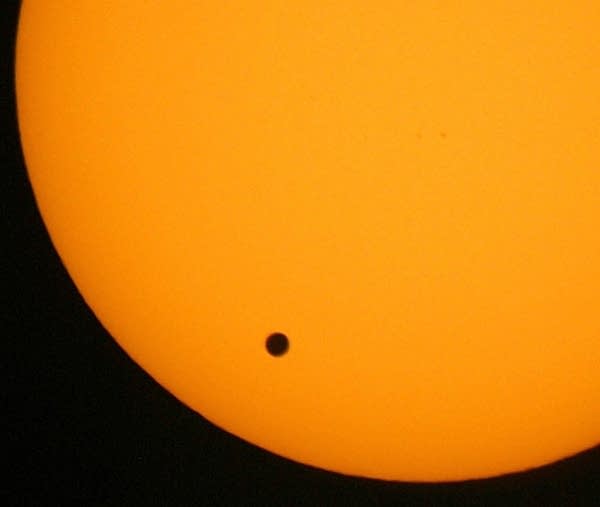 Stargazers around the world are setting up special telescopes and passing out cardboard eclipse glasses to view the once-in-a-lifetime celestial cameo of Venus passing in front of the sun. Here's how and where to see the event in Minnesota:
The University of Minnesota will be hosting a public viewing at the Tate Laboratory of Physics. The event, at 116 Church St. S.E., Minneapolis, begins with a talk by astronomer Terry Jones from 4 p.m. to 5 p.m., followed by a safe telescope viewing from the Tate Laboratory rooftop from 5 to 9 p.m.
The Bell Museum of Natural History and Hopkins Public Schools are hosting a public viewing at the Eisenhower Community Center's observatory, at 1001 Hwy 7, Hopkins, from 5 p.m. to 10 p.m.
The Minnesota Astronomical Society will be hosting a "public star party" at the Onan Observatory at Baylor Regional Park, about 45 minutes southwest of Minneapolis, at 10775 County Rd 33, Norwood Young America. The observatory opens at 4 p.m., in advance of the viewing, which is expected to begin at about 5 p.m. Event organizers expect more than 500 visitors and urge star gazers to arrive before 6 p.m. to make sure that everyone has the best opportunity to see the event.
The Transit of Venus website explains your options for safe viewing.
There are several live NASA webcasts available. The Transit of Venus will take place at different times around the globe, so you can check out several webcasts in different countries throughout the event. All of the NASA webcast information is available here.
The main NASA webcast will be hosted by a NASA facility in Hawaii, beginning at 4:45 p.m. Central Standard Time.
Gallery
1 of 1