In 2nd District, Obermueller targets Kline on Medicare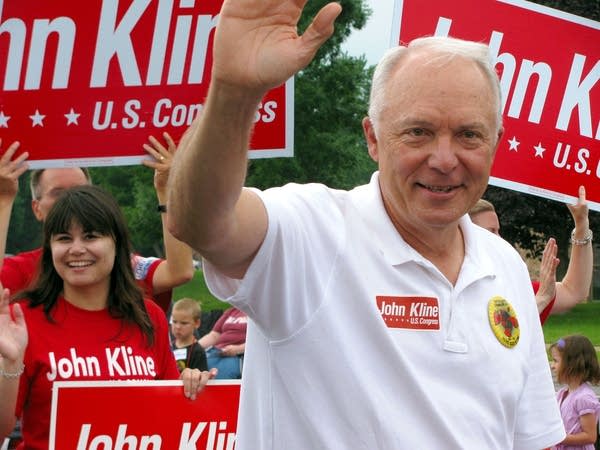 Like most summer-time parades, the one at Cottage Grove's Strawberry Fest in mid-June, teamed with candy-chasing kids, and vote chasing politicians.
Among the mayors, city council members, county commissioners and legislators was Democrat Mike Obermueller, who is running against U.S. Rep. John Kline in Minnesota's 2nd District.
In previous contests, a Democratic challenger's effort to unseat Kline was a tough challenge in a district that was solidly Republican.
That helped make Kline perhaps the most powerful Republican in Minnesota.
Kline, who is in his fifth term, is chairman of the Education Committee in the House of Representatives and is a key ally of House Speaker John Boehner.
But this year, local and national Democrats say they think they have a chance to defeat Kline in November, because of the way the district has been redrawn.
Before you keep reading ...
MPR News is made by Members. Gifts from individuals fuel the programs that you and your neighbors rely on. Donate today to power news, analysis, and community conversations for all.
Obermueller insists Kline is vulnerable, even though the five-term congressman has a huge pile of campaign cash — more than $1 million on hand — and a history of winning big. Two years ago, Kline defeated his Democratic opponent by more than 25 percentage points.
That won't happen this time, said Obermueller, a 39-year-old attorney who lives in Eagan, Minn. He served one term in the state Legislature but lost his reelection bid two years ago.
"The reality is Washington's broken and Congressman Kline is a big part of what's going on out there," he said.
Obermueller's campaign received some much-needed attention recently when the Democratic Congressional Campaign Committee named his race one of the top three-dozen most-competitive house races in the country.
Obermueller is using a familiar Democratic campaign tactic against Kline. He's criticizing the Republican for supporting the House GOP budget proposal of U.S. Rep. Paul Ryan of Wisconsin that would revamp Medicare, changing it from a single-payer to a voucher system.
"He voted for the Ryan budget again and again and, you know, to end Medicare as we know it," Obermueller said of Klein. "Those are the kinds of things that we can't have. We've got to stand up for folks, and we've got to get a strong middle class back into the world here."
As Obermueller works the crowd one-on-one, Kline walked the parade route in Cottage Grove, stopping briefly from time to time to greet supporters.
"I love the die-hard Twins fans," Kline told John Heroff, whose Minnesota Twins cap caught his attention. "I just took my cap off. Are we going to make it out of the cellar?"
Heroff thanked Kline for the emails he sends constituents.
Prior to joining the parade Kline talked about his re-election bid and his campaign war chest.
"I'm fully prepared to spend it and continuing to raise it at a pretty good pace," he said. "So we just campaign hard."
First elected to Congress in 2002, Klein has won easily in the last four elections. But he acknowledges an added challenge this election.
As a result of reapportionment the 2nd District Kline represents expanded, picking up relatively strong Democratic-voting areas of South St. Paul and West St. Paul.
Regardless of what Democrats say, political analysts who handicap congressional races agree Kline is a safe bet for reelection.
"I think for now they can certainly say it's competitive, but everything we're looking at it certainly isn't yet," Jessica Taylor, a senior analyst and reporter for the Rothenberg Political Report.
Kline dismisses Obermueller's accusation he's trying to "end Medicare," nothing that many voters realize the spending imbalance can't be addressed without reworking costly programs like Medicare. Kline also insists he wants to shore-up Medicare, not dismantle it.
"My position is, and I think the Republican position is, we want to make sure that Medicare is there for the long term," he said. "So we're willing to step up and make some reforms for younger people to make sure that it's still there."
Kline and Obermueller both say the federal government needs to reduce spending.
Obermueller said he'd start by cutting $100 billion to $200 billion in government redundancies identified in a Government Accountability Office study last year. He would also seek to address the deficit by ending tax subsidies for big oil companies and increasing taxes on the wealthy.
Kline opposes any tax increases saying they would hurt economic growth. He said "reckless spending" is the problem in Washington, not a lack of tax revenue.
Gallery
1 of 1