Minneapolis police continue to investigate the death of Nizzel George, the young boy who was killed Tuesday morning when a bullet pierced the wall of his house and struck him as he slept on a couch.
Police say they are making progress but have no suspects in custody. North Minneapolis residents say they can't feel safe now, even in their homes.
The child's mother, Christina Banks, asks herself repeatedly how she could have protected her son.
"How? How? How?" the 20-year-old mother asks. Her hands are balled into fists as she sat on the hot cement steps in front of her home.
"I had my baby at 14 years old. That's my only baby," Banks said. "They took my only baby away from me."
Banks' five-year-old son Nizzel was sleeping in his home when he was killed. A day later the same small home looks like every other on its block, except for a shrine of bright balloons, pictures and candles on the lawn, and the visitors who come to pay their respects. Banks looked around the outwardly calm street and wondered how she could have ever thought this was a place her baby was safe.
"I should've carried my baby in my stomach for the rest of his life. Shouldn't never have even birthed him on this earth. That's what I should've never did," Banks said. "I should've carried him forever. Forever. That's the only way I would've been able to protect my baby. They would've had to get through me to get to him."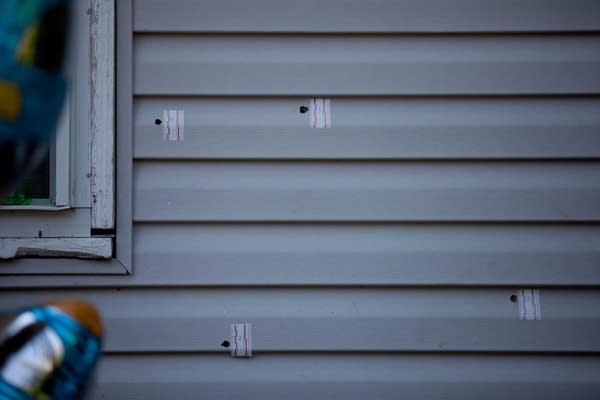 The most recent data from the city shows four calls to report shots fired in the neighborhood over the last week. However, the same incident may have been reported by several people.
Banks is offended by reports that suggest someone in her home may have been connected to the shooting. She said people are saying that only because they want attention and to be on TV.
"Really, they don't know how it's making me feel on the inside," Banks said. "Keep hearing about my baby. Keep seeing everybody walking in with cameras and stuff. This not no game. This is true. My baby gone."
At a park just a block away, Tamika Scott shepherds her toddler niece and nephew from their car to a small city pool. She huddles around them and hustles them from one place to another.
"Really, I don't feel safe anywhere. I mean that shooting happened at like 8:30 in the morning. So it could happen now, you know," Scott said.
Scott said she has lost four members of her family to violence in north Minneapolis. But she can't keep the kids cooped up, she said. They have to play. The family made the decision to move, and they have a home picked out in south Minneapolis, Scott said.
"It's hard because you want to stay in the community and keep people together, but if we can't get people to help us stay safe, if we can't be around each other without all this violence going on, then there's no reason — I mean, I'm pretty sure that the violence is going to follow us where ever we go," Scott said. "Because there's violence everywhere."
On a nearby park bench, two women sit in bikini tops and shorts. One of them, who held a sleeping baby, would only be identified by her first name, Brittney. She said they have seen this happen many times before: someone is shot, the news media come in, and residents say something must be done. And then, Brittney said, the attention goes away until the next shooting.
"We still out here doin' a lot though. 'Cuz I know, when my cousin got killed, we out here strong. After the funeral we don't just forget about them, we still out here in the public, talking to people, posting his stuff up, where he got killed," Brittany said. "People try to take it down. Put it right back up there. And I know a lot of other family members do that too. There's nothing to be said nowadays. They not listening. They not hearing it."
Brittney is talking about young people. There's a group of them lounging beneath a tree on the other side of the pool. One of them would only identify himself as Krazy K.
Shaking his head, Krazy K. said the shooter must have been young to have fired a gun at a house. He speculates that Nizzel's death must have been an accident.
"If it's to the point where you feel you have to shoot at somebody, why can't you catch them outside by themselves and do it like that," he said. "I'm not sayin' it's right and condoning it, but a 5-year-old?"