Will the unpopular health mandate penalty be effective?
The Supreme Court's decision to uphold the individual mandate requiring Americans to have health insurance or pay a penalty has angered some people and frightened others.
The mandate and the penalty are designed to prod younger, healthier people to buy insurance. That will help pay the cost of new insurance reforms, such as a ban on discriminating against people with pre-existing conditions.
The question is whether that penalty will be effective.
Tyler Devine, 26, of Minneapolis voices what many Americans feel about the mandate to buy insurance or pay a penalty.
MPR News is Member Supported
What does that mean? The news, analysis and community conversation found here is funded by donations from individuals. Make a gift of any amount today to support this resource for everyone.
"Yeah, maybe I should have health insurance in case I hurt myself. But at the same time, that they can fine you if you don't; it seems like giving the government too much power — like they already have too much power," Devine said.
Research shows that when people save their own cash and skip on insurance it can get expensive for taxpayers. When the uninsured do need medical care, taxpayers foot most of the bill.
One study finds so-called uncompensated medical care cost the nation $57 billion in 2008. Most of that, about $43 billion, was paid by federal, state and local governments.
Under the Affordable Care Act, beginning in early 2014, individuals and small groups will be able to buy insurance on state-based insurance exchanges, which are online marketplaces where consumers can comparison shop for health insurance. Encouraging healthier uninsured people to buy coverage was one goal of the mandate.
"But it's really actually broader than that, " said economist Jean Abraham, who served on the President's Council of Economic Advisors specializing in health care during the Bush and Obama Administrations. She is now at the University of Minnesota. She said the mandate is also aimed at a large contingent of people who are eligible for Medicaid.
"Individuals who might be eligible for Medicaid right now or other public insurance programs but have not signed up, the individual mandate can provide them with incentive to do so, as with people who have an offer of employer- based insurance but also choose not to do it," Abraham said.
But the non-partisan Kaiser Family Foundation said that when the mandate and penalty take effect in 2014, paying the fine will be cheaper than buying health insurance for virtually everyone who does not have coverage. The penalties grow with time and reach their maximum in 2016.
At that point it becomes cheaper to buy insurance at some, but not all income levels: for an individual at $17,000 a year and up; a family of four, at $40,000.
So if the fine is cheaper than buying insurance how effective will it be?
Kaiser's Larry Levitt said people's decisions will come down to more than just dollars and cents. The penalty does not buy anything, but insurance can buy the peace of mind of having protection against huge medical bills. Today, Levitt said a family of four making $40,000, would have to pay $12,000 a year to get health insurance. But under the federal health care law, that same family would get over $10,000 in subsidies, reducing their cost to $2,000, which is about the same cost as the penalty.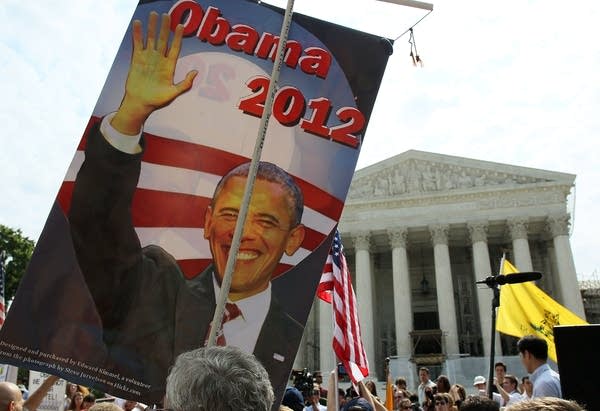 "So yes, they could pay the penalty, but [if they spent the money on health coverage] they'd be getting a $12,000 insurance policy for roughly the same price," Leavitt said.
He said the number of people who decide that paying the penalty is a better deal is anyone's guess.
The penalty does not apply to all Americans. There are exemptions for people who have so little income that they don't file taxes, members of certain religious groups and American Indian tribes.
Even though the mandate is unpopular, it's likely to be an issue for only 6 percent of Americans.
The Urban Institute projects that if the mandate and penalty were in effect today, 94 percent of Americans would not have to choose between buying health insurance or paying a fine. That's because most already have access to insurance through their employer or public programs.
Gallery
1 of 2
2 of 2