Cities debate art vs. advertising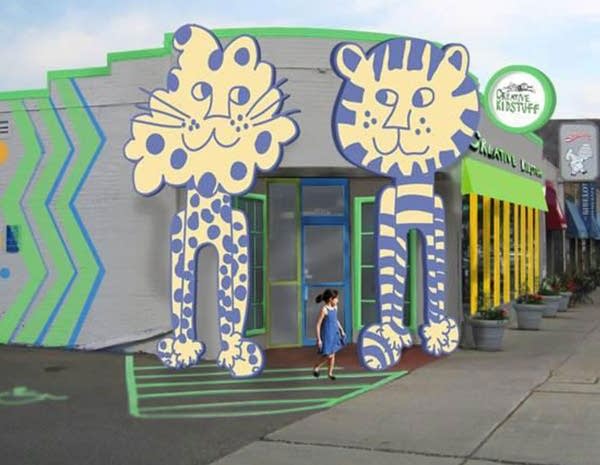 Minnesota's two largest cities are considering where to draw the line between art and advertising. Later this year, Minneapolis may relax the definition of "mural" to allow for pictures of products. And tonight, the St. Paul City Council will decide whether two cartoon cats count as signs or sculptures.
The 18-foot-tall cats would be installed outside the doors of Creative Kidstuff's St. Paul store on Grand Avenue.
Roberta Bonoff, president and CEO of the Minnesota-based toy store chain, told the St. Paul Board of Zoning Appeals earlier this summer she wants the outsides of her stores to be as much fun as the insides.
"We are here to really bring joy and pleasure to children and to families, and that's our whole reason for being," she said.
Bonoff argued that the lion and tiger images should be considered statues or architectural decorations. But the zoning board called them signs. And at 225 square feet, they would be almost three times larger than the city's zoning code allows. Creative Kidstuff will appeal that decision at Wednesday night's St. Paul City Council meeting.
Maureen Flahaven, who lives right behind the toy store, said she hopes the appeal is denied. If the City Council grants a variance to Creative Kidstuff, she's concerned that nearby bars will want the same treatment.
Before you keep reading ...
MPR News is made by Members. Gifts from individuals fuel the programs that you and your neighbors rely on. Donate today to power news, analysis, and community conversations for all.
"What's to stop, for example, Billy's from having a beer bottle, or The Wild Onion from having a giant onion?" said Flahaven. "Then you would have this cacophony of building-size signage."
There's a similar debate underway on the other side of the Mississippi River in Minneapolis.
One of the most recognizable murals in Minneapolis is painted on the side of the old Schmitt Music Co. building downtown. It's the score for a Ravel piano suite, and has been a city landmark for four decades. But if it were painted today, it would probably be illegal.
Since 2001, Minneapolis has banned murals that "advertise or promote any business, product, activity, service, interest or entertainment."
Now City Council Member Gary Schiff wants to scale back that prohibition.
"I think ever since Andy Warhol painted a Campbell's Soup can, there's been a blurring between American iconography and advertising, and we need a change," said Schiff. "If you can't even paint some grapes on the side of a wine store, then we've gone to the land of silly and this needs to be fixed."
According to Minneapolis city records, three murals have been cited for violating the ordinance in the last three years. Some have been painted over. And Schiff worries others are just a zoning inspection away from the same fate.
He points to one that went up earlier this year on the wall of the 1029 Bar in northeast Minneapolis.
"It features two squirrels rowing in a boat, and the boat is actually a PBR beer can. And it's become an instant icon," he said.
The inclusion of the Pabst Blue Ribbon logo wasn't an accident. John Grider, one of the artists who painted it, confirmed in an e-mail that The Pabst Brewing Co. commissioned the mural. Pabst, which declined to comment for this story, has a history of pushing the limits of local advertising restrictions around the country.
That's exactly why Minneapolis should leave its prohibitions in place, according to Ossian Or, the executive director of the anti-billboard group Scenic Minnesota.
"Over the past five years, 10 years, 15 years, everything has become commercialized," Or said. "You can't go into a gas station without seeing a television monitor by the pumps, and you go into the restroom and you're at the urinal and you see one in front of you. Everywhere you look, advertisers are finding a place to put something, to sell you something you don't need."
Or said one way for cities to slow that creeping commercialism is to maintain a strict separation between art and advertising.
Gallery
1 of 1