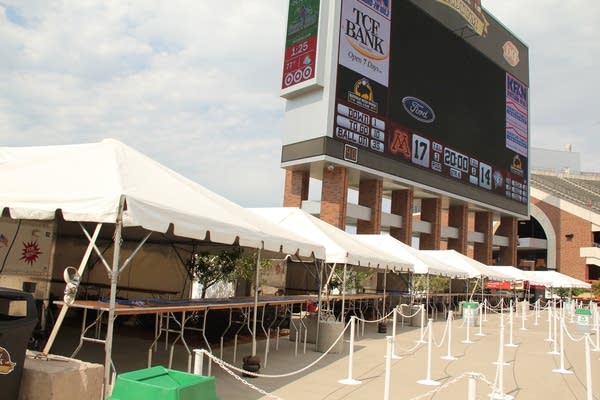 Gopher fans will be able to drink beer and wine at the first home football game of the year at TCF Bank Stadium this weekend.
Saturday's game will mark the first time alcohol will be sold at an athletic event on the University of Minnesota campus. Associate Athletics Director Scott Ellison said officials are ready to let the suds into the two-year-old stadium, but admits they're not sure how long customers will have to wait.
"We're concerned about the lines. It's our first time to do it," Ellison said. "We've done our best planning, as far as line management and moving people through the line as fast as we can. Quite honestly, it's going to be an experiment this first game."
There will be only two areas to buy alcohol: the stadium's west plaza and an overflow area outside of Gate A. The university is beefing up its police presence and extra security personnel at those locations.
Some have criticized the plan, saying the scarcity of locations will inconvenience some fans. But Ellison said the arrangement is a good compromise, given what officials had to work with.
"When we designed the stadium, we never intended to sell beer out of our concessions stands because we're a collegiate facility, so we don't have the taps, we don't have the coolers, we don't have all those different elements in the concessions stands," Ellison said.
School officials originally wanted to sell alcohol only in premium seating, but state lawmakers thought the drinks should be available to anyone 21 and over. This year, the Legislature passed a law allowing the university to sell alcohol at the games.
Beer and wine will go on sale an hour before kickoff and end right after halftime. Officials expect to sell about 7,000 drinks on game day.
Officials say vendors will card anyone who looks to be 30 or younger, and police may card people in the stands if they see beers handed to them.
On tap will be Grain Belt, Summit Pale Ale, and Miller Lite. Fans can also choose from red or white wine. Glasses will be $7.25 each.