Minnesota Mix: A cultural camp for young, adopted Latinos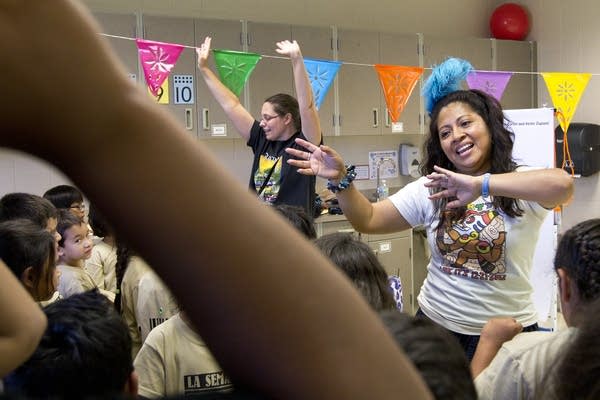 They were born in Guatemala, Bolivia, and Ecuador and adopted by families in New York, California, and Wisconsin. And last month, they all convened at a camp in Lakeville, Minn., geared specifically for them -- adopted children who were born in Latin American countries.
Some 500 children spent part of their summer vacation at La Semana -- Spanish for "the week" -- a culture camp that immerses them in the traditions of their birth countries.
The camp's focus reflects the personal experience of its chairman, Jim Stromberg, who along with his wife adopted two children from Latin America.
"It started with a promise we made to the nuns at the orphanage: 'Don't let them forget their culture. Don't let them ever forget they're Ecuadorian,' " he said.
Stromberg stuck to that promise. And for the last nine years he's been connecting hundreds of other adoptees to their birth countries as well.
While they're at the camp, the children get a crash course in Spanish -- a language many of these American-raised kids don't speak. Hot dogs and roasted marshmallows are replaced by tamales and sweet empanadas. And instead of Kumbaya, its Cumbia, a Colombian style of dance.
Because of their similar backgrounds, campers here bond quickly. They all know what it's like to stand in front of a mirror and wonder if they have their dad's nose or their mom's eyes. And they're all used to being bombarded by questions.
"It started with a promise we made to the nuns at the orphanage: 'Don't let them forget their culture.' "
"They'll say, 'You're adopted. What does that feel like?' "
"Sometimes kids will say, 'Is your dad like your real dad?' Like, what do you think he is, a fake dad or something?"
"The worst one is probably when they ask, 'Why did your parents give you up?'"
At La Semana, said 13-year-old Gabby Gorde, other kids share her life story.
"You can tell a person, 'I was adopted because my mom couldn't take care of me.' They're like, 'That doesn't really matter. It's not that big of a deal,' " she said.
Here, campers like Eli Carr can temporarily set aside the notion of being different. Today, the fifth grader's only focus is his weaving project.
"I'm making a God's Eye," he explained. "A God's Eye is from Mexico, and it technically just means an eye of God. And all it is is just some wool that is woven into a pattern with different beautiful colors in it."
The campers range in age from 5 to 18 years. Almost all were adopted by white parents, and go to schools where most of the students are white. For Luisa Van Oss, 10, La Semana is that rare opportunity to be in the majority.
"You kind of adapt and act like your family but you're not. Your complexion -- you look different," said Van Oss. "It's fun to come here and see people who look so much like me -- brown hair, brown eyes."
La Semana was founded 31 years ago, and it's always had just one goal for campers, according to instructor Emily Tenquist.
"To always be true to who you are, to not shun away from it," she said. "We want them to be comfortable and proud of where they've come from."
For kindergarteners, that might mean learning the names of their favorite animals in Spanish.
For teenagers, like Theo Hofrenning, the best part of La Semana is getting together with other adoptees to discuss issues of self-esteem and identity.
"The idea that somebody didn't want you can affect a lot of kids in a profound way," he said. "And it's a process that I think most of us will go through our entire lives. So dealing with that and being with people who understand the way you feel, and who can give you an ear to listen, is really nice."
On the final night of camp, the campers slip into costumes for the annual La Semana dance recital.
More than 1,000 family members pack the auditorium to see kids in Peruvian caps and Mexican dresses do the salsa and cha cha cha onstage.
To hear adoptive parent Elizabeth O'Toole tell it, the evening's performances -- and La Semana as a whole -- have given her a chance to see her two children in an entirely new way.
"I was nervous about how my kids were going to react to this. Would they be uncomfortable in an environment that was so exclusive to this one aspect of who they are?" O'Toole said.
"I watched my son sort of look around, and then I literally saw him puff up with this pride in his own heritage that I don't think I'd ever seen before."
Gallery
10 of 10
1 of 10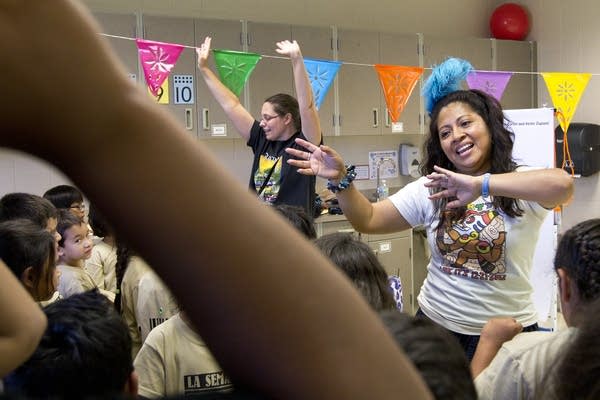 2 of 10