Five dead in Minneapolis shooting rampage
Five people are confirmed dead in what Minneapolis police are calling one of the worst shooting scenes in the city's history.
Reuven Rahamim, the owner of Accent Signage Systems Inc., where the shooting took place, was among the victims. UPS driver Keith Basinski also died.
The alleged shooter, who police say opened fire in a business on a normally quiet neighborhood west of downtown Minneapolis, is among those dead, apparently of a self-inflicted gunshot.
Four other people were injured in the shooting. As of Friday morning, John Souter was listed in serious condition at Hennepin County Medical Center, and Eric Rivers remained in critical condition. Two others were treated and released, HCMC spokeswoman Christine Hill said.
Grow the Future of Public Media
MPR News is supported by Members. Gifts from individuals power everything you find here. Make a gift of any amount today to become a Member!
'CLASSIC FAMILY BUSINESS'
Mayor R.T. Rybak said he had toured the business about a month ago, and described Rahamim as a "super smart" and "charismatic" Israeli immigrant who had started "a classic family business."
"I think the tour was supposed to be a half-hour. It was easily an hour and half because he got so excited about every detail, and rightfully, of this great business. It's a phenomenal place," Rybak said. "I just want us all to surround everyone we know from that company with as much support as we can. You know they're going to need it."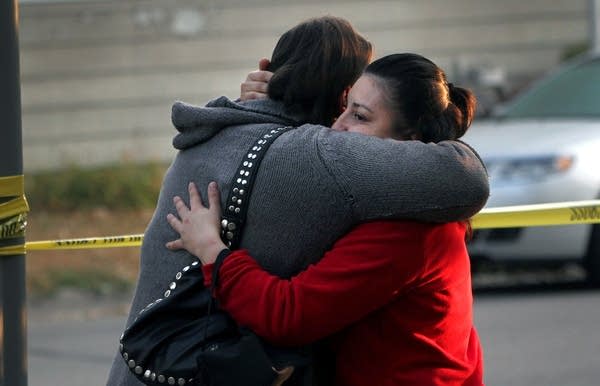 U.S. Rep. Keith Ellison was on the tour of the business with Rybak and said he was "deeply saddened" by the shooting. "My thoughts are with the families of those lost."
"Now is a time for the Minneapolis metropolitan community to come together in mourning and solidarity," Ellison said.
Dave Johnson, the operations manager at Johnson Plastics, which did business with Accent, described Rahamim as a pioneer in the signage industry, especially in the field of Braille signs.
"He was way ahead of his time," Johnson said.
SPECIAL REPORT
• 5 die in workplace shooting rampage
• Remembering the shooting victims
• Mayor expresses sadness
• Photos: Minneapolis neighborhood in shock
• News Cut: The myths of workplace violence

When Johnson heard about the shooting, he said he kept praying Rahamim wasn't one of the victims. When he found out Rahamim was among the dead, his heart sank.
"I'm just in shock," Johnson said. His death is "going to have a lasting effect on this industry. He was a big impact player."
Rahamim was also on the board of directors at Beth El Synagogue's board in St. Louis Park.
"Reuven was a wonderful family man and deeply committed to his synagogue, community, country, and native Israel," said Steve Hunegs, executive director of the Jewish Community Relations Council of Minnesota and the Dakotas (JCRC), in a statement.
UPS driver Keith Basinski was also killed in the shooting; his brown truck remained parked outside the company's building on Friday morning, surrounded by crime scene tape.
UPS spokeswoman Jill Schubert said the company was, "profoundly shocked and saddened over this tragic event involving our driver," who had worked with the company for 29 years.
Accent Signage is tucked into an out-of-the way street in the sleepy Bryn Mawr neighborhood west of downtown Minneapolis and north of Interstate 394. It adjoins a hilly park and backs up to a ravine. (See map below.)
"This is not an everyday thing," Minneapolis police deputy chief of patrol Kris Arneson said. "This is something we see on the news in other parts of the country, not here in Minneapolis."
Police first responded to an emergency call from inside the business at 4:35 p.m. The first officers who arrived at the scene were able to get inside the building and evacuate several people.
Arneson said police also found the suspect inside Accent Signage, dead of a self-inflicted gunshot wound.
NEIGHBORS DESCRIBE SCENE
As police went to work at the shooting scene, and began to secure the neighborhood before they knew the suspected shooter was among the dead, residents described a tense situation.
"I heard squad cars come after squad cars, after squad cars, fire trucks after fire trucks," said Kesha Anderson, who lives nearby.
Marques Jones, 18, of Minneapolis, said he was outside a building down the street having his picture taken when he and his photographer heard gunfire that sounded close.
"We heard about four to five gunshots," Jones said. "We were shocked at what happened and we just looked at each other. We all just took off running to our vehicles."
Barb Haynes, a nearby school teacher, also heard rumors and theories about the shooting. She was driving home, through the neighborhood, when an officer stopped her car near the crime scene. She said at first he said she could stay where she was.
"Then shortly later, he came back and told me, he says, 'no, you've got to get out.' And that's when SWAT was coming around," Haynes said.
She got out of her car, left it where it was parked, and stood watching for two hours. She said she felt safe the whole time.
"I think that this was an isolated incident. I haven't heard of any other incidents that would make me afraid," she said.
Mayor Rybak said there was never a threat to residents in the neighborhood.
Location of shooting
Gallery
5 of 5
1 of 5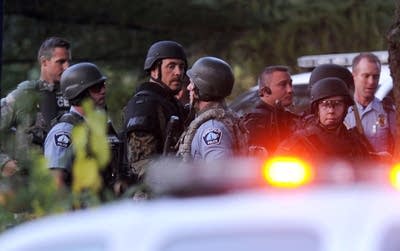 2 of 5