Locked-out Minn Orch musicians take cause to streets
The Minnesota Orchestra has cancelled all its concerts through Thanksgiving, after management locked out musicians as their contract expired and the two sides could not agree on a new one.
The musicians, meantime, rallied in downtown Minneapolis Monday afternoon, hoping to garner more public support for their cause.
"Yes, we have locked out the players," said Minnesota Orchestra President Michael Henson. "We have been trying to negotiate a settlement responsibly over the last six months, and it is not a decision we have taken lightly."
Nor, said Henson, was the other decision announced Monday: to cancel all 17 concerts on the orchestra's fall calendar, from the season opener on Oct. 18 through Nov. 25.
Clearing the short-term calendar will allow management and musicians to focus on agreeing to a contract that solves the orchestra's long-term financial problems, Henson said.
The orchestra needs to retire an outstanding deficit of almost $3 million this year and build a new financial model to prevent similar shortfalls in the future, Henson said.
MPR News is Reader Funded
Before you keep reading, take a moment to donate to MPR News. Your financial support ensures that factual and trusted news and context remain accessible to all.
The way to do that, management has proposed, is by cutting the average salaries of Minnesota Orchestra musicians by $46,000 per year. The current average salary for a musician is $135,000 per year. On Saturday, the musicians unanimously rejected that proposal.
Henson said he wants to hear the musicians' plans for solving the orchestra's budget problems.
"We are still waiting to have substantive conversations, and we are waiting for a counterproposal," said Henson. "Our proposal has been on the table since the 12th of April."
But the musicians made it clear Monday afternoon that Henson may have to wait a while, as they rallied on a street outside Orchestra Hall and passers-by honked their horns in support of the musicians.
The players say the proposed pay cuts threaten the orchestra's reputation as one of the best in the world, because musicians will inevitably leave for better-paying jobs if the cuts go through.
Musicians negotiator Tim Zavadil said the union still has unanswered questions about the orchestra's finances. Management has said the orchestra is in crisis, but Zavadil said that doesn't seem to be the case when you look at the numbers.
"Assets of $139 million; a $110 million fundraising campaign, of which they have raised $97 million," he said. "A $50 million lobby renovation, juxtaposed against a 30 to 50 percent pay cut for musicians."
Management said it has provided ample information about the orchestra's financial situation, but musicians want an independent audit. They also want to see the 2013 budget, which has been approved by the orchestra board, but which musicians have not seen.
Zavadil rejected the claim that the musicians have not offered proposals.
"We have made two proposals," he said. "One for final and binding arbitration, that was rejected. The other one, to continue playing and negotiating," which was also rejected.
There are no negotiations scheduled at present, and both sides seem to be digging in for a long haul.
While other orchestras have cancelled concerts during a lockout, they've done so on a week-by-week basis, not 17 at a time. The musicians say they have a strike fund available, and since they've been locked out, they are also eligible for unemployment benefits.
Interestingly, the orchestra's front door, which was open to all last week, is now locked and visitors have to be buzzed in.
The orchestra has sent an e-mail to people holding tickets for the cancelled concerts explaining their options. They can hold on to the tickets until the orchestra resumes and trade them for another performance; request a refund; or donate the ticket value to the orchestra.
As of 4 p.m. Monday, about 90 people had called the box office about tickets, according to an orchestra representative. She said patrons were disappointed about the cancellations, but understanding.
Gallery
5 of 5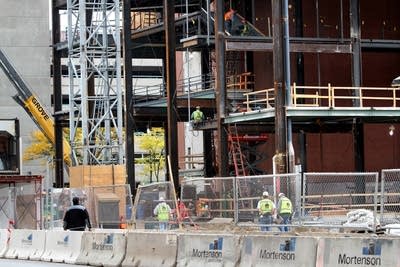 1 of 5
2 of 5