Meet Lila Downs, Mexico's musical ambassador to Minn.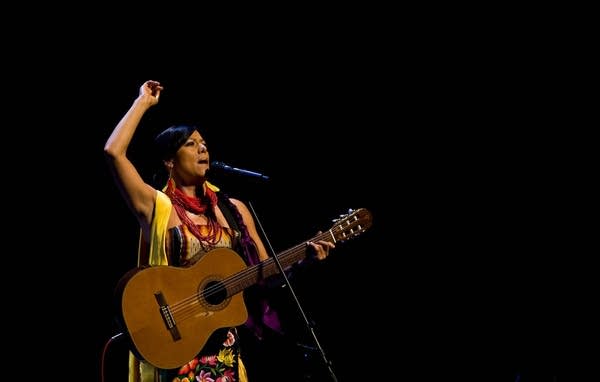 Lila Downs has a voice that can overwhelm an audience with varied emotions, from the exuberance of a mezcal-soaked fiesta to the lament of a woman scorned.
To hear Downs sing is to absorb the multi-textured musical culture of Mexico: The sounds of her native Oaxaca and its 16 indigenous groups, mournful ranchera ballads and bouncy nortena dance music.
But for Downs, who performs tonight at the Ordway Theater in St. Paul, music also has the power to deliver serious messages. Armed with that knowledge, her work has touched on the plight of farm workers, people crossing the border, and the drug cartels that plague Mexico.
"The issue of morality and the way that we hide our true wishes, as Mexicans, as people, humanity, fascinates me," she said from New York. "I'm able to sing about it and that makes it more like therapy."
Grow the Future of Public Media
MPR's budget year comes to a close on June 30. Help us close the gap by becoming a Sustainer today. When you make a recurring monthly gift, your gift will be matched by the MPR Member Fund for a whole year!
Downs, 44, has a unique perspective on Mexico, in large part because she has long lived in two worlds. Born in Mexico to Mixtec indigenous singer Anita Sanchez and Allen Downs, a Scottish-American art professor and cinematographer, she went to school in Roseville.
"My father taught at the U of M," Downs said. "So from the moment I was born, I was taken to and fro, and that was just the way my life was ... one year in Oaxaca, one year in Minnesota and like that."
It wasn't until well after her father's death that she began to deeply explore her Mexican roots, while in college at the University of Minnesota, where she studied voice and anthropology.
She began singing several years later, winning acclaim for sensitive and versatile recordings that showcased her tremendous range and ability to master different genres, from rancheras to boleros.
Her recordings have been a mix of traditional Mexican music, indigenous styles and a fusion of other elements, from folk music, to rock, reggae, African root and jazz. Her compositions give her an opportunity to share the struggles of ordinary people.
"A lot of times they're people who have very difficult and amazing stories," she said. "And those people who face discrimination and violence and all these horrible things and then they get up and they just go out there ... They give me strength and I hope they give everyone hope."
In concert, Downs will be joined by seven multi-instrumentalists, among them her husband, saxophonist Paul Cohen, whom she met in Oaxaca 18 years ago when he was playing in a salsa band and she was performing with a folk Native American band.
"I just really respected his vision about music," she said. "He listened to John Coltrane, which made a big impression on me. I hadn't met anyone who was listening to John Coltrane since my father passed. We've just discovered ourselves through music."
Downs, who began singing at about age 30, also has been discovered by a wider audience. Besides being in demand for her music, she appeared in the film "Frida" about Mexican artist Frida Khalo, which led to an appearance on the Oscars. She's also working on a musical theater presentation of "Like Water for Chocolate," the novel and film by Mexican author Laura Esquivel.
In concert, she'll sing songs of joy and pain to an undoubtedly moving response.
"It's been very heart-wrenching to see people cry in the front row when I'm singing, like you say, these rancheras. They bring out the pain and the kind of sadness that we have, melancholy. But we also have some wonderful celebratory tunes. So we go through both experiences in our concerts," she said.
Downs' performance at the Ordway is part of "Mascaras y Milagros, Mexican Arts in Minnesota," a series of events in October to celebrate Mexican culture. The series includes an Oct. 20 performance by Delfos Contemporary Dance Company of Mazatlan, Mexico, and an Oct. 26 show by Poncho Sanchez and His Latin Jazz Band.
Gallery
1 of 1