Rush-hour snowfall snarls morning commute
Road crews spent the day treating streets after a rush hour snowfall that snarled the morning commute in the Twin Cities.
Local streets and exit ramps were icy Monday morning and traffic backed up around the metro area — in some spots for hours. Metro freeways were bumper-to-bumper cars. No major problems were reported outstate. The state patrol reported more than 50 crashes in the metro and one outstate, but no serious injuries.
Delays into and out of downtown St. Paul were particularly bad.
Dave Hunt of the St. Paul Department of Public Works said the agency evaluated weather and road conditions before sunrise and saw no cause for concern. But the snow picked up at just the wrong time.
"Then about 8, 8:30 [a.m.] kind of a snow squall almost hit around the downtown area and as people were coming in for the morning commute the snow was being compacted," Hunt said. "And the temperature dropped enough that it just kind of flash froze, and that created more problems than you'd normally have with this amount of snow."
The National Weather Service reported less than an inch of snowfall in most areas in the metro.
St. Paul officials said six crews were dispatched to spread sand on the most slippery spots and respond to complaints. For several hours, downtown St. Paul was paralyzed by gridlock as drivers navigated icy streets.
Commuter Marina Maric, 35, was stuck in the traffic jam. Maric's daily commute from downtown Minneapolis to downtown St. Paul on an express bus usually takes less than 30 minutes. Not today.
"The bus just got stuck there for about 20 minutes at which point I realized we are not moving." Maric said.
She said the bus driver kept the passengers warm and informed while they waited for traffic to move again. But it didn't move, so Maric gave up, got off the bus and walked the last mile to her office.
"I made it to work at 10:30 [a.m.], which is almost two hours later after I left downtown Minneapolis."
Another problem area was southbound Interstate 35W near Lake Street, where a Metro Transit bus spun out just after 8 a.m. and blocked traffic for about an hour. During the morning rush, about 40 percent of Metro Transit buses were running late. Five buses got stuck — four of those were in St. Paul. By mid-afternoon, bus delays were down to about two minutes. Light rail lines were not affected, officials said.
Mike Kennedy, director of Minneapolis Public Works, called today's snowfall a "Veteran's Day surprise." He said the suddenly slick roads were caused by snow hitting warm pavement.
"That was the problem. It wasn't all that much snow, but when it comes down on warm pavement, it melts and then turns to ice because of the ambient temperatures," Kennedy said. "We had a flash of ice across the metro area."
Kennedy says the city's nine chemical trucks were sufficient to handle the amount of snow and ice on the ground.
A spokesperson for the State Patrol said they do not expect a repeat of this morning's problems during the evening rush as long as drivers slow down and use common sense behind the wheel.
MPR News reporter Elizabeth Dunbar contributed to this story.
• Follow Elizabeth Dunbar on Twitter: http://www.twitter.com/edunbarmpr
Gallery
1 of 2
2 of 2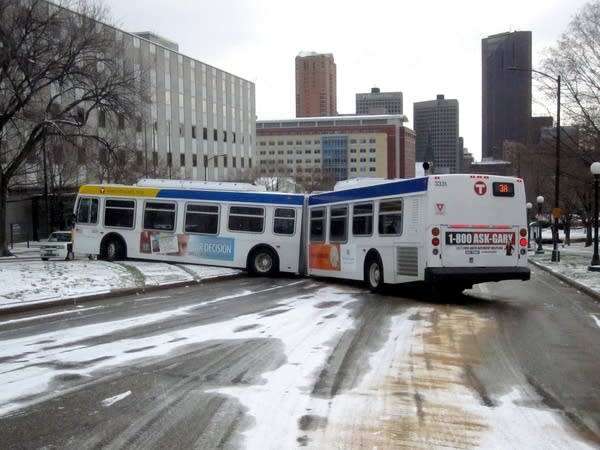 Your support matters.
You make MPR News possible. Individual donations are behind the clarity in coverage from our reporters across the state, stories that connect us, and conversations that provide perspectives. Help ensure MPR remains a resource that brings Minnesotans together.