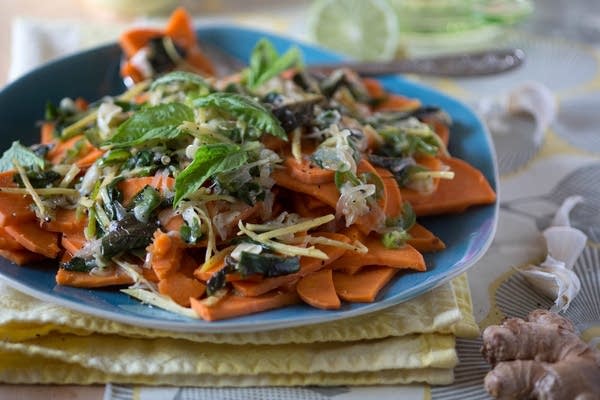 Lynne Rossetto Kasper
The Splendid Table
20 preparation time; 20 minutes stove time.
Serves four as a side dish; two as a main dish.
Served best at room temperature and improve with several days in the refrigerator.
Yams and sweet potatoes are so often baked we forget how fast they cook when sliced thin and boiled. Sturdy, distinctive and gorgeous, they can go far beyond the marshmallow and cinnamon treatment.
This is a creation for ginger and chile lovers. Slices of green chile, golden sticks of fried ginger, and bronzed shallots spooned over yams the color of a sunset turn out a movie star of a dish.
Cutting the ginger into paper-thin matchsticks may seem fussy, but there is method to what seems to be madness. That shape changes how you taste the ginger in this dish. Crushed or chopped ginger would taste different — an interesting thing to remember when you see very specific instructions like these in Chinese recipes. There's always a reason.
Yams:
4 quarts salted water in a 6-quart pot
2 large yams (about 1-3/4 pounds), peeled, halved lengthwise and cut into 1/4-inch-thick half-rounds
Curry:
Cold-pressed vegetable oil, or extra-virgin olive oil
1-inch piece of fresh ginger, peeled and sliced into paper-thin matchsticks
4 large garlic cloves, sliced paper-thin
1 jalapeno, sliced very thin (for milder flavor, seed the chile)
2 whole scallions, cut into 1-inch lengths
2 large shallots, thin sliced
Salt and fresh-ground black pepper to taste
1/2 cup, lightly packed, fresh Thai, Holy or regular fresh basil leaves, coarse chopped
Juice of 1 lime, or more to taste
Bring the salted water to boiling. Once bubbling fiercely, drop in the yams and cook them at a hard bubble 10 minutes, or until tender. Drain in a colander and turn into a serving dish. Set the pot back on the stove.
Generously film the pot with the oil. Set over medium-high heat and add the ginger, garlic, jalapeno, scallions, shallots, and generous sprinklings of salt and pepper. Saute for two minutes, stirring often. Cover the pot tightly, reduce the heat to medium-low, and cook five to eight minutes or until the ginger has softened.
Stir in the basil and cook, uncovered, no more than 30 seconds. You want it to release its fragrance, soften a little, but still stay bright green. Spoon the curry sauce over the yams. Taste them for seasoning, then squeeze the lime juice over the finished dish and serve.
Lynne Rossetto Kasper is host of American Public Media's award-winning radio show The Splendid Table, and her books include "The Splendid Table," "The Italian Country Table," and "How to Eat Supper."