Dayton says he'll end state's budget deficit cycles
Gov. Mark Dayton and legislative leaders are not saying how they plan to erase a projected $1.1 billion deficit in the next two-year budget, but they say they will.
"We're going to make tough decisions. They're going to be unpopular decisions," Dayton said. "They're going to be hard decisions but that's what we're going to do."
State finance officials released their projections of the state's financial condition on Wednesday. Dayton has long advocated for tax hikes, and he said he will propose such a plan as part of the solution to end Minnesota's budget problems.
The good news is the current budget outlook is $1.3 billion better than projections because of higher-than-expected tax revenue and less government spending. The bad news is the state is still $1.1 billion in the red in the next two-year budget cycle.
Despite the government shutdown in 2011 and politically divided control of the different branches of government over the past decade, finance officials said the state has still not addressed its structural deficit. Dayton said he plans to change that.
Dayton did not give specifics of his budget plan but told reporters it is likely to include an income tax hike on the top 2 percent of earners.
"I understand that the very wealthiest don't want to pay any more in taxes, but they're paying less than they did 20 years ago,"Dayton said. "We're looking at a serious deficit in the state. We're looking at a catastrophic level on the federal level and somebody has to do something about it."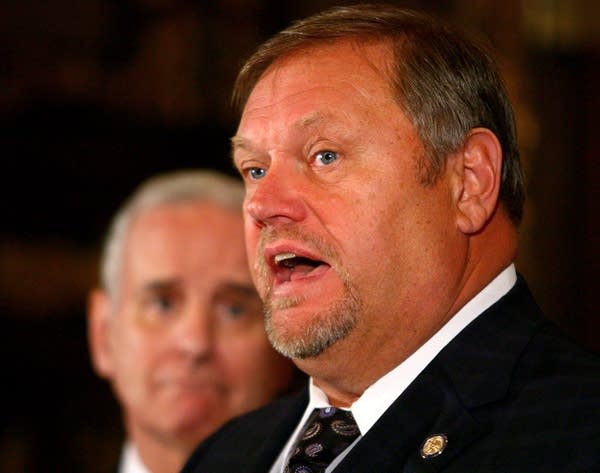 Dayton is required by law to release a budget plan by Jan. 22. Legislative leaders have the luxury of waiting until the next budget forecast is released before they put forward their plan.
GUARDED TALK OF TAXES
Democrats, who take control of both chambers of the Legislature in January, are treading carefully when it comes to tax talk. Incoming Senate Majority Leader Tom Bakk said he supports changes to the tax system but declined to be specific.
"I think it's very preliminary to talk about any thoughts that we have relative to what a state budget proposal may look like, based on all of the uncertainty here," Bakk said.
That uncertainty is a result of the budget stalemate at the federal level. Automatic federal tax increases and spending cuts known as the "fiscal cliff" kick in on Jan. 1 if President Barack Obama and Republicans in Congress cannot reach a deal. State Economist Tom Stinson said jumping off the fiscal cliff would mean the state's unemployment rate would jump more than a point to 7.1 percent and the state's projected budget deficit would balloon to $2.8 billion.
"If they fix the problem and fix it in a responsible manner, that's going to be good for the national economy and good for the state's economy and we'd have more revenue," Stinson said. "If they kick the can down the road or allow us to go off of the fiscal cliff, it probably costs us money."
WHERE AND WHAT TO CUT
"We're looking at a serious deficit in the state. We're looking at a catastrophic level on the federal level and somebody has to do something about it."
Republicans say the forecast shows that the state's fiscal situation is better than it was two years ago, when they took control of the Legislature. Republicans lost both the House and Senate in November and have little power to influence legislation in the next session. Despite that, incoming GOP House Minority Leader Kurt Daudt said Republicans will oppose any tax increase.
"We showed that you could do it over the last couple of years," Daudt said. "We dealt with a much larger budget deficit and we feel like what we did over the last couple of years has proven to work well for Minnesota."
Incoming Republican Senate Minority Leader David Hann also said he supports cutting taxes. Neither Daudt nor Hann would say where they would cut spending to balance the budget.
Democrats say Republicans relied on accounting gimmicks and one-time money to balance the budget. Incoming DFL House Speaker Paul Thissen declined to say how his caucus intends to tackle the budget but signaled there would be additional spending.
"The fact of the matter is that we've come through ten years of both difficult budgets, in terms of the roller coaster effect, but ten years of austerity and we need to take that into account as we move forward," Thissen said.
Budget documents show that the next two-year budget is roughly $9 billion more than ten years ago without factoring in inflation.
Thissen said he intends to listen to liberal groups which are advocating for billions of dollars in new spending, but other DFL leaders are working to temper expectations. The session starts Jan. 8.
---
• Follow Tom Scheck on Twitter: http://www.twitter.com/tomscheck
Gallery
1 of 1
Your support matters.
You make MPR News possible. Individual donations are behind the clarity in coverage from our reporters across the state, stories that connect us, and conversations that provide perspectives. Help ensure MPR remains a resource that brings Minnesotans together.