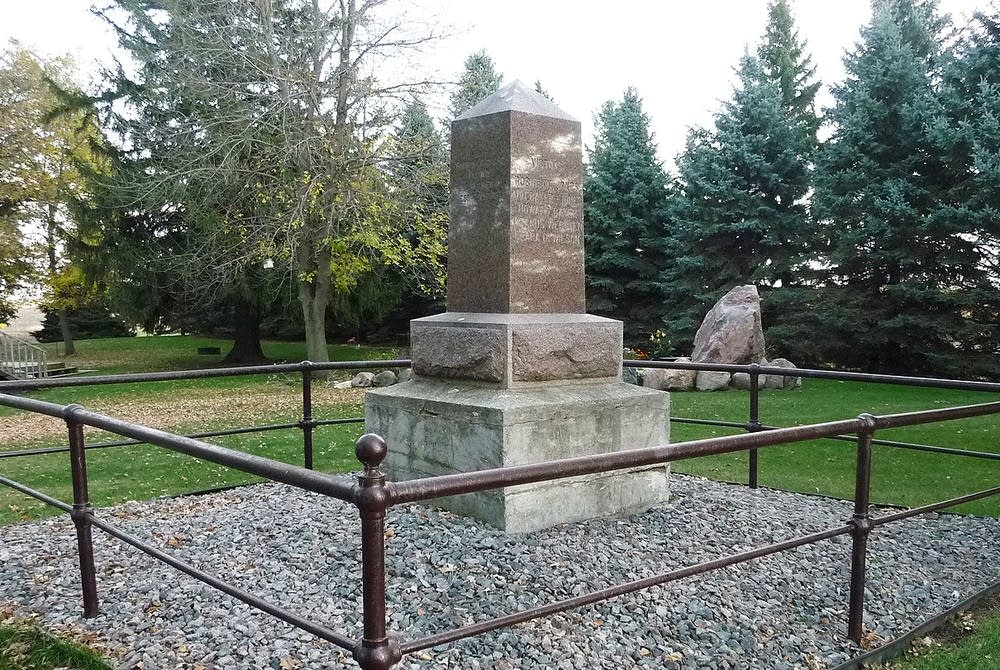 By John Biewen

On a gravel farm road an hour and a half from Mankato, there's an oddly placed historic marker. To find it you have to pull into the driveway of a local farm. The yard is sheltered by pine trees.
The farm has a classic weathered red barn, a small house with an American flag and a satellite dish. And right in the middle of the yard is a monument made of marble.
It's a short obelisk, etched with the names of five white settlers who were killed here by Dakota men in August of 1862. This was the incident that started the U.S.-Dakota War. A steel plaque was added to the monument in the 1960s, which describes what happened.
The Acton Incident.
On a bright Sunday afternoon, August 17, 1862, four young Sioux hunters on a spur of the moment dare, decided to prove their bravery by shooting Robinson Jones, the postmaster and storekeeper at Acton in western Meeker County. Stopping at his cabin, they requested liquor and were refused. Then Jones, followed by the seemingly friendly Indians, went to the neighboring Howard Baker cabin which stood on this site.
Here the whites and the Indians engaged in a target shooting contest. Suddenly, the Indians turned on the settlers and without warning shot Baker, Viranus Webster, another settler, and Mr. and Mrs. Jones. Mrs. Baker, Mrs. Webster and several children escaped by hiding. The Indians rode off shooting Jones's adopted daughter, Clara D. Wilson, as they passed the Jones cabin.
The Indians fled south to their village forty miles away on the Minnesota River. There they reported what they had done, and the Sioux chiefs decided to wage an all out war against the white man. Thus, the unplanned shooting of five settlers here at Acton triggered the bloody Sioux uprising of 1862.
The bodies of the settlers were buried in a single grave in the Ness Lutheran Cemetery, near present day Litchfield. In 1878, the state of Minnesota erected a granite monument there. This site, where the Baker cabin stood was similarly marked in 1909.
Erected by the Minnesota Historical Society. 1968.
Gwen Westerman pauses and rereads this passage:
"'They decided to wage an all-out war against the white man.'"
She shakes her head at this phrase.
"It's as if ... there was nothing that led up to this. It leaves out so much," she said, but added with a small laugh, "it's a small monument. You can't get everything on there."
Part 4: The white government pressured tribes for land >>>