Closing of Macy's St. Paul leaves big hole; opens new opportunity for downtown
Downtown will soon have a big hole to fill. Macy's announcement today that it will close its St. Paul store by the end of March will leave the city with 360,000 square feet of vacant retail space.
St. Paul's business and political leaders are confident they will be able to fill it — but with what?
The Macy's building stands five stories high, and occupies an entire city block in the heart of downtown. With neighbors like the Ecolab, Wells Fargo and Travelers Insurance office towers, it's a prime location. Just not for a department store.
Macy's said it is closing this location due to the store's poor performance. Dave Brennan, a professor who studies the retail industry at the University of St. Thomas, said there are not enough shoppers in downtown St. Paul to support a big department store.
Grow the Future of Public Media
MPR News is supported by Members. Gifts from individuals power everything you find here. Make a gift of any amount today to become a Member!
"The number of retailers that have been downtown has declined over the last 20 years," Brennan said. "And in our holiday spending survey, only about 1 percent of the people in the total metropolitan area indicated that they would do some of their Christmas shopping in downtown St. Paul."
"It needs to be looked at as an opportunity, and find a way to reutilize the site."
City leaders would like to see new retailers help fill the void, though. City Council member Dave Thune, who represents the downtown area, envisions a variety businesses opening up in the space, including some smaller clothing stores.
"Things like Kohl's and Herberger's, and night clubs, restaurants, all sorts of things," Thune said. "It'll look different. I doubt we'll see a full block of one tenant again, though."
Thune would like to see the existing building reused in some way. But that may not be the best option, said real estate consultant Jim McComb.
"It needs to be looked at as an opportunity, and find a way to reutilize the site," McComb said. "Too many times I've seen department store buildings attempt to hold on and use the existing building until it becomes clearly obvious that it isn't going to happen, and then they tear it down."
Few businesses are interested in a downtown building with no windows, McComb said. That means a major renovation at the very least, if not an outright teardown, to allow a new office tower to rise in its place.
Matt Kramer, president of the St. Paul Area Chamber of Commerce, agrees the current building has problems, but notes the location is a huge asset.
"I can't imagine that a developer isn't going to look at this site and say, 'Large square building, nothing unique about it. You own the whole property. You can tear it down easily. Oh, and by the way, it's bounded by Wabasha, one of the great thoroughfares in downtown St. Paul, and on the other side by tens of thousands of people a day going by on light rail looking at my building,'" Kramer said.
Light rail trains are scheduled to start running down the Central Corridor line next year, but it's unlikely the site will be fully repurposed by then.
Mayor Chris Coleman said St. Paul will have to be patient, but noted there are numerous other development projects currently underway in the city's downtown.
"We've added facilities like the refurbished Union Depot. We're going to be beginning construction this year on the regional ballpark, expansions on the Ordway facility. We have the Lunds/Byerly's grocery store that's coming into new housing at the Penfield," Coleman said.
"I think the success story of downtown St. Paul is quite amazing. And so while it would be great if Macy's had been a continued part of that story, I think this is a great opportunity."
Macy's currently owns the building. A spokesman said the company will work with the city as it looks for a buyer.
Gallery
4 of 4
1 of 4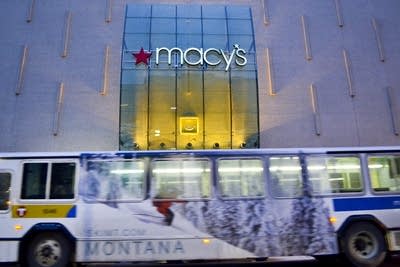 2 of 4