Women in combat: Minnesota National Guard helps pave the way
The Minnesota National Guard's First Brigade Combat Team is one of nine brigades around the country helping to pilot the Pentagon's new policy lifting the restriction on women in combat.
• Click on slideshow at right
Defense Secretary Leon Panetta on Thursday lifted the 1994 ban prohibiting women from being assigned to smaller ground combat units. The move opens more than 230,000 new jobs to women nationwide.
More than 16 percent of the Minnesota National Guard is female. Sgt. Katie Warden, a military police officer from Cottage Grove, has been waiting for this announcement.
Warden has served in the Guard for more than seven years. She said the changes allowing women to officially take on combat roles will mean more opportunities for her and other women in the military.
"It's a historic change, but I was really excited about it," she said. "Knowing that there is an opportunity out there later on, then so be it if I happen to want to jump on that train."
At 4 feet 10 inches tall, Warden loves the tough physical work that the military requires. The 28-year-old is training to become a medic. Warden said men and women are equal, even in combat.
"There could have been a lot of stigma, that a female couldn't do what the men could do, but there are some males out there that can't hold the standard, too," she said. "So if there are qualified females that can do the same job and you need to get a mission done, it shouldn't hinder the mission just because they're a female."
The change by the Pentagon means that front-line jobs that have traditionally been off-limits to women are now possible -- including jobs in infantry, armor or field artillery units.
As part of the pilot program, the Minnesota National Guard will assign qualified women to vacant jobs in traditionally male-only units.
Lt. Col. Matt Vatter, chief of Army personnel for the Guard, said having more women in combat will help strengthen the armed forces.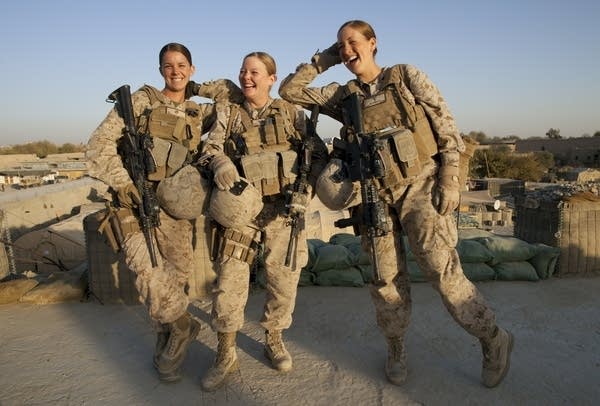 "I think it's an awesome opportunity," Vatter said. "It not only gives our female soldiers more things that they can do and more opportunities for success and achievement, but it gives us as commanders a deeper pool of qualified soldiers from which to choose when we are looking at putting people in our formations."
Vatter said he has not heard any grumbling by male soldiers, adding that most men he knows think it's about time women were allowed into combat jobs.
And many women already serve in positions that put them in combat zones.
The policy change allows women to pursue career paths that lead to top leadership positions - positions that historically required a combat background.
A 20-year-old Marine, Timothy Ryan of West St. Paul, admitted he was initially skeptical that women could perform in combat and thought women could upset unit cohesion. Now, he is more open-minded.
"I've definitely seen women hold their own in training environments," Ryan said, "and I think in the long run if they get accustomed to it and pull their own weight, more power to them."
Ryan did worry that, as the U.S. military continues to draw down troops from overseas, allowing women into combat could take jobs or promotions from qualified men.
Marine Corps, Navy and National Guard veteran Trista Matascastillo applauded the Pentagon's change. Matascastillo, a resident of St. Paul, said any skepticism or discrimination by male service members can be overcome.
"It's long overdue," she said. "It's about time. What it does is it acknowledges all of the women who have served in those roles already and just gives them credit where credit is due."
Minnesota National Guard officials say the pilot phase of allowing women into combat is expected to last through the end of September. After that, personnel changes could go into effect by 2016.
Gallery
4 of 4
1 of 4
2 of 4
Your support matters.
You make MPR News possible. Individual donations are behind the clarity in coverage from our reporters across the state, stories that connect us, and conversations that provide perspectives. Help ensure MPR remains a resource that brings Minnesotans together.