Officials pleased by report on U of M administrative efficiency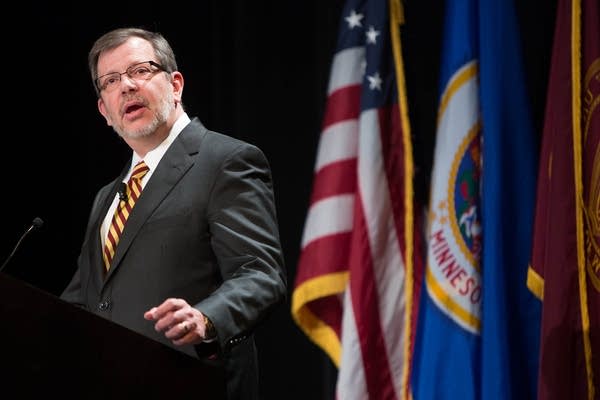 A report released Friday shows the University of Minnesota is fairly efficient in how it staffs its management.
The report offers an initial look at administrative staffing in four key departments -- human resources, budget and finance, information technology and purchasing services -- and was prepared by outside consultants paid by the university.
Overall, the report said the university looks solid in the number of supervisors it has in those areas and how it organizes them. But it also says the structure could use some adjustment.
Legislators had asked for the report after a Wall Street Journal article in December painted the picture of a system with too many well-paid administrators. State officials who have seen the analysis say they are pleased.
President Eric Kaler said the results are promising.
"They highlight opportunities for improvement, but they're clearly not broken," kaler said. "They're probably fairly typical compared to other institutions. But I don't want us to be typical. I want us to be exceptional."
"I don't want us to be typical. I want us to be exceptional."
The report frees up tens of millions in dollars in additional funding. When Gov. Mark Dayton rolled out his proposed budget earlier this year, he said he another $80 million requested by the university would be available contingent on a satisfactory report.
The governor's spokeswoman said in an emailed statement that the governor is encouraged by the report, and that the university is on the right track toward reform. Based on that, she said Dayton will allocate the money in his supplemental budget, which he will release next week.
State Sen. Terri Bonoff, DFL- Minnetonka, one of the lawmakers who asked for the report, commended the university for the efforts made but said she is glad she asked for the analysis.
"What the report reveals is there is great opportunity for restructuring and redesigning that will result in lower costs per student," Bonoff said. "And had we not asked for that report, I don't know that they would have proceeded with those plans with the same intensity."
The report states that on average, 16 percent of the employees in the four offices are managers whose salaries make up 23 percent of overall compensation. As a share of total expenses, administrative oversight is 9 percent.
Board of Regents Vice Chairman David Larson, former executive vice president for Cargill, suggested those numbers would not be too bad in the business world.
"It's very, very difficult to compare different types of operations to each other," Larson said. "But I think in general they're pretty darn good."
The report said the university's four offices could be more efficient with fewer supervisors in a number of areas and recommends that each supervisor should oversee seven or more employees. But supervisors in two offices averaged fewer than four. Overall, the report says 32 managers have potentially too few people reporting to them.
It suggested the university review from up to 9 percent of the managerial positions, depending on the office, for possible streamlining.
Kathryn Brown, the university's vice president for human resources, said the results in the report suggest that those offices are pretty well organized.
"We are operating efficiently. We do have some areas where we can examine them more critically and see if we can do a little bit better," Brown said. "But overall, I'm pleased with the results to date."
Brown said it is unknown how the university compares to its peers. That analysis, as well as more detailed reports on administrative spending, will be released in the coming months. That work will cost about half a million dollars.
Meanwhile, U of M officials say the university will examine closely each management position, as well as those in other divisions.
The leanest office of the four appears to be information technology. Ten percent of the employees there are managers, and make up 15 percent of the payroll. The firm suggested that university officials review 2 percent of the management positions for possible streamlining.
In contrast, in the Office of Finance, 27 percent are managers, and their compensation makes up 38 percent of the payroll. The report says 7 percent of the management positions there warrant further review.
The review cites a Board of Regents report that staff salaries are about 2 to3 percent below market. Staff salaries averaged $57,000 to $72,000, and management salaries ranged from $79,000 to $110,000.
The report said making the offices more efficient means not only reworking the organizational structure, but redesigning the work itself.
The university has already started trimming. Its libraries have shed more than one in five supervisors. Information technology recently shed more than 70 percent of its managers.
Read the report
Gallery
1 of 1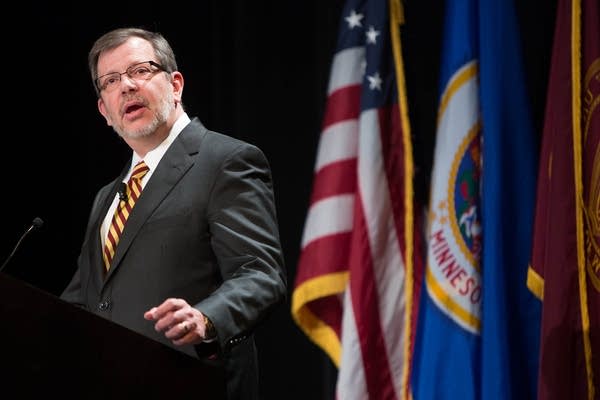 Your support matters.
You make MPR News possible. Individual donations are behind the clarity in coverage from our reporters across the state, stories that connect us, and conversations that provide perspectives. Help ensure MPR remains a resource that brings Minnesotans together.