DFL's plan to cut health, human services spending comes as surprise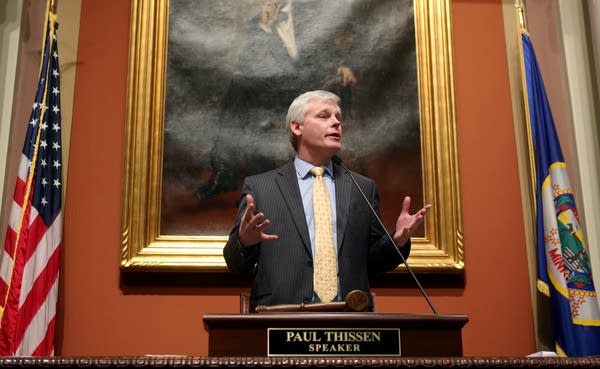 With Minnesota House and Senate Democrats proposing $2 billion in new taxes to erase the budget deficit and spend more on schools, economic development and other state services, one area -- health and human services -- is getting left out. In fact, DFLers propose a spending cut.
But some advocates for the poor say they can't handle any more spending reductions.
Democrats in the House and Senate want to cut $150 million in spending from health and human services programs. After education, health and human services is the second-largest portion of the state's two-year budget at $11 billion in general fund spending. But it is increasing at a fast rate, and that worries DFL House Speaker Paul Thissen.
"This is the part of the budget that keeps me up at night because it is the thing that if we don't continue to do the reforms and find the efficiencies in the system, we won't be able to provide the services that the people of Minnesota expect," Thissen said.
Grow the Future of Public Media
MPR News is supported by Members. Gifts from individuals power everything you find here. Make a gift of any amount today to become a Member!
The proposed spending cut is troubling lawmakers in charge of crafting budgets for health services and human services. They have to set priorities for spending for nursing homes, hospitals, subsidized health insurance and welfare. The budget is complicated because it includes money from the federal government and other funds.
[image]
DFL Rep. Tom Huntley of Duluth, who chairs the House Health and Human Services Finance Committee, said he is unhappy about the spending target especially since it comes after Gov. Mark Dayton and the Republican-controlled Legislature cut $1.2 billion from health and human services programs two years ago.
"I'm very upset. I came close to resigning as chair," Huntley said. "If that's what the Democrats are going to do, what's the difference between that and what the Republicans have done over the last two years?"
Huntley said about 90 percent of the health and human services budget is directed at programs for the disabled and the elderly. He said he thinks it will be difficult to cut $150 million without harming those people.
"We all go home in May and our lives go on, but there will be people that will be suffering because of what we will be doing with this budget," Huntley said.
Huntley admits he has no good ideas as to how to make his budget work but said he is considering cutting payments to hospitals, creating surcharges on health care providers and finding other fees to reach the target.
DFL Sen. Tony Lourey of Kerrick, who chairs the Senate Health and Human Services Finance Committee, declined to comment when questioned about the cut.
"When they don't see an increase in their paychecks for maybe now the fifth year in a row, they're going to move on to other jobs."
Republican Rep.Jim Abeler of Anoka said he was shocked when he saw the budget target. Abeler chaired the House Health and Human Services Committee when the Republicans were in charge. He said he never thought Democrats would raise taxes and yet cut the human services budget.
"They're raising billions of dollars and putting it everywhere like to the courts and environment, and those are wonderful," Abeler said, "but there's only one part of government where people could die and that's in our area where the people with disabilities and health care and rural hospitals. I was just really surprised. Nobody saw that coming."
Organizations lobbying on behalf of hospitals, nursing homes, the elderly and the disabled are now shifting their lobbying strategy from calling for more money to protecting what they have.
Bruce Nelson, CEO of the Association of Residential Resources in Minnesota, which advocates for community living for people with disabilities, said he was hoping lawmakers would give nursing home and community-based home workers a cost of living increase. Now Nelson worries they won't get a raise or may get their pay cut.
"When they don't see an increase in their paychecks for maybe now the fifth year in a row, they're going to move on to other jobs," Nelson said. "And that really does compromise the quality of care for our most vulnerable Minnesotans."
DFL leaders in the House and Senate say they believe they can make the cuts without harming vulnerable people. They say placing a surcharge on nursing homes and hospitals and using a surplus from the MinnesotaCare fund are two options. They also say changes under the federal health care law will help save the state money.
Dayton's budget plan spends $170 million more on Health and Human Services programs.
Gallery
1 of 2
2 of 2