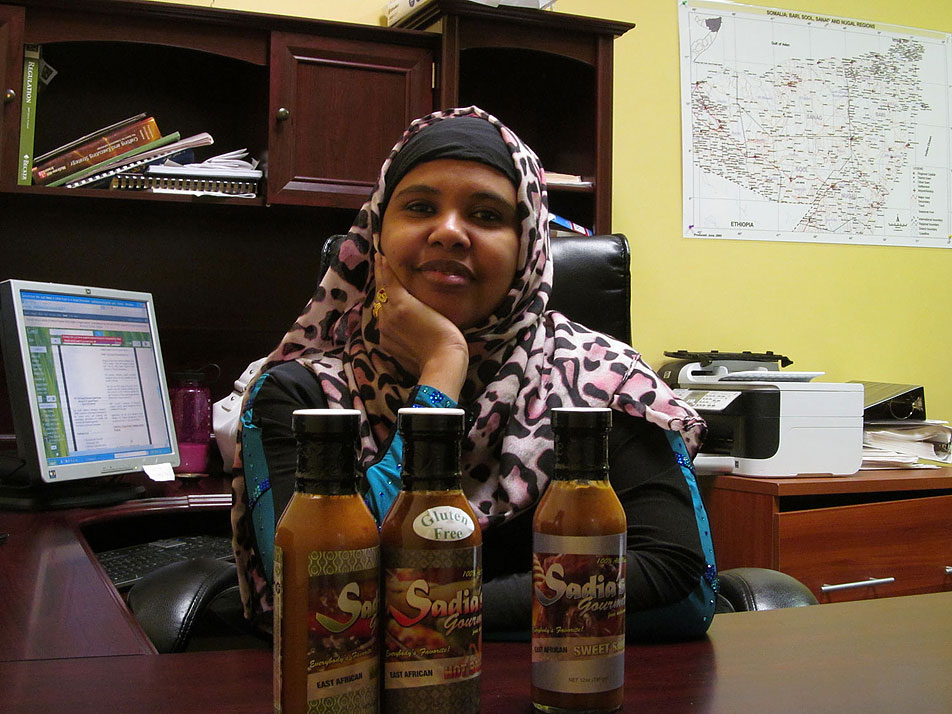 Since 2007, the city of Minneapolis has given out more than a million dollars in loans through a program designed to help immigrant entrepreneurs. But six years later, a number of those small businesses are struggling to pay the city back.
Supporters of the program say these delinquent loans are an inevitable part of helping first-time business owners, and one City Council member wants to expand the program.
Minneapolis established the Alternative Finance Program in 2007 as a way to help Muslim immigrants start businesses. Religious law prohibits Muslims from paying interest, and so many of the east African immigrants in Minneapolis were unable to take advantage of the city's conventional small business loan program.
The program avoids that obstacle by structuring the payments as "principal and profit," rather than "principal and interest."
One program participant, Sadia Abdi, sold tomatoes, garlic and onions in the street as a girl growing up in Somalia. When she came to the United States in 1999, she began to dream of starting a business here, too.
A decade later, the city of Minneapolis helped make that dream come true, when its Alternative Finance Program gave a $20,000 loan to the company she started, Sadia Hot Sauce. But almost immediately, Abdi fell behind on the payments.
"I pay little by little, as much as I could, because I have to pay a lot of bills," she said. "The warehouse, the rent, all this stuff."
Abdi should be almost finished paying off the loan by now, but she still owes the city more than $18,000 of the original $20,000.
Business is slow, especially in the winter, she said. But she is not giving up.
"If I didn't die when I was pregnant with my child -- I didn't eat [for] three days ... I never die. I'm struggling, but I know I'm going to survive if I survived that day," Abdi said.
The city has not given up on her. Even though Abdi's loan has been delinquent for three years, Minneapolis has not written it off as bad debt.
Neither has the nonprofit African Development Center, which also gave her a $20,000 loan and administers the city's Alternative Finance Program. Executive Director Hussein Samatar, a member of the Minneapolis School Board, said Abdi's situation is frustrating, but he remains optimistic.
"Is it disappointing that she was slow to pay? Absolutely," Samatar said. "Could we have written off her? No question about it. But then we really felt that she had a bigger story to tell. She's an amazing entrepreneur. She's fantastic. She's figuring out what she needs to do. And this payment, we believe, is going to come."
The African Development Center has placed Abdi's loan on a watch list. It was one of a dozen loans on the list as of Dec. 31, all of which were delinquent at least two months. In total, those borrowers owe the city more than $100,000 in past-due payments.
| | |
| --- | --- |
| | |
| | |
| | |
| Source: Portfolios as of Dec. 31, 2012. Two Percent Loan Programs RCA, Alternative Finance Prog RCA | |
The U.S. Treasury Department's minimum prudent standards for micro lenders say that no more than 12 percent of a loan portfolio should be delinquent by more than three months. The Alternative Finance Program does not meet that standard: Close to 25 percent of its portfolio would be considered "at risk."
But the watch list is working, Samatar said. In the last three months, one of the loans has been paid in full, and several other business owners have started making payments again.
Giving businesses a second chance is the fiscally responsible thing to do, he said, but it takes a lot of work.
"If this would be easy lending, the banks would have done the lending, and they are not doing it," Samatar said. "Any bank would run away from it. It would say there would be too much risk, and the reward is so low. Why would I even do it? That's who we're lending to."
Both the Alternative Finance Program and the city's conventional loan program write off very few loans compared with national lenders. But the Alternative Finance Program has experienced far more delinquency in recent years.
City Council Member Lisa Goodman is not concerned about the problems. Goodman, the chairwoman of the committee that oversees the program, pointed out that it has created more than 100 jobs in a community that needs them.
"When I look at a program like this, on average less than $20,000 per small business, and then I look at the incredible amount of corporate welfare that's gone to projects like the Vikings stadium," Goodman said, "it seems to me like we get a big bang for our buck."
In fact, at a recent committee hearing, Goodman suggested that next year the city should consider doubling the program's budget.