SPCO reaches tentative deal; concerts could resume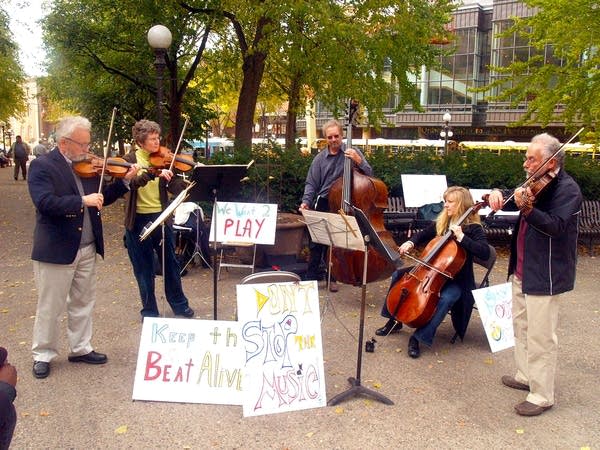 The two sides in the long-running labor dispute at the Saint Paul Chamber Orchestra Tuesday reached a tentative deal.
Musician negotiator Carole Mason Smith said her committee now will recommend musicians accept a proposal made by SPCO management last week.
The tentative deal between the musicians and SPCO management will require a vote. If approved the musicians' annual pay will be cut by $15,000, and the orchestra will be reduced by six players to 28. However the musicians will have greater artistic control over the SPCO's performances and repertoire.
The agreement will put an end to the six-month lock out.
"There are logistics that need to be worked through but the goal is to get back to bringing great music to the community as soon as possible." Mason Smith said.
The agreement came even as the orchestra's board gathered to discuss cancelling the rest of the SPCO season, said Interim SPCO President Dobson West. He said the deal will allow management time to negotiate an agreement with the national American Federation of Musicians on Internet and broadcast use of SPCO material.
"We have reached a mutual agreement with the musicians negotiating committee that they will take our proposal to the musicians for a ratification vote as soon as we get an approval from the AFM," West said.
West expects the national deal will come together quickly, after which arrangements can begin to resume concerts. No dates have yet been set but both sides expect the orchestra will play concerts before the end of the current season.
A statement from St. Paul Mayor Chris Coleman following the SPCO's announcement read, "I want to offer my most sincere thanks to both the Society and the Musicians. Both sides have been working tirelessly in pursuit of this agreement for many months... At the end of the day, this treasured institution is larger than any individual board member, musician, staff member, or mayor. Today's agreement means that the world's best chamber orchestra - our Saint Paul Chamber Orchestra - will be enjoyed for generations to come."
Gallery
3 of 3
1 of 3
2 of 3
MPR News is Reader Funded
Before you keep reading, take a moment to donate to MPR News. Your financial support ensures that factual and trusted news and context remain accessible to all.