Ice storm: Worthington declares state of emergency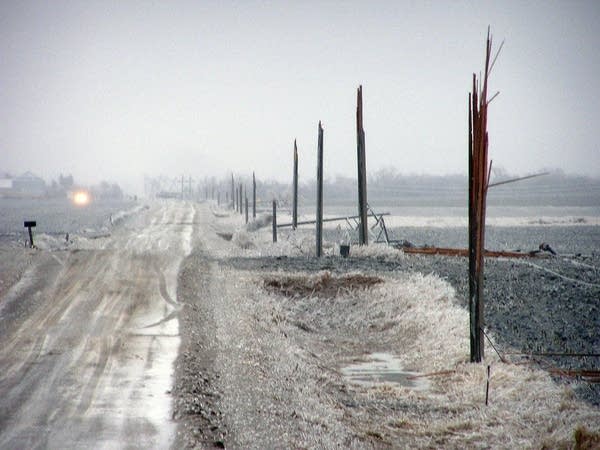 More than 70,000 utility customers in southwest Minnesota and eastern South Dakota were without power over the last 24 hours as freezing rain wreaked havoc with power lines and utility poles.
Power lines and poles are coated with more than an inch of ice in some locations.
The city of Worthington established rolling blackouts to keep homes livable and avoid having to open emergency shelters.
As of mid-afternoon, Xcel Energy was reporting 35,000 customers without power. By 4 p.m., that number was down to 28,600. The ice storm is the worst in this area in the 17 years since November 1996, according to Xcel's Jim Wilcox.
MPR News is Member Supported
What does that mean? The news, analysis and community conversation found here is funded by donations from individuals. Make a gift of any amount today to support this resource for everyone.
"We have large outages with thousands of customers, and we have smaller outages that only [affect] one customer, so it's a range," said Wilcox.
Rural cooperatives serving the area indicated 6,300 of their customers were in the dark.
Worthington imposed rolling blackouts lasting roughly an hour to keep homes habitable and avoid the need to open emergency shelters. The blackouts affect an estimated 1,700 customers at a time, or between one-quarter and one-third of the city's population.
City public utilities manager Scott Hain said the community is using backup diesel generators to power a portion of the city at a time.
"We expect that we'll be operating under this same scenario at least through the rest of today and possibly into tomorrow as well," said Hain.
Worthington's utility cables are generally underground, but all three lines supplying the city's power are down. The cooperatives that supply the city's electricity have seen extensive damage to their distribution systems. Hundreds of power poles have been damaged and many lines are down.
There are also unconfirmed reports that major high-voltage supply lines in the region are down over a stretch of five miles.
Federated Rural Electric said mid-afternoon Wednesday its outage numbers had fallen to 800 from about 2,000.
Nobles County Electric revised its outage numbers down to 2,700 from as many as 4,200 at 2:30 p.m. It said more than 200 power poles are reported down, along with numerous sagging or downed power lines. The company's website indicated repairs could take two days.
Here's a list of the maximum number of customers who saw power outages in the area Wednesday:
• Xcel Energy: 60,000
• Nobles Cooperative Electric: 4,200
• Sioux Valley Energy: 3,000
• City of Worthington: 1,700
• Federated Rural Electric: 2,000

Meanwhile, the area is bracing for another assault of winter weather. The National Weather Service has issued a winter storm warning in effect until 1:00 p.m. Thursday. The forecast calls for snow and isolated thunderstorms, with total snow accumulation of seven to nine inches.
MORE WEATHER COVERAGE
• More photos from Worthington
• More photos from social media
• Updraft: Snow tonight here, soggy in Wis.
• 10 things to love about Minnesota summer

Gallery
1 of 2
2 of 2