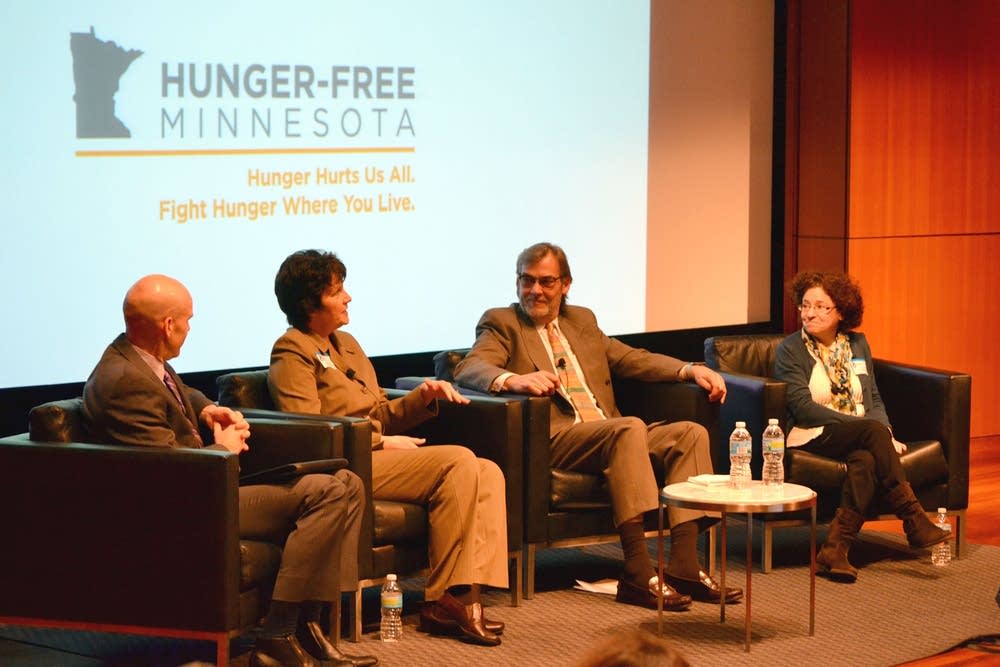 A statewide coalition to fight hunger got a boost from Golden Valley-based General Mills, which pledged $1 million to Hunger-Free Minnesota.
The pledge comes on top of a previous $1 million contribution from the company. Ken Powell, CEO of General Mills, said he has seen good work in getting more donations into food shelves and increasing enrollment in food stamps.
Hunger-Free Minnesota is a group of nonprofits and corporations. The coalition says low-income Minnesotans miss 100 million meals every year and aims to close what it calls the "meal gap."
"We're just encouraged by the progress that we've seen," Powell said. "We now have, I think, very impressive tools that have been developed to help us target better, really, where is the hunger, community by community, neighborhood by neighborhood."
Hunger-Free Minnesota also today announced 20 recipients of nearly $400,000 in grants. They include the Minneapolis Public Schools and a hospital food shelf program.
The Minneapolis Public Schools plans to expand its breakfast in the classroom program with the $13,000 grant. In order to better serve low-income students the district will pilot breakfast in the classroom at 13 additional schools, said Bertrand Weber, nutrition director at the Minneapolis Public Schools.
"When we provide breakfast in the cafeteria, depending on the bus schedule and how the schedule of the school is, we're finding the kids have to rush through to get their breakfast," Weber said. "A lot of times they don't have time to eat it. They have to throw it away because they can't finish it."
Hunger-Free Minnesota also gave $50,000 to Hennepin County Medical Center to expand its hospital food shelf program to neighborhood clinics. The food shelf program allows hospital staff to provide healthy food to patients who need it, said HCMC pediatrician Diana Cutts.
"As a physician, I want to be able to not just tell a family, 'This is the way I believe you should be eating,' but to be able to give them some ability to access those healthy foods, which they really may otherwise have very limited access to," Cutts said.
The statewide coalition also awarded grants to food shelves and food banks, including $43,000 to the Emergency FoodShelf Network for its mobile food shelf program.