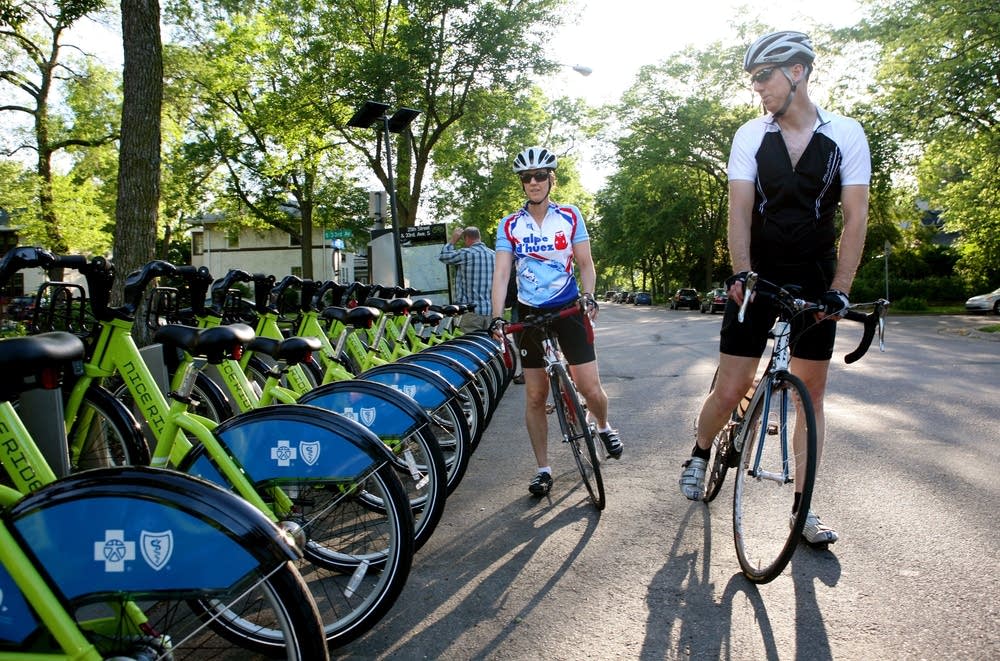 Minneapolis is often held up as an example of a bicycle-friendly city that is taking steps to further improve safety.
The number of bikes on the city's streets has increased by about 50 percent in just the last six years, while the overall number of bike crashes has remained relatively steady. But transportation planners and bicyclists agree that even Minneapolis is not as safe as it could be.
• Summit: 5 ways to improve bike safety in Mpls.
Chris Budel of St. Paul bikes to work, the store and just about everywhere. On Monday, he rode to a national bike safety summit in Minneapolis.
Federal transportation officials chose the city partly because the jump in bike traffic has not led to a subsequent jump in bike accidents. Still, Budel said the city has more to do before he feels completely safe.
"I feel threatened every day. I don't feel like I'm going to get killed, but sometimes I do," Budel said.
Budel has even been hit by cars before, but is resolved to continue riding, he said.
"I feel threatened every day. I don't feel like I'm going to get killed, but sometimes I do."

Chris Budel of St. Paul, bicyclist
"I'm sure a lot of people would have a brush with death and would get back in their cars and never ride again," he said.
Transportation planners say people surveyed about bicycling have expressed the same attitude.
"The number one reason why people don't ride bikes more often is because they don't feel safe on the streets," said Martha Roskowski, who leads a new project aimed at making bicyclists feel safer on the road. The project spans six cities, including Portland, Chicago and Washington, D.C. Roskowski said the idea is to construct something called a "green lane."
"Which is a better bike lane, sort of a next-generation bike lane," Roskowski explained. "It's a bike lane, usually on the street, but with some sort of physical separation between the bike lane and the car space."
Minneapolis isn't among the first group of cities to try out the new lanes. But city officials have experimented with the idea on First Avenue in downtown Minneapolis by separating vehicle traffic from the bike lane with a line of parked cars. The change has received mixed reviews.
Protected green lanes that use plastic barriers instead of parked cars are coming to Minneapolis soon, said Shaun Murphy, the city's bike coordinator.
"Most people aren't comfortable with just a white line separating them from auto traffic," Murphy said.
City officials will add the lanes on West 36th Street near Lake Calhoun, and on Broadway Avenue in northeast Minneapolis to physically separate cyclists from motorists. The city's goal is to double the number of people biking to work by 2014. The protected lane effort is just one of several city engineering projects to encourage cycling, Murphy said.
"There's sort of the knee-jerk reaction of what can bicyclists do to make themselves safer," Murphy said. "And there obviously are things that can make them safer. But it's really about bicycle friendliness. The cities that are the most bicycle friendly are the safest."
Yet, just on his way to the bike safety summit, Murphy saw a bicyclist turn without signaling. On the flip side, the city receives plenty of complaints about overly aggressive drivers. The major concern bicyclists highlighted during one of the sessions was distracted driving, especially texting. It's against the law in Minnesota and 38 other states, but people still do it.
Andy Clarke, with the League of American Bicyclists, railed against texting at the conference.
"It's a scourge that threatens to undermine everything the traffic safety community has done in the last 50 years. It's an appalling thing to see happen," Clarke said. "Rather than fall behind the technology and the behavior, we need to be as unequivocal as possible from day one.
"We just need to say, you can't do it. You should not have a hand-held device in your hand that you're using for anything. The sooner we get to that point and make that clear and start to enforce it, the better."
The laws need to be better enforced, but educating people about the dangers of distracted driving takes time, said David Strickland, head of the National Highway Traffic Safety Administration.
"You start busting people for this stuff, they'll stop doing it," Strickland said. "But the thing you also have to remember about this work is this: Systemic cultural change does take time. We are in year four. We're in the beginning."
Strickland reinforced his point by reminding summit attendees that the federal government has been carrying out education campaigns and pushing states to change their seat-belt and drunk driving laws for over 30 years.