Minn. Senate approves same-sex marriage; sends to Dayton
The Minnesota Senate Monday voted to legalize same-sex marriage, sending the measure to Gov. Mark Dayton, who plans to sign it into law in a ceremony Tuesday evening.
The Senate's 37-30 vote came three days after the House also approved the legislation allowing same-sex couples to be legally married in the state.
The Senate vote was seen as a foregone conclusion, and the debate lacked much of the drama seen days before in the House. Crowds of people were back at the Capitol, singing, chanting and waving signs, although the supporters far outnumbered the opponents. Their cries for and against the bill filtered through the Senate chamber during the debate.
It was an extraordinary moment, one unimaginable last fall when Republicans controlled the state House and Senate following big wins in the 2010 election. With the GOP controlling the Legislature and a statutory ban on gay marriage already on Minnesota's books, Republicans pressed to write the gay marriage ban into the state's constitution.
Grow the Future of Public Media
MPR News is supported by Members. Gifts from individuals power everything you find here. Make a gift of any amount today to become a Member!
MORE MARRIAGE VOTE COVERAGE
• Live blog: Recap of today's historic vote
• Story: Hann, his voters disagree on issue
• Maps: Same-sex marriage votes compared
• Photos: Last week's House vote
• Tell us: Time to redefine marriage?
• Live blog: Recap of live blog coverage of House vote
• Story: DFLer in trouble over vote
• Interactive: Deep roots of the marriage debate
• Special report: How the amendment was defeated

That effort, though, galvanized liberal organizers, who launched a massive fundraising and get-out-the-vote campaign that defeated the proposed constitutional ban on gay marriage at the polls, and helped deliver DFL majorities back to both houses.
That work paved the way to Monday's vote to repeal the current state legislative ban on same-sex marriage, passed in 1997. Dayton's signature, expected Tuesday, will make Minnesota the 12th state in the country to allow same-sex marriage - and the first in the Midwest to do so via the Legislature and not the courts. Same-sex weddings could start here Aug. 1.
"With just a few words, we have the ability to bring loving families across Minnesota into the full sunshine of equality and freedom they've been denied for so long," Sen. Scott Dibble, DFL-Minneapolis, said during debate.
"We're giving people the freedom to marry in this bill," he said, adding, it's "not nearly as earth shattering as some folks might think."
RELIGIOUS CONCERNS NOT EASED
Both sides acknowledged Minnesotans remained painfully divided over the question. While voters rejected a constitutional ban on same-sex marriage last November, 47 percent wanted it. In most precincts outside the metro areas, a majority of voters backed the ban. A survey earlier this spring showed a majority still don't support same-sex marriage.
The vote came largely along party lines. Three DFL senators - Lyle Koenen of Clara City, LeRoy Stumpf of Plummer and Dan Sparks of Austin -- voted against the measure. One Republican, Sen. Branden Petersen, R-Andover, voted for it.
The bill provides legal protections for religious groups that don't want to marry same-sex couples. Opponents, though, raised the specter of future conflicts between the would-be law and individuals or institutions that don't support gay marriage, warning the protections didn't go far enough.
"This proposal does not protect religious institutions and non-profits," said Sen. Warren Limmer, R-Maple Grove. Organizations like the YMCA, Northwestern College and the University of St. Thomas "are all religious affiliated institutions, but they are not protected. Northwestern is a very popular place to get married. That Christian college cannot refuse (a same sex wedding on its grounds), according to this law that we're considering. And so it goes with other institutions."
Wedding photographers and others who make a living off weddings but don't believe in gay marriage would be put in a position of being put out of work or "violating their core beliefs," said Sen. Sean Nienow, R-Cambridge.
Dibble and others countered that their bill would not expand privileges or requirements in current state human rights laws.
"This bill does not create some new opportunity for folks to demand service," Dibble said. Senators rejected amendments to expand the bill's religious exemptions.
'CIVIL CONTRACT' BETWEEN TWO PERSONS
The legislation headed for the governor's desk changes the definition of marriage in Minnesota from "between a man and a woman" to a civil contract between two persons. State prohibitions against marriage between an uncle or aunt and niece or nephew, or between first cousins, remain on the books.
The state will also recognize the unions of same-sex people who were married in other states and countries.
Making same-sex unions legal opens doors to mutual health, legal and other benefits for same-sex couples at the state level. When it comes to spousal benefits for Social Security, taxes, health and other federal programs, Minnesotans are still bound by the federal Defense of Marriage Act, which remains in place and prohibits federal agencies from considering same sex marriage valid even in states where it's legal.
As with the House vote on Friday, senators framed the issue in larger social terms, with supporters applauding what they saw as an expansion of basic civil rights and critics warning that redefining marriage would bring unintended consequences.
DEBATING THE CONSEQUENCES
"This legislation will finally give (same-sex couples) the same recognition that my wife and I have and most of the people in this room have. Nothing more. Nothing less," Sen. John Marty, DFL-Roseville, told the chamber. "These families pay taxes, participate in their communities ... These families deserve the same rights that we do."
Sen. Jeff Hayden, DFL-Minneapolis, an African-American man married to a white woman, noted that some states in the south and west once enforced laws making interracial marriage illegal. The U.S. Supreme Court struck down those laws in 1967. Lawmakers, he said, need to "make sure there's equity with every loving and committed relationship."
Big Lake Republican Sen. Mary Kiffmeyer, though, suggested some voters were deceived last fall when they rejected a constitutional gay marriage ban. Voters "were told it was OK to vote no because nothing would change. Do they feel lied to? Yeah."
Sen. Dan Hall, R-Burnsville, warned the bill would create the worst societal divisions since the Civil War.
"Are homosexual marriages good for our children? Are we as members in this chamber going to change the course of history?'"
The divisions on the issue remain deep across the nation. More than three dozen states have a constitutional or statutory ban on gay marriage. President Bill Clinton, who signed the federal gay marriage ban into law 16 years ago, recently called that decision a mistake and has urged it be overturned.
In December, the U.S. Supreme Court agreed to rule on whether California's gay marriage ban violates the Constitution's equal protection clause. That Court's decision on that case may remake the political landscape again. For Minnesota, at least, the ground has already shifted.
Gallery
1 of 2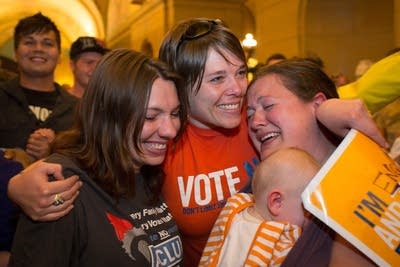 2 of 2