Status-quo transportation bill disappoints transit advocates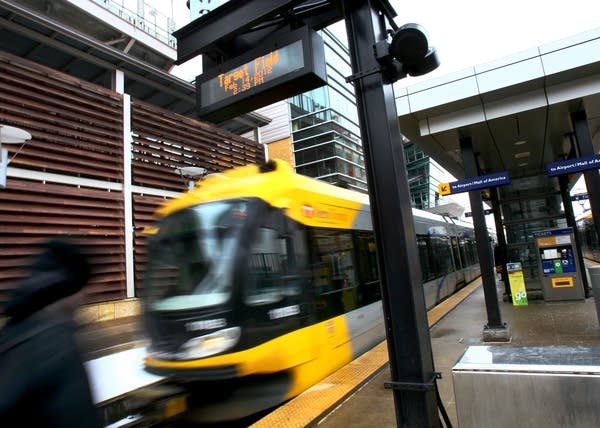 Minnesota lawmakers this session passed a "lights-on" transportation bill, which does not include either a gas tax increase or a metro sales tax increase for transit. The bill passed without the new revenue many transportation advocates had hoped to gain for a long list of transit projects and road improvements.
Of the nearly two dozen mass transit projects the Metropolitan Council wants by 2030, just one received significant funding this session. Lawmakers allocated the $37 million needed for the Southwest Corridor light rail line to move ahead. The money will fund the project through preliminary engineering, which is already underway. That means no delays for Southwest light rail transit, which will run between downtown Minneapolis and Eden Prairie.
But without an increase in the metro transit-dedicated sales tax, the LRT will need another $81 million next session.
No new revenue also means delays for the other planned transit lines, Hennepin County commissioner Peter McLaughlin said.
"The map will be there and there will be lots of projects for which we do not have a solid plan to fund," McLaughlin said. "We could have had that."
The bill passed by the Senate would have raised and expanded the existing quarter-cent metro tax by a half-cent to help pay for transit. It would also have increased the gas tax by five cents for roads and bridges. But that plan was dropped in light of Gov. Mark Dayton's opposition to raising the gas tax.
Before you keep reading ...
MPR News is made by Members. Gifts from individuals fuel the programs that you and your neighbors rely on. Donate today to power news, analysis, and community conversations for all.
The chair of the Senate Transportation Finance committee, Sen. Scott Dibble, DFL-Minneapolis, said he is disappointed by the status-quo bill that passed.
"It is really, really hard to pass a substantial transportation bill. It always has been," Dibble said. "That is a tradition and the history when it's time to really step up and make some key advances in building that key infrastructure; that key economic driver that transportation represents."
Dibble said he plans next session to continue pushing for more mass transit funding.
The bill includes $130 million over the next two years for Met Council transit operations, $300 million in trunk highway bonding for roads across the state, and more money for outstate transit. It also includes $95 million in one-time money for Minnesota Department of Transportation road and pedestrian improvements.
Met Council chair Sue Haigh said she is satisfied with the legislation.
"I see this as a strong investment. It wasn't everything that we had hoped for but it was a lot more than we have had over the last decade," Haigh said.
State Rep. Mike Beard from Shakopee is the top Republican on the House Transportation Finance Committee. He originally supported an increase in the gas tax to pay for roads and bridges. Beard said he changed his mind because of what he called the Democrats' "overreach on taxes."
"Every tax known to man was being proposed in St. Paul and that was completely the wrong strategy to take in my opinion," Beard said. "Even though I was supportive of a nickel or six cents going into the session, once the overreach and the feeding frenzy started I had to step back and say, 'you know what? I'm willing to engage in a rational and reasonable discussion but I'm not going to engage in one where they've lost control of the message.'"
Despite the DFL majority in the House, Senate and governor's office, many rural lawmakers could not support more funding for metro-area transit unless the Legislature also passed an increase for roads, Beard said.
Gallery
1 of 1