In rematch, Graves faces uphill battle vs. Bachmann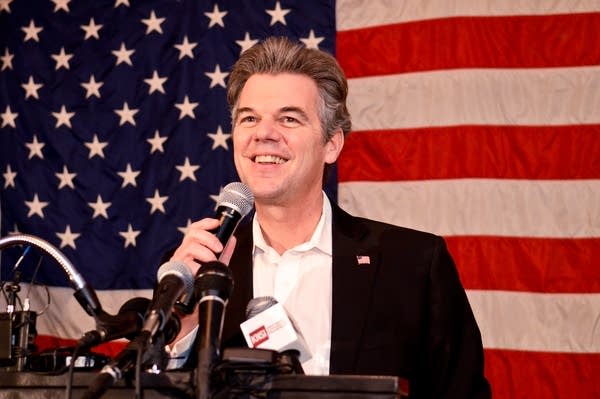 Minnesota's 6th Congressional District is setting up to feature the most expensive and closely watched congressional race in Minnesota next year. Democrat Jim Graves -- who narrowly lost to incumbent Republican Michele Bachmann last year -- has announced his intention to run again. But even if fellow DFLers give him a clear path to the nomination, he faces many challenges in defeating Bachmann.
Last November, the race in the 6th District was the unexpected nail biter on election night.
Michele Bachmann ultimately won with a little more than a 1 percent margin over Graves, a complete political unknown before the race. The consensus among political observers was that the outcome reflected how her unsuccessful presidential bid and a series of controversial comments had hurt Bachmann's reputation even in the state's most conservative congressional district.
Lately, multiple investigations into Bachmann's presidential campaign have Democrats thinking they still have an opportunity to unseat her. And after considering how close he came last year, Graves wants that chance again.
"I have nothing against Michele Bachmann, but at the end of the day I don't think she's representing the people's needs," he said.
Last week, Graves' campaign released a poll showing him slightly ahead Bachmann and he visited Washington for strategy meetings and fundraising with national Democrats. In a statement to MPR News, the Bachmann campaign said Graves' trip to the capital was a sign he is "beholden to the Obama-Pelosi agenda."
Graves' last campaign was launched with money he made building and managing hotels. This time around he expects to raise about $3.5 million from donors. Still, that's far less than the $14 million that Bachmann raised last year. 
Graves says he plans to use superior organizing to beat any financial advantage she might have.
"Last time, what really happened was that we just ran out of time and energy to get across the district the message that we have," he said.
Democratic-leaning outside groups also plan to spend money to oust Bachmann this time. But they might have something of a conflict of interest. Privately, many Democrats admit that keeping Bachmann around is great for their fundraising and that she serves as a useful face of the GOP to campaign against. 
Meanwhile, national Republicans acknowledge that Bachmann could have a tough race in 2014 -- but say they're not too worried.
"Michele clearly has a national following that's very strong, she has a large cash on hand number and she is a very effective campaigner," said Oregon U.S. Rep. Greg Walden, who heads the National Republican Campaign Committee.
While Bachmann hasn't addressed the prospect of a rematch with Graves directly, she has taken the unusual step of airing campaign ads 18 months before the election. The ads don't reference the upcoming race, but focus on Bachmann's persistent efforts to repeal the 2010 health care law:
Political analyst Kyle Kondik of the University of Virginia's Center for Politics says Bachmann is trying to nationalize the race by making Obama and Democrats the issue rather than herself.
"If she can just hammer home the specific sorts of policies she would pursue, that could very well be enough even if there are some voters who don't really like her," he said.
By coming so close to unseating Bachmann, Graves has become something of a hero to many liberals. But if Graves is successful and unseats Bachmann next year, Kondik says Graves would face a new challenge: He would be the rare Democrat representing a Republican-leading district.
Just three House Democrats represent districts more conservative than Bachmann's, according to analysis by the Cook Political Report. And if that happened, Kondik says, Republicans would view the seat as ripe for taking back in two years.
Gallery
1 of 1