Bachmann's presidential ambitions may have cost her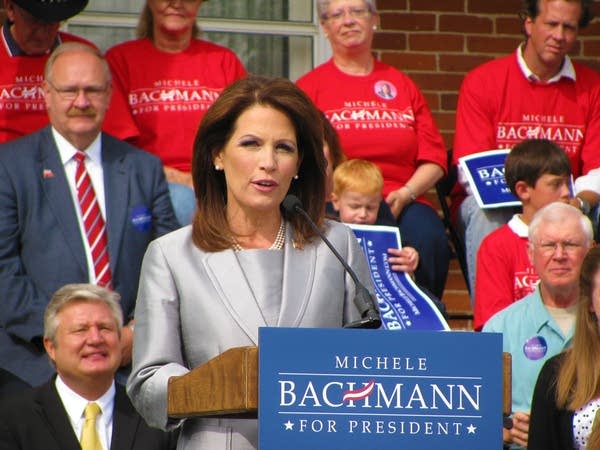 The seeds of Wednesday's announcement by Michele Bachmann that she won't seek re-election to Congress may have been planted in Iowa more than a year ago.
That's where Bachmann's run for the Republican presidential nomination briefly propelled her into frontrunner status. But it also dealt a severe blow to her political career back home and led to a series of campaign finance investigations that have yet to play out.
Bachman has represented Minnesota's Sixth District since 2006.
• Read more about Bachmann's decision to leave the U.S. House
Her 2012 presidential campaign marked a pivotal point in her career. For a brief period in the summer of 2011, as GOP hopefuls sought the Republican presidential nomination, she was tied with front-runner Mitt Romney in Iowa.
On the eve of her presidential campaign announcement, she rode a wave of excitement, rallying supporters in her birthplace of Waterloo, Iowa. Bachmann played up her Iowa roots as she traveled the Hawkeye State looking for support.
"Welcome home Waterloo! Welcome home," she told the crowd in June of 2011. "I want you to know, everything that I needed to know, I learned in Iowa."
RELATED BACHMANN COVERAGE
• What do you think of Bachmann's decision?
• Transcript: Bachmann's announcement
• Listen: Bachmann's move noteworthy in Washington
• Listen: Bachmann rumors pointed to decision
• Listen: Opponent reacts to announcement
• Photos: Highlights from Bachmann's political career
• Photos: Bachmann's last 2011 dash through Iowa
• News Cut: Bachmann by the numbers
Bachmann also leveraged her fundraising prowess, funneling her national network of financial support into an expensive Republican Party Straw Poll victory in August that pushed a fellow Minnesotan, former Gov. Tim Pawlenty, out of the GOP nomination battle.
But that victory turned out to be a short-lived high point of Bachmann's presidential campaign. She went on to finish last place among the Republicans who were competing in Iowa's 2012 caucuses.
Political observers say the self-described Iowa girl's attention to presidential politics cost her support at home, as did embarrassing presidential campaign trail gaffes.
Eleven months after losing the Iowa Caucuses, Bachmann barely won re-election to the House. She defeated Democrat Jim Graves, a political newcomer, by just 4,200 votes in a solidly conservative district.
But the legacy of the presidential campaign lingers in the form of ethics investigations, even though Bachmann insisted today they are not the reason she decided not to run.
"Rest assured this decision was not impacted in any way by the recent inquiries into the activities of my former presidential campaign or my former presidential staff," Bachmann said in an online video.
There are two complaints before the Iowa Senate Ethics Committee. One alleges that Iowa State Sen. Kent Sorenson accepted thousands of dollars to chair Bachmann's campaign in violation of Iowa Senate rules. According to a sworn statement by former campaign staff member Andy Parrish, Bachmann approved indirect payments to Sorenson.
The other complaint in Iowa accuses Sorenson of stealing a list containing contact information of parents who home school their children. Local police in Urbandale, Iowa, are investigating that claim which is also the subject of a civil lawsuit.
On the federal level, the Office of Congressional Ethics is looking into Bachmann's alleged misuse of campaign funds.
Former Bachmann campaign staffers acknowledge the FBI has contacted them for interviews. Bachmann has rarely spoken publically about the investigations, but last month she insisted she did nothing wrong.
"I'm working very closely with the people that are involved to make sure that we answer all the questions and that we get to the bottom of it," she told reporters. "And I'm thoroughly convinced that I'll be cleared."
The campaign finance and ethics inquiries could be behind Bachmann's decision not to run again, said Steven Schier, a political science professor at Carleton College.
"The fact that there are three different investigations involving various aspects of her political operation I think constitutes a critical mass that really obstructed her future political ambitions in the 6th District and may well have ended her career in elective politics," he said.
In a statement, the Republican Party of Minnesota praised Bachmann as a "strong leader." But despite Bachmann's popularity with some Republicans, GOP leaders likely would an opportunity to regroup behind a new candidate, Schier said.
The 6th District is Minnesota's most conservative congressional district. Without Bachmann and the baggage left over from her failed presidential run, Schier said, Republicans could have a better chance of keeping Jim Graves at bay and holding on to the seat.
Gallery
1 of 2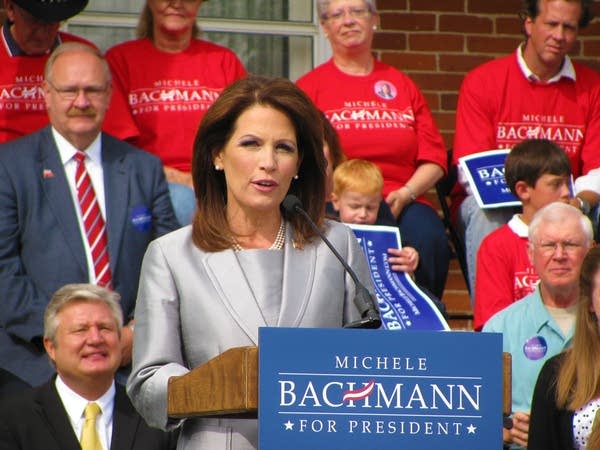 2 of 2
Your support matters.
You make MPR News possible. Individual donations are behind the clarity in coverage from our reporters across the state, stories that connect us, and conversations that provide perspectives. Help ensure MPR remains a resource that brings Minnesotans together.