Southwest LRT: Residents discuss how light rail can co-exist with freight lines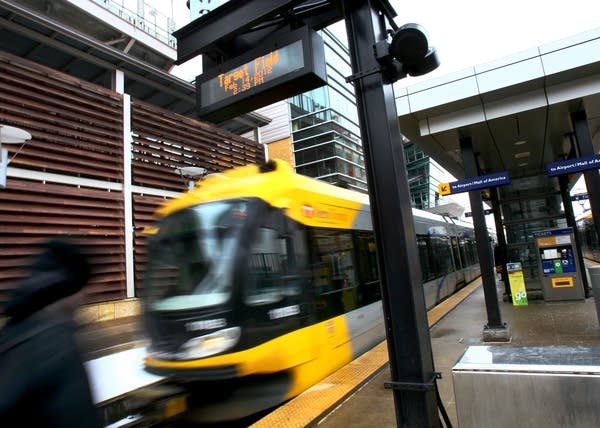 About 100 people gathered Thursday morning in St. Louis Park to view and discuss eight possible ways the Southwest Light Rail transit line can exist near freight rail lines. Trains on the Southwest Light Rail line, also known as the green line extension, will run a 15-mile route from Minneapolis through St. Louis Park, Hopkins and Minnetonka into Eden Prairie.
Many of the people who attended the Metropolitan Council open house pored over maps and diagrams on display. They show eight options for either locating light rail next to existing freight rail tracks, or relocating freight rail lines. Alan Betker showed a Met Council staffer how a freight rail relocation plan would affect the Paul Revere Masonic Center in St. Louis Park -- the organization he runs. Right now railroad tracks run right past his building.
However, one of the two relocation routes will run tracks right through the building -- meaning the Masonic Center will have to move. Betker said he has known about the proposed light rail line for a while, but only recently heard about plans to relocate the freight train tracks.
"The first time we were really made aware of this was about a week ago -- that they were actually looking at condemning our building or taking it from us," Betker said.
Betker said it would be hard to find a new building but hopes his group would be well compensated if planners decide to route freight rail through the property.
Met Council officials said the freight rail lines may have to be relocated because of space concerns. Jim Alexander, design and engineering director for the Southwest Light Rail project, said in some areas there is not enough room to fit freight trains, light rail trains and bike paths side by side.
Gain a Better Understanding of Today
MPR News is not just a listener supported source of information, it's a resource where listeners are supported. We take you beyond the headlines to the world we share in Minnesota. Become a sustainer today to fuel MPR News all year long.
"The corridor gets as narrow as 49 feet," Alexander said. "And to accommodate all three of those modes, that will not fit within that 49 feet of available right-of-way."
The eight options for rail lines through St. Louis Park include six that would co-locate light rail and freight line traffic. Some of those six would elevate the light rail line. Others would build underground tunnels for the light rail trains.
However, the most controversial options are the two plans to relocate freight train tracks through St. Louis Park. One would run trains through Pat Wells' neighborhood, an area which does not currently have heavy rail running through it.
"The freight train being proposed in the relocation proposal will be like the Chicago 'L'," he said. "It will be raised up in the air and would be noisy and ugly."
Wells and other critics of relocating freight rail said they don't oppose the Southwest Light Rail line. However, they said the relocation plans are too expensive and pose a safety risk for people who live near the rerouted trains.
Met Council officials don't have cost estimates yet for each option. They said right now, project officials are just looking for public feedback. The Met Council has also scheduled a series of public meetings on the 17 proposed light rail stations next week.
Another open house was scheduled for Thursday afternoon.
Gallery
1 of 1