After marriage ruling, many Minnesota politicians eager to move on
The Defense of Marriage Act struck down Wednesday by the U.S. Supreme Court was a piece of legislation that enjoyed widespread bipartisan support when it was originally signed into law. But some members of Minnesota's congressional delegation say it's time to move onto other issues, now that the high court has rendered its historic decision.
Congress passed the act in 1996, just as the issue of same-sex marriage was gaining political potency. Seven out of Minnesota's eight U.S. House members voted for DOMA -- two Republicans and five Democrats -- as did both of the state's senators.
When the Senate was debating DOMA, liberal icon and Minnesota Sen. Paul Wellstone gave a curious speech in which he stood up but chose not to talk about DOMA.
Instead, he spoke about another bill that would outlaw discrimination based on sexual orientation based on the experience of a close family friend.

SAME-SEX MARRIAGE: FULL COVERAGE
• DOMA struck down, Prop. 8 dismissed
• Minnesota activists react to marriage rulings
• Today's Question: What's your reaction?
• Q&A: The impact on Minnesota tax, benefits laws
• Live blog archive: DOMA ruled unconstitutional
• Download and read opinion: United States vs. Windsor (DOMA)
• Download and read opinion: Hollingsworth vs. Perry (Prop. 8)

"This friend of ours over the years, really has had to live in a state of terror though it's gotten somewhat better now," Wellstone said.
When it came time to vote, Wellstone joined 84 other senators to support DOMA, a sign of the perceived political danger of supporting gay marriage.
"I think that's a vote that he always regretted," DFL Sen. Al Franken said of the late senator. Franken now occupies Wellstone's Senate seat and uses his former desk in his office.
"This has been kind of a fast evolution, I think, as these things go, and it's only moving in one direction," Franken said.
In the 1990s and throughout the 2000s, opposition to same-sex marriage appeared to be a reliable way to get conservative, mostly Republican voters to the polls.
Since Minnesota voters rejected an amendment to ban same-sex marriage last year, many GOP candidates and office holders now appear eager to focus on other issues, such as the economy. Most of the state's declared Republican candidates for governor and the United States Senate agree that same-sex marriage is a settled issue.
"The Supreme Court has spoken and the people of Minnesota have spoken, and it's time to move onto issues that will move our state and our country forward."
They were joined yesterday by Republican Stewart Mills, who declared his candidacy for 8th Congressional District seat.
"Well, the Supreme Court has spoken and the people of Minnesota have spoken, and it's time to move onto issues that will move our state and our country forward," Mills said.
Spokesmen for Republican Reps. John Kline and Erik Paulsen did not respond to interview requests on the subject, and both men have generally avoided discussing same-sex marriage. In 2012, voters in their suburban districts voted to oppose the marriage amendment.
The only Minnesota Republican who did want to talk about same-sex marriage Wednesday was Rep. Michele Bachmann, who is leaving Congress next year. Bachmann's opposition to same-sex marriage helped launch her political career and she had nothing but scorn for the Supreme Court's decision.
"And so you have five individuals on a court, who decide that is their morality or immorality, their view of morality or immorality which must prevail. Five people!" Bachmann said.
But no Republican leaders appeared on stage with Bachmann and the other social conservatives who spoke at a Capitol Hill news conference.
Breaking from protocol, Bachmann and the other members of Congress left without taking questions, a sign that even they did not want to keep the issue open.
Meanwhile, Democrats have fully embraced same-sex marriage. That has created some awkwardness for 7th District Rep. Collin Peterson, who voted for DOMA in 1996 and is the only remaining member of Minnesota's congressional delegation from that time.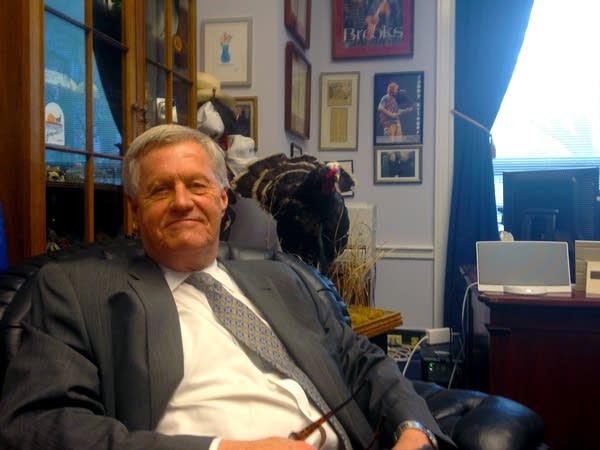 Peterson remains one of the most conservative Democrats in the House and his rural district strongly supported the marriage amendment last year, which may explain his response to the Supreme Court's decision:
"It is what is," Peterson said.
"It was a different time back then," he said, when asked if he had any second thoughts about the 1996 vote.
Moving forward, Democrats also say the battle over same-sex marriage is done in Minnesota.
Democrat Rep. Tim Walz of Minnesota's 2nd District has long been a supporter of same-sex marriage even though his district last year backed the proposed amendment to define marriage in the Minnesota Constitution.
Walz said he has never tried to hide his views on the subject from voters and takes his opponents' arguments seriously.
"And I think the voters, whether they agree or not on some of those things, respect how you're talking about them as long as you show respect for the dissenting opinion," Walz said.
Walz said voters would rather have him to focus on the economy. And it appears that most Republicans in the state agree.
Gallery
3 of 3
1 of 3
2 of 3