New chief tries to repair bad relations between Mpls police and black community
The recent shooting death of an African-American man by Minneapolis police officers has tattered the already-frayed ties between the city's black community and the Minneapolis Police Department.
As a result, the department's new leadership has had to grapple with an old and persistent issue: violent encounters between police officers and people of color and the community backlash and distrust that follows.
Police chief Janee Harteau, who took the top job in December, said she is working to gain the trust of African Americans and other communities of color by instituting new policies, and diversifying the department's leadership and patrol force. But some say it will take a lot more than that to repair the department's relationship with the community.
"They're going to keep protesting because clearly this is an injustice," community activist Mel Reeves said of residents upset about the department's use of force. "And they're not going to stop until somebody is prosecuted."
At a recent protest over the death of 22-year-old Terrance Franklin, Reeves led the "prosecute the police" chants. In May, Franklin was shot and killed during a confrontation with two officers who were also wounded. Franklin, who was running from officers, hid in the basement of a house in southwest Minneapolis.
Reeves, a 55-year-old journalist for the Minnesota Spokesman/Recorder and minister, said he doesn't think the officers will face any criminal charges. He said law enforcement agencies hardly ever discipline officers involved in fatal shootings -- especially when those incidents involve African-American victims.
Gain a Better Understanding of Today
MPR News is not just a listener supported source of information, it's a resource where listeners are supported. We take you beyond the headlines to the world we share in Minnesota. Become a sustainer today to fuel MPR News all year long.
"The system is not working. They're clearly coddling these officers when they do wrong," Reeves said. "Because it's impossible -- you can't sit here and say that all the cops have been right, all the time. That's not possible. It goes against the grain of human nature."
Since 2000, no grand jury has indicted a Minneapolis police officer involved in an officer-involved death following an investigation, according to the Hennepin County Attorney's Office.
The city of Minneapolis has spent tens of millions of dollars in the last decade to settle officer misconduct lawsuits or to pay civil court judgments.
In 2010, a federal court jury awarded the family of Dominic Felder $1.8 million in their wrongful-death civil suit against the police department. Felder was unarmed when he was shot and killed by two officers in 2006.
The department's shaky relationship with African-Americans isn't solely based on high profile incidents like the Felder shooting. Harteau, a 26-year-veteran of the department, said some African-Americans form negative attitudes about the police at an early age.
"If the only time I only I ever see a police officer is -- as a kid, especially in minority communities -- when you're taking away mom or dad, or you're there because my uncle or brother was killed... you're going to associate negativity with that police officer," she said.
Harteau said she's trying to improve the department's reputation with African-Americans and other communities of color through a couple different approaches. First, she aims to build public trust by making herself more visible to the general public.
Recently, Harteau rode along in a squad car responding to 911 calls and posting tweets on her Twitter feed about what happened. She also is encouraging officers to get out of their squad cars whenever possible.
Harteau says personal contact helps build public trust and make officers' jobs easier.
"When people see me or my officers walking down the street I want them to say 'hey, there's Janee.' Not the chief," she said. "There's Joe. There's Jan. Whoever they are, they see them as a person and they get to know them better and they're probably going to share information."
Harteau said she also wants the public to see how racially diverse the department has become. She said more than 20 percent of the department's more than 800 sworn officers are people of color. That's as diverse as the department has ever been.
Earlier this year, Harteau promoted a black officer, Medaria Arradondo, to lead the Internal Affairs Unit -- the wing of the department that investigates allegations of officer misconduct. As head of the Internal Affairs Unit he also works in cooperation with the city's Department of Civil Rights to investigate citizen complaints on the newly created Office of Police Conduct Review.
Arradondo, a 24-year veteran of the department, was born and raised in Minneapolis.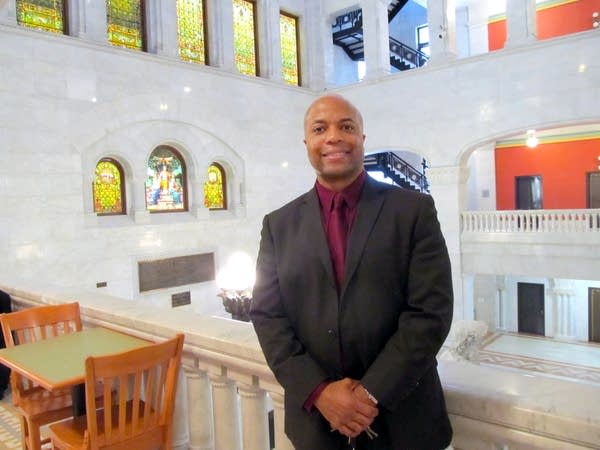 "A lot of the historical complaints and a lot of the historical issues that did exist between the black community and the police department -- those are things that I grew up with," he said.
Arradondo said he grew up hearing about the problems black people in Minneapolis had with the department, accounts that are often passed along through generations as a part of an oral history.
That oral history includes names like Lloyd Smalley and Lillian Weiss, two elderly African-Americans who died from smoke inhalation after Minneapolis police officers used a flash grenade during a botched raid at their home in 1989. It also includes Tycel Nelson, a black teenager shot and killed by a white Minneapolis police officer in 1990.
Arradondo has had his own problems with the department. In 2007, he and four other black officers sued the department for racial discrimination. The officers claimed they had been passed over for promotions, lost out on overtime pay and unfairly disciplined -- all because they are African-American.
The city settled the suit for more than $700,000. Arradondo could have taken his share of the money and quit. But like Harteau -- who filed a sex-discrimination complaint against department 17 years ago -- Arradondo said he is committed to making change from the inside.
"Someone told me a long time ago, it's much easier to be on the outside looking in and raising a concern about a problem," he said. "It's much more difficult to be that person on the inside to speak up, stand out, raise the issue and still stay in there to try and change it for the better."
Reeves, the activist, said police chiefs like Harteau come and go and incidents of police brutality continue to occur. He said change will only come when protestors make it hard for people with power to ignore the problem.
Gallery
1 of 2
2 of 2