Mpls. clothing retailer Mode-sty targets conservative fashionistas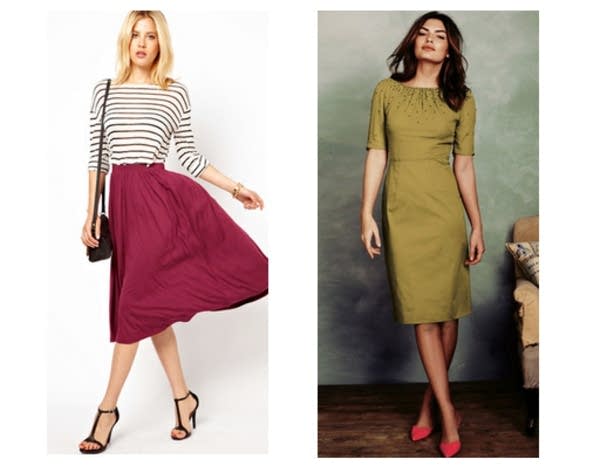 Shopping malls aren't exactly an oasis of modesty, so finding fashionable clothing can be difficult if you're a conservative dresser.
Now one Minneapolis company is making things easier for those who wish to show a little less skin.
In June of 2012, Zahra Aljabri and her husband launched Mode-sty, an e-commerce site that offers contemporary, yet conservative clothing.
Aljabri's personal style is a reflection of her religion. For the 29-year-old Muslim, headscarves and high necklines are a daily reminder of her spiritual devotion.
"It kind of resonated with me that the way you dress could be an expression of faith," Aljabri said. "I thought that was always very interesting."
But when it comes to mainstream fashion, modest clothing options can look more matronly than modern.
Before you keep reading ...
MPR News is made by Members. Gifts from individuals fuel the programs that you and your neighbors rely on. Donate today to power news, analysis, and community conversations for all.
"If you say you want to dress conservatively or you're looking for something conservative, it's associated with being dull or plain, a grandma-type of thing," she said. "That might be the case for some women. But there's a whole group where that's not the case."
Aljabri is drawn to contemporary clothing. She just prefers it without the short hems and see-through fabrics. But finding such style specs in this tank-tops-and-skinny-jeans world isn't easy. The Mode-sty business model was born out of Aljabri's frustration.
"The names Mode-sty was just a spin off the word modest or modesty and we wanted to emphasize the mode in it for fashion," she said.
AN ODD INSPIRATION
Mode-sty is essentially an aggregator for conservative fashion, drawing from a few established brands and lots of emerging designers. The company gets a cut of every sale. Interestingly, one of its biggest business inspirations is the site NastyGal.
"She's focused on this niche customer," Aljabri says of the site owner. "And it's completely opposite of our customer. 'Unapologetically sexy,' I believe, is her tagline."
While NastyGirl sells bikinis, Mode-sty offers the burkini, a full-body bathing suit that reveals only the hands, feet and face. For the slightly less conservative, there are ankle-length skirts and long-sleeved wedding gowns.
The two websites carry quite different inventory, but their goals are the same — to tailor everything to one very distinct market.
FAITH-INSPIRED STYLES
Zahra Aljabri is the American-born daughter of Kenyan immigrants. She grew up in a mostly white California suburb, where her family opted out of the typical Muslim dress code.
"I was one of the few people of color and we were one of the very, very few non-Christian families in the community," she remembers. "So there was already a lot of things that made us different so we weren't look for more things that made us different."
As the country became more accepting of multiculturalism, Aljabri grew more connected to her faith. And when she set off for college in August 2001, she was committed — albeit a bit tentatively — to wearing a headscarf.
"I don't know what I was worried about cause there was really no reaction anywhere I went for that month," she said. "And then Sept. 11 happened and then everything changed."
Attacks on Islam became commonplace and women around her began taking off their headscarves so they wouldn't be identified as Muslim. But the then-18-year-old decided to stick with her new style, hoping her attire could be a catalyst for communication.
"I really did become more conscious of my personal style and what I wanted to reflect, to be an example of what I thought a American-born Muslim religious woman could be," she said.
Aljabri's faith continues to shape her style to this day. And her website is a hub for others whose religion encourages modest dress.
"An indirect thing I see happening in our business is bringing faith groups together," she said.
Of course, you don't have to be an Orthodox Jew or conservative Christian to pass on the tube tops and mini-skirts.
Aljabri questioned a skirt that hit mid-thigh but was advertised as for a "working lunch."
"There's this huge disconnect between what they're projecting as work wear and what women actually wear to work and that disconnect is truly what we're trying to highlight," Aljabri said.
Whether they're corporate executives in search of appropriate office attire or devout 20-somethings who wouldn't dream of sporting silhouette-enhancing spandex, Aljabri wants women to demand more from clothing designers. With their combined purchasing power, she says, they can expand the fashion landscape beyond backless dresses and booty shorts.
Gallery
1 of 1