Experts hopeful in wasp fight against ash borers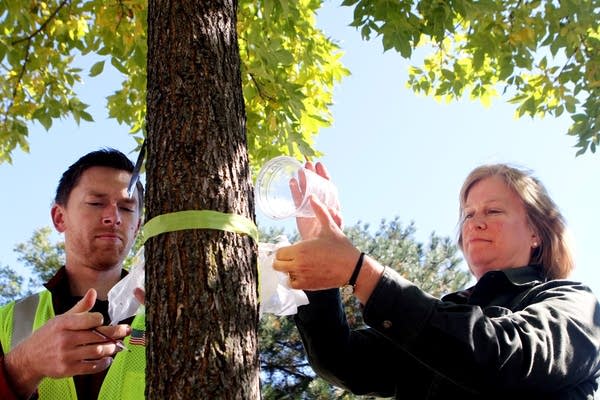 Minnesota Department of Agriculture officials still don't know how effective wasps will be at fighting emerald ash borer in Minnesota, but they remain hopeful.
The three different species of stingless wasps introduced in Minnesota from China attack emerald ash borer larva and eggs. The wasps were first released in Minnesota in the fall of 2010, and officials have been adding sites since then. After additions this year, there are 20 sites where the wasps have been released to fight emerald ash borer, said Monika Chandler, an invasive species specialist at the Minnesota Department of Agriculture.
But Chandler said officials don't yet know how effective the tactic will be.
"We're still early in the game," she told MPR's Morning Edition. "Biological control is a long-term process."
In Michigan, where the wasps have been used for a longer period of time, there's evidence that the tactic is working, she said, but it takes at least three years for researchers to be able to measure any effect. Chandler said Michigan's emerald ash borer infestation is worse than Minnesota's, and the best-case scenario for that state is for the wasp population to grow large enough to control the emerald ash borer population.
"In Minnesota our situation is so different. Emerald ash borer arrived later than it did in Michigan, and we don't have as high of population levels, so that bodes well for biological control," she said. "We are more likely to get in in the early stages of an infestation, and hopefully what will happen is the wasps will move with emerald ash borer as it moves."
In the meantime, officials continue to discourage people from moving firewood to prevent the beetle's spread.
Gallery
1 of 1
Gain a Better Understanding of Today
MPR News is not just a listener supported source of information, it's a resource where listeners are supported. We take you beyond the headlines to the world we share in Minnesota. Become a sustainer today to fuel MPR News all year long.