Photographer Alec Soth mounts storyteller's summer camp awkwardly
Internationally acclaimed St. Paul photographer Alec Soth constantly pushes the boundaries of his medium. This week, he's running a summer camp for artists from around the world. No one -- particularly Soth -- claims to know how it will turn out.
Until now, there's never been a Summer Camp for Socially Awkward Storytellers.
Sitting in one of the workrooms in his St. Paul studio, Soth tells the 15 participants he has decided speed dating is the best way to get everyone to meet as quickly as possible. Moments later, the room is filled with animated conversations across a very long table. Every two minutes at the clang of a cowbell everyone moves and meets another camper.
They are photographers, illustrators and writers. Soth and his staff selected them from more than 400 applicants for this free summer camp sponsored by Soth's small press, Little Brown Mushroom. One came from Germany, another from Venezuela. All responded to a simple post on Soth's website. There were few details.
Soth and Brad Zellar, his long-time collaborator writer, claim they are making up the camp as they go along. They use the speed dating session to decide what to do next.
Given that Soth called the camp Socially Awkward Storytellers because he's so uncomfortable speaking publicly, that next thing - a slideshow - makes sense.
"This whole thing about social awkwardness and public speaking is that the slide projector is a great way to, like, pull people's attentions away," Soth says, switching on his projector. "That's why I am diving right into it."
This really is a camp about telling stories -- with pictures. In a world where smart phones have made cameras ubiquitous, Soth challenges the group to return to an older form of storytelling -- the slideshow.
"Given that we have a limited amount of time," he says, "why don't we use that as the model for this workshop and practice telling stories that way."
And just to raise the ante, everyone will present their slideshow Saturday evening at the Soap Factory gallery in Minneapolis. It's open to the public -- another detail omitted from the original description of the summer camp.
No one seems too put off.
"You know I like Alec's work, and I'd heard him talk and he didn't seem like a jerk," Brad Farwell says during a break.
Like many of the participants, Farwell, who came to the camp from New York, is interested in how photography has changed. He says for many people it's become a performance, with people taking them without the intention of ever making a print.
"They sort of make a photograph, and then see it on the back of the camera and then a lot of those photographs exist on the back of the camera in the instant of their making, and then disappear."
As the group ate lunch cooked on the grill in the parking lot, Wenxin Zhang -- formerly of China, now of San Francisco -- and Colin Matthes of Milwaukee, a visual artist who denies having any photography skills, compared notes.
"I think the schedule is like a spy schedule," she says. "You are going to bomb this building today. Tomorrow you are going to dig into the ground and find some gold."
"I like that we didn't know anything beforehand," says Matthes. "We had no idea about the schedule besides it starts around 9 or 10 every day."
Twenty-four hours later the group is standing in a clearing in a Minneapolis park learning about their next mission.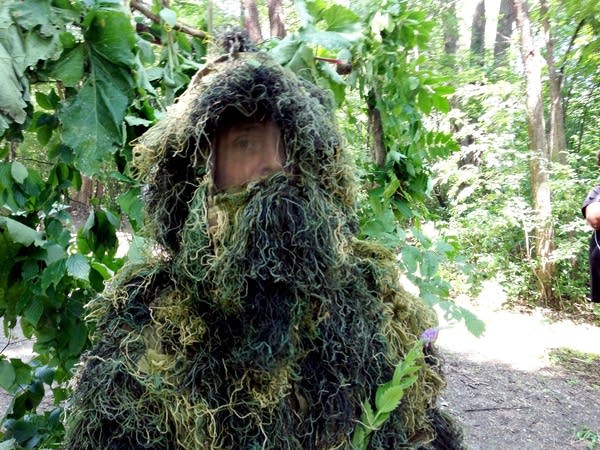 It's an artistic capture the flag game where they have to find their group leader hiding somewhere in the woods and document whatever he's looking at. That group leader will be chugging beer too, so he may not be that focused.
Soth looks on, loving it. The previous evening he had sent the campers out to hunt down stories in the city.
"I mean they, within four hours, produced so much quality work, it was staggering," he says.
There were explorations of Minneapolis, and a documentation of a receptionist's life. One of the staff interns said they produced more in one evening than an entire year of grad school. Soth says the camp is still an exercise in spontaneity, but he this already thinks it's been a success.
"This is fantastic," he adds. "And it's also a story. Something unexpected happened. I mean I had no clue that a fellow was going to run off in the woods and hide and we're going to track him down. It's an adventure, and that's what it's all about."
Soth and Zellar both say, if nothing else, it's given them a chance to get to know some interesting people.
"Some of these people are mind-blowingly talented," Zellar says. "I mean some of these applications ... they created a little project and a .pdf (document). It's light years beyond anything I could conceive of, ever."
Gallery
1 of 2
2 of 2
Your support matters.
You make MPR News possible. Individual donations are behind the clarity in coverage from our reporters across the state, stories that connect us, and conversations that provide perspectives. Help ensure MPR remains a resource that brings Minnesotans together.