Stop swallowing vitamins and the claims about their effects, doctors urge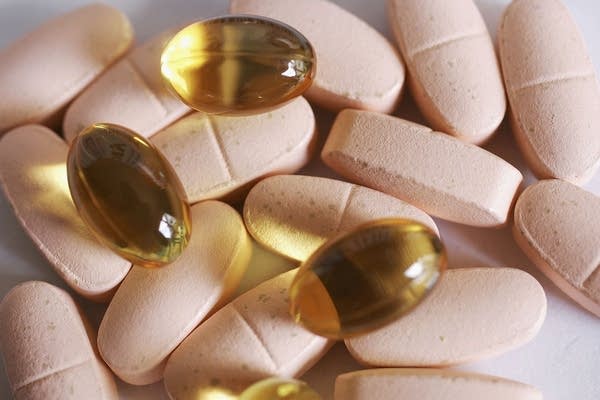 If you want to be sure that you're getting all the vitamins you need, two high-profile doctors have a suggestion:
Eat better.
"Mother Nature is pretty smart," said Dr. Donald Hensrud, chair of the Division of Preventive Occupational and Aerospace Medicine at Mayo Clinic, on The Daily Circuit.
"If you look at the evidence supporting diet on health, it's overwhelming. There is a dietary pattern, a plant-based diet, there's a tremendous amount of evidence supporting that for cancer prevention, cardiovascular disease," he said. "Compared to the data on supplements, it just dwarfs it."
Dr. Paul Offit, author of "Do You Believe in Magic? The Sense and Nonsense of Alternative Medicine," agreed.
"If you're going to take control of your own health, you're best served by really thinking about what you want your diet to be. It's better for you, and it's less expensive for you. That's the route one should go."
In fact, Offit warned, vitamin pills are not merely of uncertain benefit. In some cases, and especially in large doses, they are downright dangerous.
"Vitamins are certainly something we need," he said. "It converts food into energy. Witnhout vitamins, we would suffer certain deficiency states, like scurvy and rickets, and I think most people think they probably don't get what they need in their diet. So just to be sure, they'll take a multivitamin, which contains at or about the recommended daily allowance.
"Megavitamins contain many times greater than the recommended daily allowance. Five times, 10 times, sometimes 20 times more. And I think therein danger lies. There are a number of studies showing that you can actually get too much of a good thing, that this can actually increase your risk of cancer and heart disease. I think most people don't know that."
Hensrud pointed out that even multivitamins can have adverse effects.
"Even a multivitamin might be a little bit too much," he said. "If you're taking just one nutrient, it may be throwing off the balance of the overall milieu."
Added Offit, "Think about it. Do you really want to take large quantities of concentrated supplements made by a company, or do you want to try and get what you need in the way of vitamins and other minerals in foods — which is nature's way of providing it? It amazes me that this industry has been so good at convincing people that supplements and these large quantities of vitamins are natural, when in many ways it is quite unnatural."
Offit said he is troubled by the popular image of the companies that make and market vitamin supplements. He cited a "common misconception, which is the notion that on the one side you have Big Pharma with conventional drugs, and on the other side you have these mom and pop operations with vitamins and supplements. Couldn't be farther from the truth.
"This is a $34 billion a year industry, and when an industry is that big, you can bet that the pharmaceutical company gets involved."
He said the federal Food and Drug Administration lacks proper authority to regulate vitamin supplements, and the result is a "Teflon-coated industry" that can make unsubstantiated claims "that simply aren't true."
Offit argued in a recent opinion article in the New York Times that "people need only the recommended daily allowance — the amount of vitamins found in a routine diet."
LEARN MORE ABOUT THE PROS AND CONS OF MEGAVITAMINS:
• Multivitamins no fountain of youth for women
Women taking multivitamins don't live longer than those who get their nutrients from food alone, a new U.S. study shows. In fact, they appear to have slightly higher death rates, researchers found. "There is very little evidence showing that common dietary supplements would be beneficial in prevention of major chronic diseases," said Dr. Jaakko Mursu of the University of Minnesota in Minneapolis, who worked on the new study. "Unless you are deficient, there is hardly any reason to take them," he told Reuters Health. (Reuters)
• Re "Don't Take Your Vitamins," by Paul A. Offit
Without dietary supplements, millions of Americans would no longer get vital nutrients that support their healthy lifestyles. For many Americans, diet alone does not provide the necessary vitamins they need daily. Dietary supplementation is the obvious and safe solution to this problem. The vitamins mentioned are essential nutrients that have been safely taken in supplement form for many years. Dietary supplements are fully regulated by the Food and Drug Administration, and the agency has repeatedly said it possesses the tools it needs to successfully oversee the industry. The article does make one obvious point: too much of anything is not necessarily a good thing. The Natural Products Association encourages consumers to discuss their supplement intake with their health care professionals. (Letter from John Spitaleri Shaw of the National Products Association, published in the New York Times)
• The Vitamin Myth: Why We Think We Need Supplements
On October 10, 2011, researchers from the University of Minnesota found that women who took supplemental multivitamins died at rates higher than those who didn't. Two days later, researchers from the Cleveland Clinic found that men who took vitamin E had an increased risk of prostate cancer. "It's been a tough week for vitamins," said Carrie Gann of ABC News. These findings weren't new. Seven previous studies had already shown that vitamins increased the risk of cancer and heart disease and shortened lives. Still, in 2012, more than half of all Americans took some form of vitamin supplements. What few people realize, however, is that their fascination with vitamins can be traced back to one man. A man who was so spectacularly right that he won two Nobel Prizes and so spectacularly wrong that he was arguably the world's greatest quack. (Paul A. Offit, in the Atlantic)
• Dr. Paul Offit: Absolutely avoid megavitamins

Gallery
1 of 1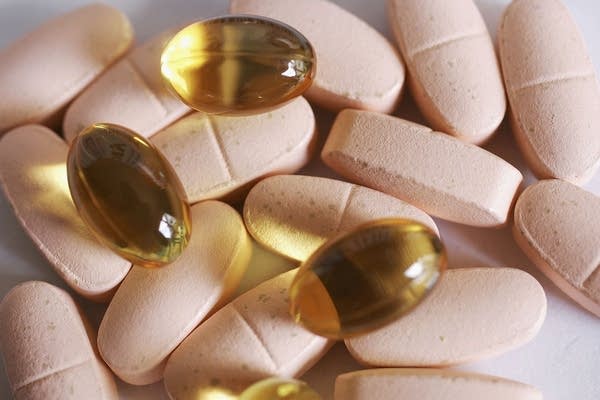 Your support matters.
You make MPR News possible. Individual donations are behind the clarity in coverage from our reporters across the state, stories that connect us, and conversations that provide perspectives. Help ensure MPR remains a resource that brings Minnesotans together.