Lyme disease in U.S. 10 times more common than thought
A new federal estimate suggests that Lyme disease cases may be vastly underreported. 
The Centers for Disease Control and Prevention announced the tick-borne disease likely sickens around 300,000 Americans annually. That estimate is ten times higher than the number of cases documented in the United States each year.
Minnesota reports 1,000 to 1,300 cases of Lyme disease each year and likely has many more than that.  
Epidemiologist Dave Neitzel of the Minnesota Department of Health estimates the state's total number of Lyme cases is 3 to 4 times higher than what's reported. He credits Minnesota's strong disease surveillance system with documenting many of the cases.   "Sometimes doctors can diagnose a case of Lyme disease just based on the presence of a Lyme disease rash without doing testing of that patient," he said. "And some of those cases where testing is not done, those are the ones we may not hear about."          The CDC's Lyme disease estimates come from surveys of national laboratories and patients, and a review of insurance records.
Lyme disease cases have gone up steadily in Minnesota since the 1980s -- the areas most affected have increased steadily, too.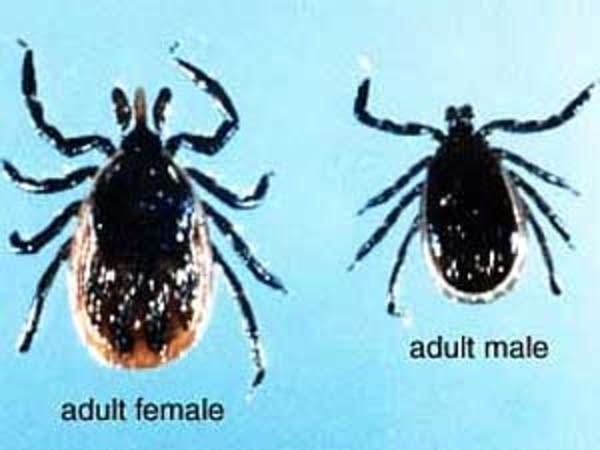 "Basically forested regions in between the Twin Cities and Duluth and up towards Bemidji, and then in the Mississippi River Valley in the southeast; those are definitely our highest risk areas year after year," Neitzel said.
People are at the greatest risk of getting Lyme disease, he said, from mid-May through mid-July.
The ailment is named after Lyme, Conn., where the illness was first identified in 1975. It's a bacteria transmitted through the bites of infected deer ticks, which can be about the size of a poppy seed.
Symptoms include a fever, headache and fatigue and sometimes a telltale rash that looks like a bull's-eye centered on the tick bite. Most people recover with antibiotics.  If left untreated, the infection can cause arthritis and more severe problems.
In the U.S., the majority of Lyme disease reports have come from Minnesota and 12 other states: Connecticut, Delaware, Maine, Maryland, Massachusetts, New Hampshire, New Jersey, New York, Pennsylvania, Vermont, Virginia and Wisconsin. 
The Associated Press contributed to this report.
Gallery
1 of 1